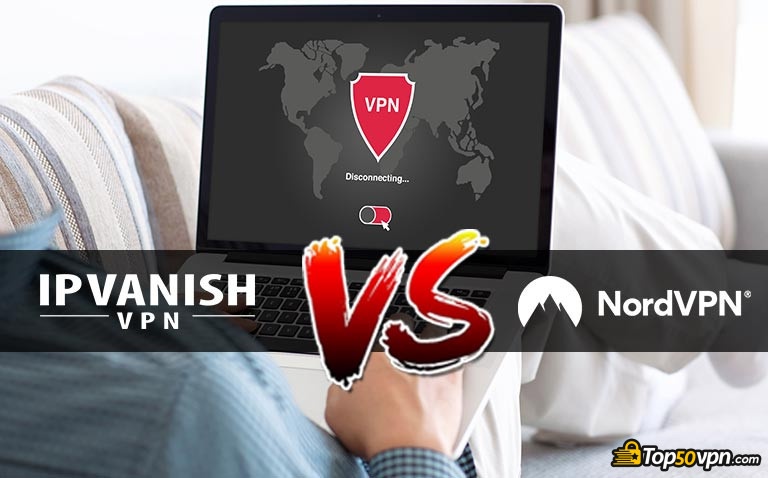 These days, finding a VPN is simpler than ever before - the internet is full of various different customer reviews, user feedback and opinion articles. On top of that, the VPN industry itself is booming - there are frankly countless numbers of VPNs you could use, depending on your preferences. In this IPVanish VS NordVPN comparison, we'll talk about two better options.
Why IPVanish VS NordVPN? Well, that's mostly because more and more people are coming across these two VPNs, and are trying to decide which one is better for them. Both of the digital security tools in question are considered to be "top-tier", so it can get pretty confusing!
Table: NordVPN and IPVanish comparison introduction
Worry not, however - in this article, we'll figure all of that out. Also, if you'd like some quick references, after reading this guide, you should also take a look at our bullet point-like comparison found here.
IPVanish VS NordVPN: Comparison Criteria
In order to have a decent IPVanish VS NordVPN comparison on our hands, before jumping into actually comparing the two VPNs, it's crucial to lay down some criteria. Besides, what's the point of comparing VPNs if there's some uncertainty of which features are important?
That's the main thing, too - IMPORTANT features. Probably needless to say, but everyone is going to have different opinions on which features are actually important, and which are secondary when using a VPN. This NordVPN VS IPVanish article is no different - it all depends on why you'd want to use a VPN, in the first place.
Table: NordVPN and IPVanish features
Now, that being said, there are some features (feature groups) that all top-tier VPNs should possess. Those are exactly the ones that we'll be using as the guiding points in this comparison, too. In no particular order, they are: data logging prevention, information leaks, content streaming and sharing, server amount and speed, and ease of use. That said, let's get to know them more closely, shall we?
Data Logging Policies. Data logging is something that happens when your VPN provider tracks your activity while you're using their VPN. They can then do a couple of things with that information. In most cases, the data is sold off to third-party advertising firms, so that they could target some ads at you. Other times, your sensitive information might even be handed over to the governmental agencies - definitely not ideal! This is why, no matter if you're looking for an IPVanish VS NordVPN comparison or any other, data logging policies should be the first thing you check out.
DNS, IP and WebRTC Leaks. In the VPN industry, information leaks are actually more common than you might think. Even some of the most notable VPN providers might fall prey to this issue, at some point in time. Quite frankly, if a VPN leaks your information, it means that, when you turn on your digital security tool, it doesn't quite work properly, and malicious third-parties (i.e. hackers and doxers) are still able to see what it is that you are doing while using the VPN. It's definitely a serious issue that shouldn't be taken lightly!
P2P File-Sharing and Content Streaming. Most commonly referred to as simply torrenting, file sharing is one of the main reasons why people use VPNs, in the first place. A VPN allows you to torrent file in peace, without worrying that a hidden virus is going to expose your IP address or location to a hacker on the other end. Content streaming, on the other hand, can refer to anything from HBO to FireStick, but most of the time, it has to do with Netflix - if you'd like to access region-locked content, a VPN is the way to go.
Server Speed & Count. The speed of a VPN provider's servers is going to determine how good of a time it is that you're going to have while using the VPN. It's something that isn't at all exclusive to this Nord VS IPVanish comparison, either - many of the industry-leading VPNs are having trouble with the topic in question. Ideally, you'd want a VPN to not influence your internet connection speed in any way - that is very rarely the case, though. Naturally, server count follows this - the more servers a VPN has, the more chances that you'll find a properly-working one for yourself.
Ease of Use. Finally, if a VPN provider wants to take their tool to the next level and put it up there with the market leaders, it's something that would be impossible to do without some amazing user experience features. There are many VPNs out there that are great at what they do, but are so difficult to set up or to use, that they are simply not worth it. Naturally, you should always strive to find a VPN that would provide a great balance between being super-fun and interactive to use, but also having all of the core settings and features in just a few clicks of the mouse buttons.
So - those are some of the most important aspects that you should keep in mind while choosing the best VPN for yourself. Now, let's apply them to our IPVanish VS NordVPN comparison, shall we?
IPVanish VS NordVPN: The Comparison
The way that we'll go about this IPVanish VS NordVPN comparison is simple - we'll take a look at how both of the VPNs in question compare to each other according to the sets of features discussed above. We'll start off from the top - data logging policies.
Data Logging Policies
As noted earlier, no matter if you're reading through an IPVanish VS NordVPN comparison or any other, a VPN's data logging policies should always be the first thing you look into.
The most important thing here, however, is that you make sure to understand the differences between data logging and collecting essential information. There are differences! While some VPNs might not collect absolutely any information about you (i.e. AirVPN), most brands are going to keep some certain, essential data, such as billing information, technical parameters, and so on. That's NOT data logging.

In this IPVanish VS NordVPN comparison, that is also the case with both of the VPNs in question, too. Both tools collect some information about the customer, but none of it should be considered as "logging".
NordVPN tracks your billing data (unless you pay via Bitcoin) and your email address. IPVanish, on the other hand, keeps tabs on your operating system, bounce rates, page requests, browser type and time spend on the site. All of this information is used to provide technical support if you run into an issue while using the VPN.
Latest NordVPN Coupon Found:
Save 68%
On NordVPN's 2-Year Deal
Take advantage of this limited NordVPN discount & purchase 2-year plan with 68% off. Enjoy your online privacy & security only for 3.15 Eur/month.
Expiration date: 10/05/2021
2,918 People Used
Only 82 Left
DNS, IP and WebRTC Leaks
In order to prevent information leaks of any kind, most VPNs have some specific measures in place. These measures can include everything from data encryption protocols all the way to kill switches - it depends on the VPN in question.
NordVPN, being one of the top industry leaders, has all of the essential security features in place. The VPN does not leak your IP address or any other important data, uses AES 256-bit encryption combined with the OpenVPN protocol and does also have a kill switch.
Table: NordVPN and IPVanish security features
IPVanish is up there with Nord, too! Some Nord VS IPVanish customer comparisons do note this, but IPVanish does also rock the AES 256 encryption, and it also has special protection from IPv6 and DNS leaks.
Frankly, both of the VPNs in this IPVanish VS NordVPN comparison are great when it comes to information integrity preservation and keeping your data away from potentially-malicious third parties. Definitely some great news, no matter which one you'd pick!

Did you know?
P2P File-Sharing and Content Streaming
As noted in the introductory part of the NordVPN VS IPVanish comparison, file torrenting and Netflix streaming are among some of the most popular reasons why people turn to VPNs, in the first place.
Torrenting (and other forms of file sharing) is pretty self-explanatory. Since a VPN encrypts your data and hides your real IP address, you can send and receive files, and then extract them without fear that your original, real IP address might leak out to third parties. It also keeps your activities secure from the eyes of your ISP.
Netflix is a bit more difficult, though. Not many VPNs still offer working Netlfix servers - this is true even with some of the industry leaders! That's mostly because Netflix has been doing everything in their power to crack down on the use of VPN servers in order to watch their content.
Did it work?
Table: NordVPN and IPVanish P2P file-sharing and Netflix compatibility
Well, it did with many VPNs. But the case is different in this IPVanish VS NordVPN comparison.
Both IPVanish and NordVPN have working Netflix servers, and both of them allow the use of torrents. If anything, combined with the earlier-discussed data protection features, this makes both digital security tools some truly attractive options!
Server Speed & Count
Naturally, torrenting files and streaming Netflix is great, but if your VPN has lousy connections speeds, it's quickly going to turn into a buffering nightmare.
Thankfully, that's not something that you'd need to worry about in this Nord VS IPVanish comparison. Yet again, it's a point on which both VPNs are very similar, in the best way possible.

Sure, Nord and IPVanish do slow down the users' internet connections. That said, the slowing isn't even all that significant - if you've got great connections speeds by default, you might not even really notice it, in the first place!
Now, when it comes to server count, this is where things get… Different.
IPVanish has around 1200 servers - that's surely enough for any casual VPN user out there, right? Well, yes - mostly. That said, NordVPN has 5 TIMES THAT - almost 6000 servers and counting! Essentially, if you're someone who likes a variety of choice, Nord definitely takes the cake here.
Ease of Use
Finally, in regards to the aspect of ease of use, it's worth noting that both VPNs in this IPVanish VS NordVPN comparison are going to be pretty similar, by default.
Why is that the case, you may wonder? Well, simple - both of them are considered to be at the top of the market.

While this factor alone doesn't automatically mean that a VPN is going to be easy to use, it definitely makes it more likely to be the case. Reading through the user reviews, it would seem that it's true, too - most of the customer for both brands note that the tools were easy to navigate, had fun interfaces and caused no confusion, whatsoever.
Price
Finally, the last big thing to discuss in this NordVPN VS IPVanish comparison is the pricing of both of the VPNs.
Table: NordVPN and IPVanish pricing options
The pricing options for IPVanish are:
Nord's pricing looks like this:
The price tags are definitely interesting! The main takeaway from them is that, if you want a VPN short-term, IPVanish is going to be the cheaper option. If, however, you plan on using the product for a while, then NordVPN's price tags are definitely better.
Conclusions
So - which of the VPNs in this IPVanish VS NordVPN comparison is the better option?
Well, as you might have noticed by now, both VPNs are actually very similar to one another, in many different ways. They both have top-tier data security features, great connection speeds and both provide the users an ability to access torrenting and content streaming services.
That said, if you want a more affordable option (in the long run, that is) that would also have an insane server count, Nord would be the way to go.

Do note that you can always check out our brief and to-the-point IPVanish VS NordVPN comparison, too - perhaps it'll help you make up your mind? Also, there are more great VPN options available - do make sure that you've weighed all of your options appropriately!
Leave your honest feedback
By leaving your honest opinion you can help thousands of readers to choose the best VPN. We accept genuine & helpful user feedback, either positive or negative. Have in mind that biased feedback will not be published. If you want to share your opinion, experience or advice, we want you to spill the beans!
TOP3 Most Popular Coupon Codes