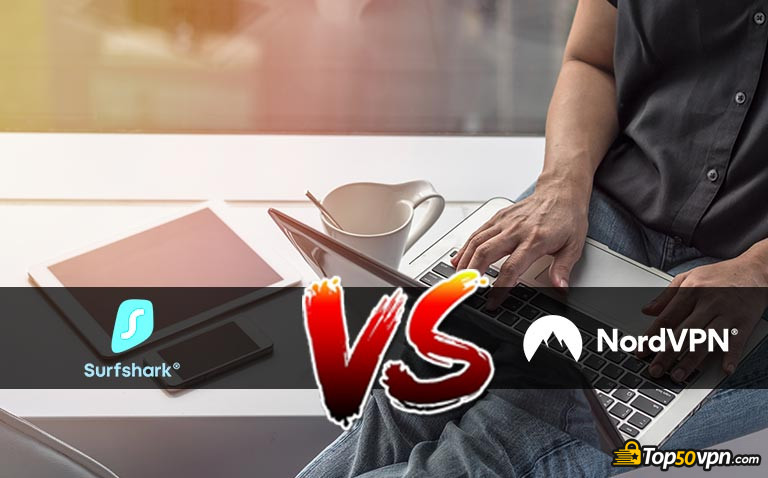 Are you looking for a high-end VPN? Are you having trouble choosing between two top-tier VPN providers? Well, in this SurfShark VS NordVPN comparison, we'll take a look at two industry leaders, and try to find the best possible option for you (out of those two, that is).
In order to compare and contrast the two VPNs in question, though, we should first establish some core criteria that any and all high-end VPNs should possess. That's exactly what we'll do at the beginning of this SurfShark VS NordVPN article - once we figure out those essential features, it'll be much easier to talk about and compare both VPNs, and see which one suits you better.
Table: SurfShark and NordVPN comparison introduction
We also have a shorter, more specific NordVPN VS SurfShark comparison, too - after reading this article, do make sure to check it out, so that all of the information would truly be clear to you.
SurfShark VS NordVPN: The Criteria
As noted in the introductory part of this SurfShark VS NordVPN comparison, while the reasons for why anyone would want to find a high-end VPN might differ, the core, essential features of any top-rated VPN are always going to remain the same.
When I say "high-end" VPN, I'm talking about well-rounded, reputable digital security tools that are great at each and every aspect that you might want to use it. It wouldn't make any sense if you had to purchase one VPN for security reasons, and another one for accessing Netflix USA, now would it?
Table: SurfShark and NordVPN features
With that being said, there are five big groups of features that can be seen in (more or less) all of the top-tier VPN providers - strict data logging policies, data leak protection, file sharing & content streaming, server speed & count, and ease of use. Let's cover each of them in a brief, yet informative manner.
Data Logging Policies. Data logging happens when a VPN provider tracks your activity while you're using their VPN. Whether it be this SurfShark VS NordVPN or any other VPN comparison out there, this is most commonly seen as an unforgivable offense. The reason behind it is pretty self-explanatory - you're using a VPN in order to keep your data private and protected, and thus some corporation logging and then selling it to third-party advertising firms probably isn't exactly what you've intended to sign up to, right?
DNS, IP & WebRTC Leaks. DNS, IP and WebRTC leaks all fall under the umbrella term "data leaks". All of these units of information, if they fall into the hands of some malicious third parties, could cause you a whole lot of trouble. For example, if your IP leaks out to a hacker, they could then use it to obtain your personal home address, your social security number, your social media account information, and so on. As you can probably tell for yourself, it's definitely not something to scoff at - user SurfShark VS NordVPN reviews would tell you the same.
File Sharing & Content Streaming. P2P file sharing is the act of sending and receiving (in other words - exchanging) files between two parties - say, you and your coworkers. While it can refer to workplace-based exchanges of information and data files, more often than not, the term is used to references something much simpler - torrenting. The same can be said about content streaming, too - while it can mean a whole lot of things, in the vast majority of cases, a VPN that's good at streaming content is going to be one that unlocks the content found on Netflix USA to international users.
Server Speed & Count. All VPNs function by employing servers. You choose a server, and obtain a temporary fake IP address that's dedicated to that specific server (well, the IP address isn't actually "dedicated" to that server, and is just temporarily assigned to it, but the general idea still stands). In order to have a good experience with the VPN (no matter what it is that you intend on doing while it's active), you're likely going to need multiple servers from all around the world to choose from, and also for them to be fast, too. That's something that is universal - it's not just this SurfShark VS NordVPN comparison-exclusive.
Ease of Use. A VPN must be easy to use - end of story. While it may sound like I'm trying to be funny, I actually mean it wholeheartedly - if a VPN requires you to have been attending some PhD-leveled courses in networking and computer science simply to install and get it running, it's probably not worth your time, in the first place. While that's surely not the case in this SurfShark VS NordVPN comparison, I assure you - there are actual VPNs like that out there, and while they might be attractive to a niche group of people, the generic customer isn't going to spend time trying to "solve" them.
Now that we've cleared up all of the essential features that any top-tier VPN should possess, we can move on to the actual NordVPN VS SurfShark comparison.
SurfShark VS NordVPN: The Comparison
To keep things clear and simple, we'll be referencing the above-given mini-guide for this specific SurfShark VS NordVPN comparison, and taking it a single step at a time. With that said, first up on our list is the data logging policies of the two VPNs in question.
Data Logging
While this isn't something that's all that nice to admit, there are actual VPNs on the market that log the data of their users - some of them even do it completely shamelessly, too.
One of the most irksome reasons for why this is even an issue, in the first place, is simply because people pay money in order to keep their information protected and encrypted. Not only does this put the user in jeopardy (if, say, the data is handed over to the governmental agencies after being collected by the VPN provider), but it's also an insult to the VPN industry, as a whole.

Well, no matter which VPN out of this SurfShark VS NordVPN comparison it is that you're interested in, you can rest assured - neither of the two VPN providers log their user data. In other words, both VPNs are completely in the clear in that regard.
What these VPNs MIGHT keep track of, however, is your email address, billing information, technical data, app versions, and so on. In other words, information that's relevant to providing you with the best experience possible - no more, no less.
Latest NordVPN Coupon Found:
GET 63% OFF
+ 3 Months Free
Looking for ways to secure yourself online? What if we told you that you can get the top VPN on the market for way less - grab NordVPN 60% discount now & get 3 months FREE!
Expiration date : 02/10/2023
3,191 People Used
Only 99 Left
DNS, IP & WebRTC Leaks
Information leaks can often pass unnoticed, but they can also be a huge issue, too. It all depends on whether or not you've got some malicious software or person (or group of people) after your sensitive, personal information.
Admittedly, data leaks are often unintentional. They happen because a VPN provider hasn't enforced all of the necessary security features with their virtual private network - not ideal, to say the least. The fact that they are "unintentional" doesn't really help, either - it's not something that's going to make you feel any better once your personal and private information has been stolen.
Table: SurfShark and NordVPN security features
Yet again, however, as far as security is concerned, both of the VPNs in this SurfShark VS NordVPN comparison are golden - neither SurfShark, nor NordVPN leak any of their user data.
The reason for that is pretty simple, too - both Nord and SurfShark employ some top-tier data security features, such as the Open VPN protocol (in combination with AES 256-bit data encryption), killswitches, various other security protocols, and so on.

Did you know?
File Sharing & Content Streaming
While it may not be as "hot of a topic" as those related to security, file sharing and content streaming are still two huge parts of any and all high-end VPN providers.
File sharing allows you to share various different files between yourself and another person (or group of people) without having to worry that your connection will be compromised. While this commonly refers to torrenting, it can also relate to much simpler things, too, such as the earlier-mentioned example of sharing some sensitive files among your coworkers.
Table: SurfShark and NordVPN P2P file-sharing and Netflix compatibility
Now, when it comes to content streaming, that's pretty self-explanatory - Netflix, Firestick, HBO, and everything in between! Most of the time, however, if someone's looking for a VPN for "content streaming purposes", they simply want to access that latest Netflix show that's only available in the US.
Well, whatever the case might be, no matter which VPN out of this SurfShark VS NordVPN comparison it is that you pick, you'll be able to do both - share files and stream content at your own leisure. Both VPNs provide the necessary features and capabilities to do so - great!
Server Speed & Count
Now, server speed and their count is probably the first point of the SurfShark VS NordVPN comparison where the two VPNs in question are going to differ from one another.
Admittedly, in this regard, NordVPN has the upper edge both when it comes to server speed and their count. Speed-wise, Nord's faster - while the differences might not be grandiose, they are still quite noticeable, and if you're looking for a VPN to manage some bigger-sized files, then this is something that'll definitely be important to you.
When it comes to server count, however, this is where NordVPN truly shines. While SurfShark has around 1000 servers to offer to the average user, Nord provides around 6000 of them - that's quite a difference in server count!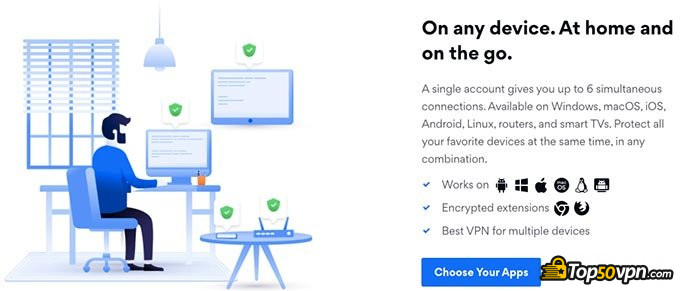 Is the average user going to use or even need that many servers? No, not really. That said, it's still good to know that the option to do so exists at any given point in time.
Servers are going to be an important topic, no matter what it is that you're planning to do while being logged into the VPN. Whether it's a game-changer or not, that depends solemnly on your own, personal wants and needs - that being the case, though, it's still evident that, as far as this NordVPN VS SurfShark comparison goes, Nord's got the upper hand.
Ease of Use
One thing that's worth mentioning here is that ease of use is often seen as a very subjective feature - what is easy and straightforward for some, may appear quite complicated to others. Having said that, when I say "ease of use" in this SurfShark VS NordVPN comparison, I'm referring to how easy it is to use the VPN for your average, everyday person who has nothing to do with networking.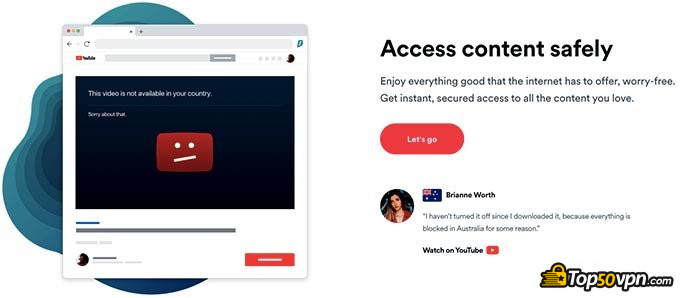 Now, same as with most other points in this comparison, both Nord and SurfShark are actually very similar in regards to how easy they are to use. The installation process for both of them takes but a few clicks, the interfaces are easy to navigate and use, server hopping is rather self-explanatory, too.
All in all, both VPNs are very simple and straightforward to use.
Price
To finish off this SurfShark VS NordVPN comparison, let's take a look at the pricing options for both of the VPNs in question.
Table: SurfShark and NordVPN pricing options
SurfShark's prices are:
Nord's price tags look like this:
Needless to say, SurfShark is surely in the lead here - the VPN has some of the best prices in the entire industry!
Conclusions
So - which of the two VPNs in this SurfShark VS NordVPN comparison is better?
While it's surely a tough call, NordVPN does appear to be the better option.
While SurfShark has some unbelievable pricing options, and is quite similar to Nord in many different areas, NordVPN possesses some unbeatable numbers when it comes to server speed and their count. Since this is something that anyone and everyone who'll use the VPN is going to appreciate, it's only fair to proclaim Nord as the superior VPN in this comparison.

If you'd like to have some more information about both of the VPNs in question, you can check out a side-by-side comparison of both of them, too - perhaps it will make things a bit clearer and easier to understand?
With that, I thank you for reading!
Leave your honest feedback
By leaving your honest opinion you can help thousands of readers to choose the best VPN. We accept genuine & helpful user feedback, either positive or negative. Have in mind that biased feedback will not be published. If you want to share your opinion, experience or advice, we want you to spill the beans!