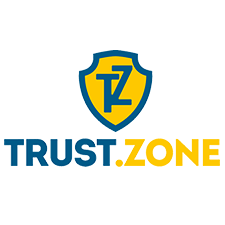 If you've spent some time looking for a VPN on the various different review sites online, you might have come across some Trust Zone VPN reviews. I know I did - it seems that his VPN provider is everywhere! At some point, I decided to check it out, and in this Trust.Zone review, I'll tell you all about my experiences.
Do keep in mind that VPNs aren't only used for Netflix or torrenting, too. With a reliable VPN, you can avoid identity theft (especially while performing payments[1]), information leaks and other data breaches.
TL;DR: Even with limited device support, Trust.Zone is actually one of the better VPN choices in the current market. It offers great security, supports both Netflix and torrenting, and has a great price tag.
Pros
Supports torrenting
Unlocks Netflix
No logging policy
Good speed
Cons
Customer support could be better
A longer money-back guarantee would be nice
Trust Zone VPN Review: PROS
The very first thing that should be talked about when it comes to VPNs (be it this Trust Zone VPN review or any other) is safety.
People use VPNs to keep their information safe and secure from the prying eyes of third parties - that's a fact. Not all VPNs are (quote on quote) "good", though - some might even have malicious intent, others lack sufficient security measures. Since this is a Trust.Zone review, let's see how the company fairs.
No Information Logging
You'll find that some Trust Zone VPN reviews mention this, but data logging is a very serious issue when it comes to differentiating reliable VPNs from straight-up frauds.
The vast majority of VPN providers track some user information - that's pretty common practice. This information is usually used to provide you - the user - with good customer support. The information could range from personal email addresses all the way to billing info - again, it's all fair game.
Data logging becomes a problem when VPN providers start to track the pages that you browse (and when you do so), the orders that you make, the actions that you take, and so on.
Ironic, isn't it? You purchase a VPN to keep your information private, and get the exact opposite.
Strictly because of the above-mentioned reason, VPN providers that log users' data are avoided like a plague. Thankfully, in this Trust Zone VPN review, I can confidently state that Trust Zone does not do that.

They even address this in their privacy policies. Since I've had bad experiences with other VPN providers before (ones that use small print to hide their wrongdoing), I wanted this Trust.Zone VPN review to be as accurate as possible.
Going through their privacy policies, there are no indications of data logging - everything's clear and forthright. Just the way it should be!
Latest NordVPN Coupon Found:
GET 63% OFF
+ 3 Months Free
Looking for ways to secure yourself online? What if we told you that you can get the top VPN on the market for way less - grab NordVPN 60% discount now & get 3 months FREE!
Expiration date : 02/10/2023
3,191 People Used
Only 99 Left
OpenVPN and AES256 - Check!
Back in 2015, Trust.Zone added the AES 256-bit encryption to their VPN system. People familiar with AES will know just how important this actually is. However, if this is your first time reading a Trust.Zone review, and you've never heard about AES 256, allow me to explain.
The AES 256 encryption is the most sophisticated and advanced form of data encryption to date. It is used by almost all of the top-tier security facilities in the US - for example, the FBI uses AES 256 to keep their information behind impenetrable doors.
Well, I'm glad to be able to state this in the Trust Zone VPN review - the company doesn't only have AES 256, but it also employs the OpenVPN protocol!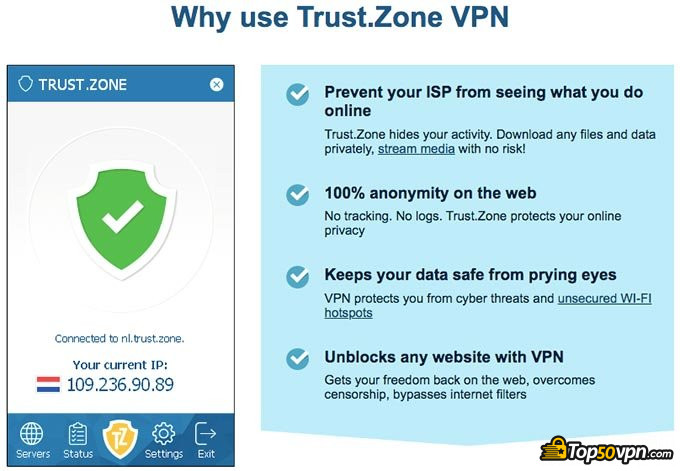 OpenVPN is an open-source (which is great!) software used to create and implement secure connections between two parties. Same as AES 256, it is now considered to be the VPN industry standard. The fact that Trust.Zone uses both AES 256 and OpenVPN is simply great news for anyone who values their privacy.

Did you know?
No DNS Leaks
Yet another major issues often associated with the VPN industry, DNS leaks happen whenever an error with the server occurs. These leaks result in your personal information and the websites that you're entering being exposed to third parties.
Probably not something that you'd want happening.
While a lot of different VPNs are seemingly plagued with this (and similar) issue, Trust.Zone comes through once again. This VPN provider has no DNS, IP or WebRTC leaks.
How can I be so sure? Well, I've tested it.

I had found that many Trust Zone VPN reviews claimed the VPN to be "leak-free", but I had to test and see this for myself. And, well, admittedly, they were right. I have to say, it's rather refreshing to come across a VPN provider that doesn't make you raise eyebrows and be suspicious.
Unblocks Netflix's Geo-Locked Content
If you're someone who likes Netflix and who's not from the US, you probably know the struggle of just how difficult it is to access some of the USA-exclusive content that the platform offers. Sure, you can always find movies or episodes of your favorite TV series online, but it's not the same - the quality usually sucks, the sites are full of viruses, and so on.
Keeping the above-given information in mind, it will probably be of no surprise to you that a whole lot of people are looking for a VPN for the sole reason to watch Netflix's geo-restricted content. Perhaps you yourself are shifting through Trust.Zone reviews to see if it unlocks the platform, hm?
Well, whatever the case might be, the good news is that yes - Trust.Zone DOES unlock Netflix USA for international users.
Now, you might be thinking - why is that a big deal, in the first place?
To put it simply, an increasing number of VPNs are putting out statements that they no longer unlock Netflix. Why? Because the platform has taken measures to ensure that VPN users are not able to access the US version of Netlifx.
This is why today, if you manage to come across a VPN provider that has Netflix as a feature, you should consider that a big win!
Torrenting is Fully Allowed
Yet another popular reason for using a VPN, torrenting is something that's super-important to a lot of people worldwide. While you can surely torrent files without a VPN, you never know what those files may carry with them. A VPN adds an extra layer of security and helps ensure your privacy.
That said, you will find that a whole lot of Trust.Zone reviews emphasize the fact of how a lot of VPN providers shy away from using the term "torrenting". Instead, it's referred to as "P2P file sharing".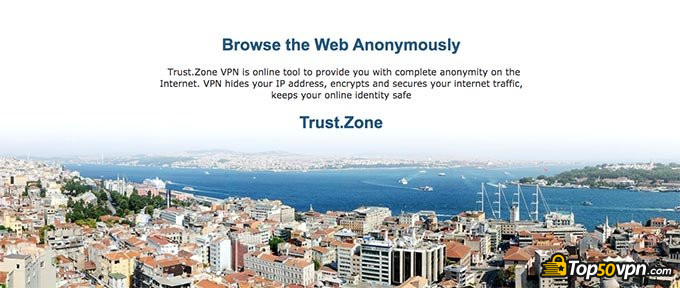 Even so, it's still a controversial topic in the industry - with copyright infringement lawsuits flying around, some certain VPN providers try to stay away from torrents all together.
Yet again, this is not the case in this Trust Zone VPN review.
The company offers unlimited P2P file sharing. With OpenVPN and AES 256 on their side, this VPN provider really did make me feel calm about sharing files with other people through their VPN.
Has a Kill Switch
Yet another feature that I'm glad I could list in this Trust Zone VPN review, a kill switch is definitely something that more VPN providers should have.
In the realm of VPNs, a kill switch is a tool that helps you remain calm in an event when your internet connection or even the VPN itself goes out. If you didn't have a kill switch enabled, all of your browsing and file sharing that you were doing at the time of the outage would be exposed.
However, the kill switch terminates all of those processes upon a connection loss - this means that you don't have to worry about information leakage!
To be completely honest, I had expected to be able to include a kill switch in this Trust Zone VPN review even before I had actually purchased the VPN. From the vast majority of Trust.Zone reviews that I've read, all of them seem to regard this VPN provider as one of the better few.
Better VPN providers tend to have kill switches as an added layer of security, after all.
Great Speed
With all of the security features that Trust.Zone VPN offers, I was pretty sure that there has to be some sort of an area where the VPN provider lacked. Speed was the very first thought that I had - it's a common issue among VPN providers, both good and bad ones.
Well, I was quickly proven wrong.

Since I wanted to be comprehensive, I decided to take this Trust.Zone VPN review a bit further and test the speed myself, without becoming biased by reading the statements put out by the company. I tested the VPN from the middle of Europe, and these are the results that I got from their EU server.
What is Trust.Zone VPN speed?
The speed parameters are:
Ping: 82 ms
Download Speed: 74,88 Mbps
Upload Speed: 60,05 Mbps
The US server faired a little bit worse, though with it being on the other side of the world, I definitely ain't complaining.
Ping: 167 ms
Download Speed: 67,02 Mbps
Upload Speed: 40,05 Mbps
Just to help you understand how good these speeds actually are, the average download speed without a VPN caps out at around 70 Mbps. Keeping this information in mind, Trust.Zone becomes even more impressive - the VPN boosted my speed up!
Trust Zone VPN Review: CONS
Initially, I had a pretty rough time finding something that I did not like when it comes to this Trust Zone VPN review. However, as I was doing research, I understood that I had forgotten about an essential part of any VPN provider - customer support.
While T.Z's customer support wasn't bad per se, the issue arises with the type of support that the company offers. Having such great overall statistics, you would think that Trust.Zone has top-notch support that's ready to help you at any given time of the day, 24/7…
Nope. The only way to get support is via an old-fashioned ticketing system.
And that's not all! The support is only available Monday to Friday, from 6:00 AM up until 4:00 PM GMT +0! So, if you encounter a problem in the evening or on the weekend - tough luck!
Honestly, even though I didn't encounter any specific problems with the VPN provider concerning the speed and security that they provide (on the contrary - I was pleasantly surprised!), I can't give them a free pass in this Trust Zone VPN review when it comes to customer support.
Even though it's a well-known problem in the VPN industry, a company of this notability should have these things sorted out.
Price
Reading through various different Trust Zone VPN reviews and doing some research of my own, I had initially expected the VPN's price to be quite big. After all, with so many useful features and a pretty stable reputation, you would think that the price would be rather hefty too, right?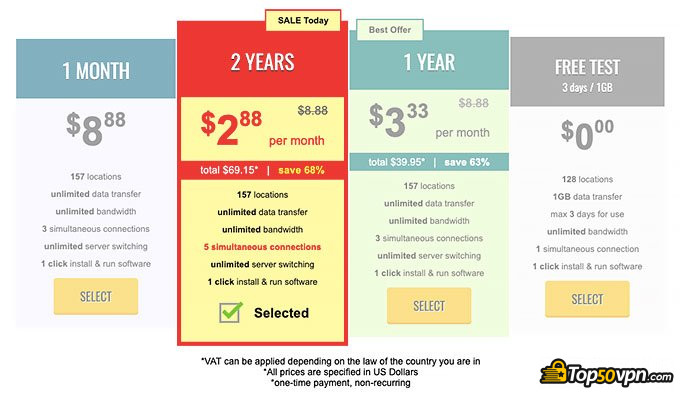 As it turns out, Trust Zone offers one of the best prices in the industry! If you choose their most popular plan, you will get a 12-month subscription for only $3,33 per month! I was honestly surprised - I had bought VPNs earlier, and this has to be one of the cheapest prices I've encountered in a while.
What is Trust.Zone VPN price?
The whole pricing list would be, as follows:
Furthermore, some Trust Zone VPN reviews don't mention this, but the company actually offers a free 3-day test of their services. Even though it's a very limited offer, it's still nice to know that you can test the VPN before deciding whether or not you're ready to purchase.
Here is The Best NordVPN Offer I Found:
GET 63% OFF
+ 3 Months Free
Looking for ways to secure yourself online? What if we told you that you can get the top VPN on the market for way less - grab NordVPN 60% discount now & get 3 months FREE!
Expiration date : 02/10/2023
3,191 People Used
Only 99 Left
Conclusions
Would I recommend the Trust.Zone VPN?
Ya, I definitely would.
It would seem that the company has almost everything in check - great security and data encryption features, above-average speeds, Netflix and torrent support, etc. No logging, no DNS leaks, no shady business whatsoever.
I would say that the price is too good to be true, but I guess the fact that they don't have live and proper customer support somewhat evens things out.
All in all, I really enjoyed Trust.Zone VPN. If you're in the market for a decent VPN provider for a great price, and you think that you won't need to much help setting things up - Trust.Zone might be exactly what you're looking for! Not yet sure? You always have the 3-day option to test things out yourself!
Scientific References
1. Keith B. Anderson, Erik Durbin, Michael A. Salinger: 'Identity Theft'
Leave your honest Trust.Zone review
By leaving your honest opinion you can help thousands of readers to choose the best VPN. We accept genuine & helpful user reviews, either positive or negative. Have in mind that biased reviews will not be published. If you want to share your opinion, experience or advice, we want you to spill the beans!