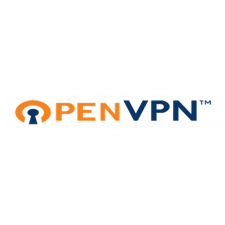 If you've visited some VPN reviews recently, you might have noticed that most of them keep on mentioning OpenVPN. Some people mistake it for an actual VPN - which it is not! However, it's considered to be an essential part of most VPNs out there. Don't worry, though - everything will be discussed in this OpenVPN review.
TL;DR: The OpenVPN protocol is an essential part of any decent VPN provider's toolkit. It offers top-notch security, keeps your connection completely safe, and works perfectly well with most platforms.
Pros
Good price
Super-secure
Works well with firewalls
Cons
Small number of servers
Hard to set up
OpenVPN Review: PROS
To start this OpenVPN review off right, it is important to first stress that OpenVPN isn't an actual VPN. Just as I've stated at the beginning of this review, many people see the name in multiple different VPN provider reviews and get confused.
Well, let me explain.
OpenVPN is a security protocol-software. Although many people who are asking "is OpenVPN safe?" are talking about the safety of a VPN, the actual truth of the matter is that the whole concept of a "secure connection" falls down on the shoulders of this protocol.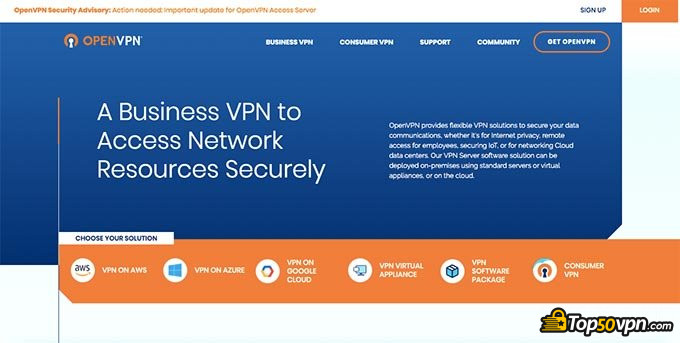 The OpenVPN software is open-source - this is a very important thing to keep in mind when thinking about is OpenVPN good! Most OpenVPN reviews just breeze through this fact - don't worry, we'll go more in-depth in the chapters to come. For now, just know that OpenVPN is used with most high-tier VPNs in the world as a way to make sure that your connection is as secure as it can be.
With that out of the way, let's finally jump into the pros of this OpenVPN review.
Top-Tier Security
What is the No. 1 thing that you look into when choosing a VPN provider?
Chances are that most of the people would answer that question with just a single word - security.
Sure, you might find someone who cares about the availability of Netflix and torrenting more than security, but the general consensus is that security is the main reason for looking into buying a VPN.
And how do VPNs enforce security and data privacy? You've guessed it - OpenVPN.
OpenVPN uses the 256-bit data encryption (the protocol often goes hand-in-hand with AES 256-bit encryption). Why is that an important thing to not? Well, let me explain.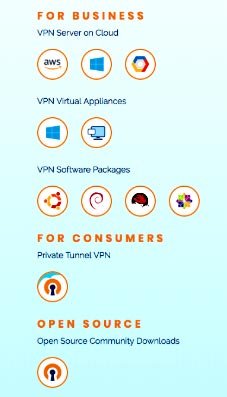 Data encryption is one of the most important aspects to both individual users and huge corporations, alike. And the giant corporations aren't even the peak of the mountain - there are a lot of governmental agencies that take information security very seriously. And the top government agencies in the world (such as the FBI and the CIA) use the 256-bit data encryption.
To put things into perspective, this type of data encryption is yet to be breached. Furthermore, it is highly unlikely that it is going to be breached any time soon. Why? Well, if every person in the world would have 10 computers (that would make for around 750,000,000,000 computers) that are all simultaneously trying to hack the 256-bit encryption, it would take them more than 7,000,000,000,000,000,000,000,000 years to breach the very first digit! Yes, that's an actual number, and it's completely insane!
With all of that said, you should now be able to understand why security is the very first thing that we're talking about in this OpenVPN review. So… If you're bothered with the question "is OpenVPN secure?", worry not - it's as secure as they come.
I've mentioned this earlier, but the top VPN providers in the world all use OpenVPN in their services. This would include CyberGhost, ExpressVPN, and many others. Keep this in mind the next time you're looking for a reliable VPN!
Latest NordVPN Coupon Found:
GET 63% OFF
+ 3 Months Free
Looking for ways to secure yourself online? What if we told you that you can get the top VPN on the market for way less - grab NordVPN 60% discount now & get 3 months FREE!
Expiration date : 02/10/2023
3,191 People Used
Only 99 Left
Works on Most Devices
Yet another important aspect of OpenVPN, multiple platform support is something that people rarely think about when they are initially looking for a VPN, but soon realize just how vital that is.
When people ask "is OpenVPN good?", compatibility is often something that is a part of that question. Since most users will automatically assume that they'll be able to use a VPN on all of their computers and phones (who has multiple phones, anyway?), they don't really give it much attention.
However, a whole lot of VPNs that do not support OpenVPN tend to have a bunch of different restrictions in place - they might not support mobile, Linux, Windows, and so on.

With OpenVPN, however, you're almost guaranteed to never encounter this problem.
OpenVPN is supported on virtually all platforms out there. Obviously, you'll be able to run it on all of the main operating systems (such as Android, Mac, Windows, etc.), but the protocol is also available on the majority of the less-known platforms, too.
So, to summarize, you should always pay attention to whether or not a VPN of your choice supports OpenVPN. Some OpenVPN reviews mention this, but you should rest assured when it comes to the industry top-dogs - if you're looking at some of the less-known VPN providers, however, things might not always be that smooth.

Did you know?
Open-Source
OpenVPN being open-source might seem like a "cherry on top", but it's more like the base of the cake itself.
A software being open-source means that anyone can contribute to its well-being. The contributions, naturally, have to be approved before they go live, but anyone willing to add or adjust something is welcome to do so.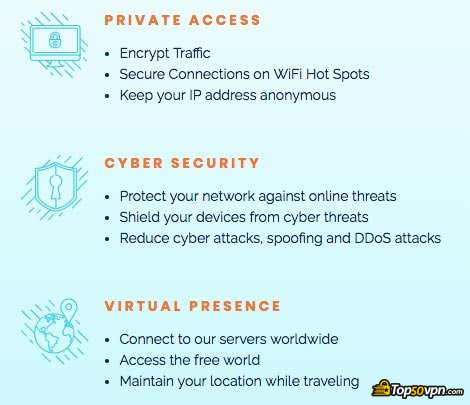 When it comes to this OpenVPN review, this is such an important aspect mostly because of the community support that that protocol gets. That said, it is still important to stress that people who are looking for the OpenVPN cost might notice that there are two big versions of the software - a free and open-source one, and another that is there for commercial use.
Be it as it may, the core of OpenVPN is still completely open-sourced. This is something that is very important for anyone wondering is OpenVPN secure.
OpenVPN Review: CONS
So, OpenVPN is great - we got that out of the way. Surely, though, as with everything in life, there has to be a catch, right?
Well… Yes and no.
The protocol certainly does have its cons and problems, don't get me wrong. That being said, however, most of them fall short when you keep in mind the fact that it offers the best connection security and data encryption in the game.
In order to make this OpenVPN review as transparent as possible, though, let's still discuss some of the most prominent negatives of the protocol.
3rd Party Interference
One thing that is very well-known about the VPN community is that it despises any and all security threats, even if they don't appear like ones in the beginning. Ironically, though, the software that is there to provide the maximum amount of security requires third-party interference.
Traditionally, OpenVPN isn't part of an operating system. This means that, in order to install and run the software, you are going to need to utilize a specifically designed client. While that's not too big of an issue in itself (meaning that there are no records of data logging or any known leaks), people still aren't too fond of the idea. But why so?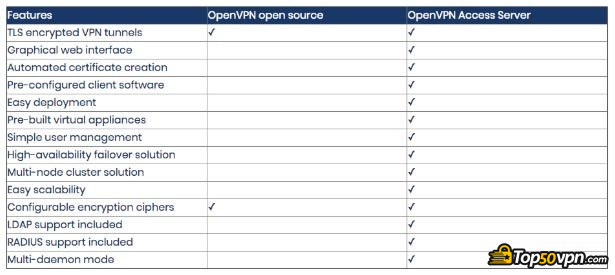 The main reason, of course, is security concerns. Any third parties (whether it be clients, shady programs, or anything else of that kind) are usually seen as a major threat to the safety of your information. One may never know which program logs your data (an extremely serious offense that's prominent in the VPN industry) or offers other leaks, breaches, and so on.
Again, while this isn't a (quote, unquote) "real" con per se (it hasn't caused any notable problems or raised any red flags), it's still something that should be kept in mind while trying to decide is OpenVPN safe.
Hard to Set Up
Probably the "con" that can be considered to be the most real of them all - the OpenVPN's setup.
If you're trying to configure a VPN of your own, and you want to use the OpenVPN protocol with it, you'll have to perform a manual setup. People who have actually done this can probably confirm - it's uncomfortably difficult to do.
In most "is OpenVPN good?" discussions, this is further emphasized by the fact that a lot of people who are trying to set the protocol up manually tend to not have that much experience in the fields of IT and Computer Science.

Even though the manual setup might be really difficult, there's actually an easy way out. As I've mentioned earlier in this OpenVPN review, you would only perform the manual configuration if you were to try and create your own VPN. This can be easily avoided by - you've guessed it - purchasing a VPN that has the software already installed.
Although this might not work for everyone, it's actually the simplest way that you can get around the tedious process of having to do things manually. If you're determined to create a VPN of your own, there are tutorials online that should help you set OpenVPN up.
However, if you're reading this OpenVPN review with the intent of buying a VPN that actually has this protocol in place, do look at the top VPNs in the game - not only will they support OpenVPN, but you'll receive a lot of additional security and data encryption features, too.
Price
Now that we're nearing the end of the OpenVPN review, let's discuss the OpenVPN cost. Since we've covered the questions "is OpenVPN safe?" and "what are its cons?", all that's left to do is to take a look at how much money you'd need if you were to use the OpenVPN Access Server.
First and foremost, you'll have two separate options - you could either go with the "Bundled Billing", or choose the "Bring Your Own License" path.
If you choose the bundled billing option, you would pay hourly, only for the time that you spent using OpenVPN. That's rather convenient, and you would receive your bill from the Amazon Web Services. So, the pricing here is going to be dependant on just how much of the protocol you are going to use.
There's still the "BYOL" pricing option, though.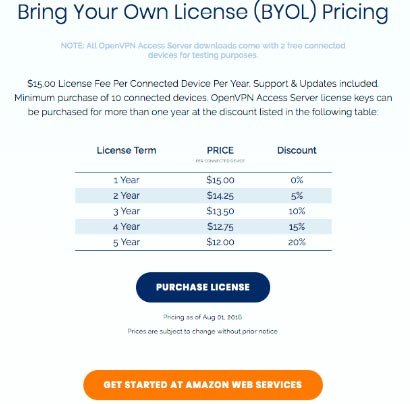 Here, you'd have to pay $15,00 per year for one connected device. If you want to connect more devices, you'd even get a discount (depending on the number). Honestly, that's some pretty solid pricing!
Depending on just how much you are planning to use the OpenVPN protocol, either one of these two plans could suit your wants and needs - it all depends on your own, personal references.
But why would you want to buy the Access Server, in the first place?
While doing research for this OpenVPN review, I found that the company behind OpenVPN has a perfect answer for that, too.
In the table presented earlier on in this article, you could see all of the different features that you'll gain access to if you decide to purchase the Access Server instead of using the open-source version of OpenVPN. If you'd ask me, all of the added features make it definitely worth investing in!
Here is The Best NordVPN Offer I Found:
GET 63% OFF
+ 3 Months Free
Looking for ways to secure yourself online? What if we told you that you can get the top VPN on the market for way less - grab NordVPN 60% discount now & get 3 months FREE!
Expiration date : 02/10/2023
3,191 People Used
Only 99 Left
Conclusion
So… Is OpenVPN good?
Oh ya, it is.
As many other OpenVPN reviews mention, this protocol is the top tier of point-to-point connection security and data encryption. Is OpenVPN secure? Vastly. Is it easy to use? Hell no. But, if you are going to purchase a VPN that has this protocol pre-installed, then you don't have to worry about it. The OpenVPN cost also makes perfect sense.
So, to summarize, if data security and privacy are what you're looking for, then OpenVPN is definitely a great choice for you.
Furthermore, as I've mentioned many times already, the best part about this software is that you don't even need to worry about purchasing or managing it yourself (unless, of course, you want to) - if you choose to use one of the high-end VPNs (i.e. ExpressVPN), that's already taken care of! What could be better?
Leave your honest OpenVPN review
By leaving your honest opinion you can help thousands of readers to choose the best VPN. We accept genuine & helpful user reviews, either positive or negative. Have in mind that biased reviews will not be published. If you want to share your opinion, experience or advice, we want you to spill the beans!