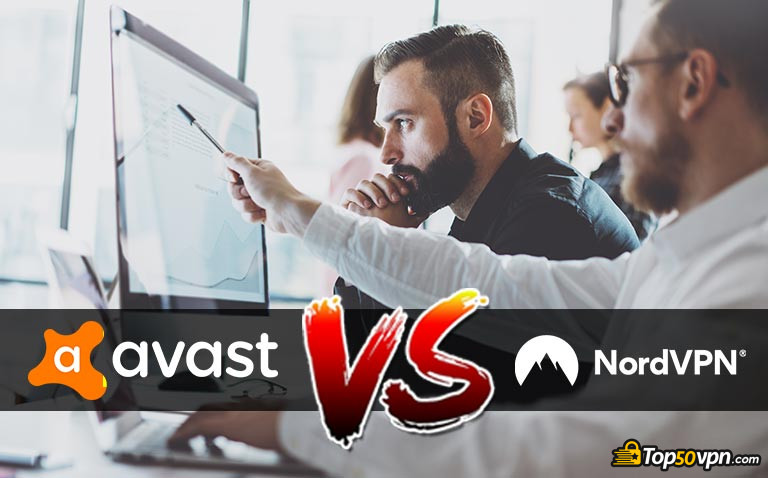 VPNs are great tools when it comes to protecting your personal information while you're browsing online. That being said, it's important that you pick the right VPN to do so! Since there are many different VPNs out there, you can utilize comparison such as this "Avast VPN VS NordVPN" one and find out what each VPN is good for.
The way that we'll go about this Avast SecureLine VPN VS NordVPN comparison is by establishing some specific, pre-defined features that all top-tier VPNs should have. By figuring these features (rather, groups of features) out, we'll be able to see how both of the VPNs compare against one another.
Table: NordVPN and Avast VPN comparison introduction
By the way - if you'd like to check out our side-by-side comparison of both of these VPNs, you can find one here.
Avast VPN VS NordVPN: Comparison Criteria
So, the essential features of all top-tier VPNs - what are they?
Well, you see, no matter who it is that you ask, everyone is going to give you different answers to the question - what are the most important features of a VPN? This is true both for an Avast VPN VS NordVPN comparison, and any other discussion concerning the matter.
Table: NordVPN and Avast VPN features
While people can have differing opinions depending on their preferences, there are always going to be some specific, set-in-stone criteria that will define a top-rated VPN. These criteria are, as follows: data logging policies, data leaks, file sharing and content streaming, server speed and count, and ease of use. For the sake of keeping things clear, let's take a close look at each one.
Now, with all of that said, naturally, each and every single VPN is going to have some additional features that are likely not mentioned in the list of descriptions above. Do keep in mind that all of the extra features are great additions - what you see above, though, is simply a collection of the essentials that all VPNs that aim to be "the best" should possess.
This isn't only true for this Avast VPN VS NordVPN comparison, but in general! With that said, let's move on to the comparison at hand, shall we?
Avast VPN VS NordVPN: The Comparison
For clarity's sake, let's do things in the same order that we've comprised the above list - we'll start off from the data logging policies of both of the VPNs.
Data Logging Policies
While data logging might sound like it's something out of a VPN horror movie, it's actually not all that of an uncommon occurrence. Well, to an extent - if you're using only the top-rated VPNs in the industry, naturally, logging isn't going to be something that you'd need to worry about.
That said, you should keep in mind the fact that not all information collection performed by a VPN provider is considered to be "logging". Most VPN providers do, in fact, collect some information about their customers - it's actually very normal! Now, the main question is pretty simple - what type of information would that be?

Well, many customer Avast VPN VS NordVPN reviews and comparisons are going to point out that the information that VPNs usually collect has to do with customer service. Technical data, emails, billing information, and so on - nothing related to what you do online while using the VPN.
I'm pretty happy to say that both VPNs in this Avast SecureLine VPN VS NordVPN comparison have no issues on the matter at hand - while both companies collect the above-mentioned information about their customers, that's pretty much the extent of it. Strict "no-logging" policies - definitely good news!
Latest NordVPN Coupon Found:
SAVE 72%
NordVPN Black Friday Offer
NordVPN Black Friday has started - for a limited time only you can get a NordVPN 2-year plan with a huge 72% discount. Act now & secure this great deal!
Expiration date : 28/01/2022
2,734 People Used
Only 83 Left
DNS, IP and WebRTC Leaks
Information leaks are one of the main banes of the VPN industry, and it might only fall short to a lack of proper customer support. They do happen rather often, but this isn't something that you should expect from one of the industry leaders!
Table: NordVPN and Avast VPN security features
Naturally, be it an Avast VPN VS NordVPN comparison or any other, you'd expect the VPN providers to have some specific security features in place - ones that would actually prevent such leaks from happening. And, well, to be honest, the situation between the two brands in question is the same - both VPNs have top-tier leak protection features.
On top of having great information leak prevention tools such as the AES 256-bit encryption and OpenVPN, neither Nord nor Avast has recently had any notable breaches or leaks, in general. Furthermore, if you were to combine these factors with the information discussed earlier on in the Avast VPN VS NordVPN comparison, it would seem that both VPNs do, indeed, offer top-level data security.
P2P File-Sharing and Content Streaming
As I've mentioned earlier on in this NordVPN VS Avast VPN comparison, file sharing usually simply means torrenting, while content streaming most commonly refers to Netflix USA being unlocked in some different regions in the world. Sure, both of the terms encompass more things than just that, but those are the usual activities that people do while using a VPN.
Torrenting-wise, things are pretty simple as far as the "Avast VPN VS NordVPN battle" is concerned - both VPNs offer users the ability to download and send torrented files while using the digital security tools in question. While the brands don't necessarily say it out loud, you can get a pretty good idea that that's the case reading through their feature pages.
Table: NordVPN and Avast VPN P2P file-sharing and Netflix compatibility
Now, when it comes to Netflix, things are a bit more… Complicated. The company behind the content streaming platform has been banning VPN usage, big-time - many VPNs that used to offer working Netflix servers have since lost this feature.
NordVPN does still offer customers working Netflix servers - combined with torrenting support and top-tier security features, that's great news! Avast, on the other hand, does not support Netflix - if you were looking for a VPN with the solemn intent to watch Netflix USA, Nord is the clear winner on the matter.
Server Speed and Count
No matter what your reasons for looking at NordVPN VS Avast SecureLine VPN comparisons are, it's frankly safe to say that good speed stats are going to be important to everyone, no matter what it is that you're doing with your VPN.
The reality, however, is often a bit disappointing. By now, it's common knowledge that VPNs slow down your connection speed. The trick here is to find a VPN that would do so to a minimal extent. The same VPN, however, will work differently for different people - it depends on your original connection speed, your location, choice of servers, and so on.

Now, it's worth noting that both of the digital security tools in this NordVPN VS Avast VPN article have great connections speeds! It's not something that's even remotely surprising when it comes to Nord, but Avast does actually keep up quite well!
That said, the differences in server count are… Staggering. Let me put it this way - NordVPN has more than a 100 TIMES as many servers as Avast.
Yes, you've read that right - Avast offers customers 55 servers, while Nord has close to 6000. Not much to add to that, really.
Ease of Use
When it comes to the "ease of use" factor, as noted at the beginning of this Avast VPN VS NordVPN comparison article, it's something that isn't exactly very easy to measure objectively. That being said, let me tell you in advance - both VPNs in question are satisfying and simple to use.
Believe it or not, but some VPNs actually require you to perform some complicated setup processes and high-maintenance installations in order to start using them. That's insane! Not only does that automatically eliminate a huge portion of potential users, but it also makes absolutely no sense - why would anyone use a VPN like that when there are countless numbers of one-click-install VPNs out there?

That said, yet again - as it relates to the NordVPN VS Avast SecureLine VPN comparison, both programs are pretty easy to use. Nord is fully optimized to provide users with the best experience possible - great navigation and functionality aspects, fun to use, very simple and straightforward, etc.
Avast isn't difficult, either - it's not something that you' need to worry about when purchasing either of these VPNs. Also, some customer Avast VPN VS NordVPN reviews note that both for them have live customer support - that's great!
Price
Finally, to close off this NordVPN VS Avast VPN comparison, let's take a quick look at the difference in pricing options of both VPNs.
Table: NordVPN and Avast VPN pricing options
Avast's pricing options are:
Nord's pricing looks like this:
As you can probably see for yourself, the pricing options of the Avast VPN VS NordVPN comparison are… Interesting. Avast only offers a 12-month plan, and divides it into different devices. Clearly, Nord has the upper edge here - longer plan options, better prices.
Conclusions
It's quite evident that, all things considered, Nord is the clear winner of the Avast VPN VS NordVPN comparison. The VPN in question has some top-tier functionality aspects, much better pricing plans, supports both torrenting and Netflix and is considered to be one of the top industry leaders, in general.

If you'd like to learn more, and see a to-the-point, side-by-side Avast VPN VS NordVPN comparison, you can find one here. I hope that the article was useful to you - good luck!
Leave your honest feedback
By leaving your honest opinion you can help thousands of readers to choose the best VPN. We accept genuine & helpful user feedback, either positive or negative. Have in mind that biased feedback will not be published. If you want to share your opinion, experience or advice, we want you to spill the beans!
TOP3 Most Popular Coupon Codes