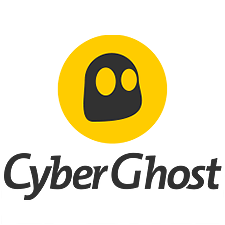 If you're looking for the most thorough Cyberghost review, you came to the right place. I will test each of the main CyberGhost features and give you the unbiased evaluation of each point to help you decide whether or not CyberGhost VPN is worthy of your time.
Verdict at a glance
CyberGhost VPN is one of the best VPN service providers. It is very simple to use, and it has explicitly excellent customer support with live chat. Moreover, it has a strict privacy policy that will keep you safe and integrated features for your best performance.
Pros
Strict No Logs Policy
Lots of Features & Add-Ons
Allows Torrenting
Amazing Customer Support
Compatibility with TOR
Fast
A number of CyberGhost reviews claim that it's their favorite VPN service provider. But is it really that great? What features make it one of the best? That's what I will test in this review and give you answers to those questions.
Let's begin with a short introduction to the CyberGhost review to give you general information.
CyberGhost Review: the Intro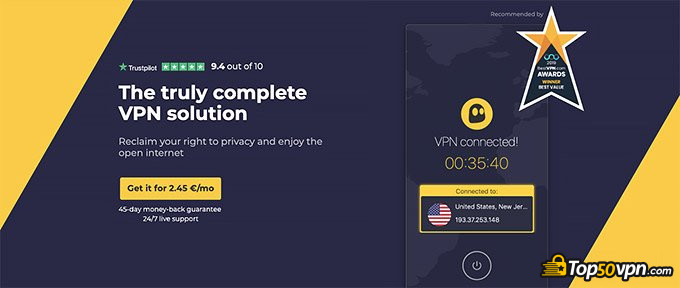 CyberGhost was founded in 2011 and located in Romania. At the moment of writing CyberGhost review, the 55-person crew works to enhance your digital safety.
It was the first VPN service provider to publish a transparency report which proves their position that personal privacy is the fundamental human right and must always come first.
CyberGhost VPN was already used and tested by 30 million users worldwide. It is 100% customizable, so you can decide on every aspect of your experience, starting from servers to features which you can combine.
Is CyberGhost a good VPN? Does it keep logs? Is it safe to use? All of those questions and many more I will answer honestly by testing each of the features that CyberGhost has.
CyberGhost Review: PROS
As always, I would like to begin with the good news, so here are the CyberGhost review advantages.
Strict No Logs Policy
Does CyberGhost keep logs, you might want to ask? The answer is no. Same as you, CyberGhost cares about your privacy. Therefore, CyberGhost DOES NOT collect your data, including:
IP address
Assigned servers
Login and logout time
Don't merge any real data into account data
Traffic data
Any information sent via CyberGhost server
Records (video chats, phone calls, etc.)
However, it does keep track of some of your information that is necessary to monitor business performance, including:
Information that is required when registering (arbitrary username, password), which is encrypted and servers which you are allowed to use, are also encrypted.
Non-personal data when you interact with CyberGhost team (it does not permit the identification of individual persons)
Therefore, even though CyberGhost collects some of the information, CyberGhost VPN does not track any information related to your real identity.
The First VPN to Offer a Transparency Report
The transparency report is a statement which is regularly published by a company. It disclosures data related to statistics requests for user data, records, and content.
I have to mention in this CyberGhost review that it is the first VPN provider, which offers a transparency report since 2011, it includes information such as malware activity flags or police requests they get and other important data. You can see how part of it looks below.

I've heard rumors that some CyberGhost VPN reviews claim transparency report to be a scam. For that reason, working together with my team, we were searching for any information that could affirm those rumors and we couldn't find anything.
Couldn't it be the case that other VPN services have spread that rumor to harm their competitors? I wouldn't be surprised if that hypothesis would confirm.
Therefore, many CyberGhost VPN reviews, distinguish its transparency as a feature that's unique. And I agree with them since this information matters for everyone who considers CyberGhost for their security.
Very Easy to Use
Let's now focus on UX in this CyberGhost review. User experience includes everything from emotions to the ease of use regarding any product or service. But you probably know that UX is subjective because we all have different expectations and previous knowledge. However, if you ask me, CyberGhost is super simple to navigate.
First of all, it took me only a few minutes to download and install the CyberGhost VPN. Then, when I opened it, I was happy to see how clear, simple and understandable it is. Information is sorted into different sections, without any unnecessary data added, which makes it very simple to navigate.
Now, let's see what other users have to say about CyberGhost VPN.

That's only a few out of many positive reviews. You can already see that people claim it's easy to download, use and overall navigate.
However, not everyone can be happy, so some negative CyberGhost reviews appear over time. But I noticed the tendency that people didn't know what actions to take when they saw that something was off. There's always live customer support which you can contact in the case of uncertainty and solve any problem quickly. Always remember that.
Furthermore, if uploaded comments are not justified, then you cannot know whether they are real or fake.
What is more, CyberGhost has dedicated apps for your pleasant usage:
Windows
Mac OS
Android
iOS
And you can use it with every popular device in the market: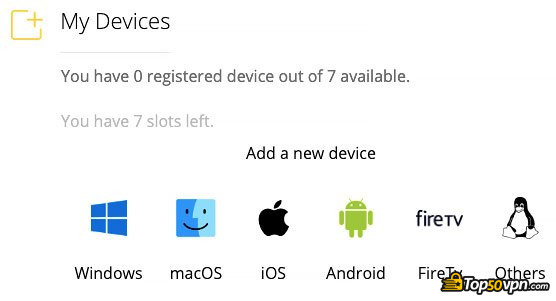 Torrenting and Netflix Allowed!
Torrenting
Many VPNs won't allow Torrenting, but CyberGhost VPN is not one of them. If you have read other CybergGhost reviews, you may have noticed that torrenting is one of their selling points.
Now, if torrenting is allowed, it means that CyberGhost VPN allows Peer-to-Peer (P2P) Network.
If you haven't heard about it before, it is an approach of computer networking, when every person/computer shares the same responsibility for processing data. P2P networks are durable, meaning that if one network goes down, others will continue working. So, if there's at least one person left who has a file, it will stay sharable.
The CyberGhost team made sure that you could torrent anonymously and at the same time speed up and protect your downloads. It's very easy to connect to anonymous torrenting and use it to stay unidentified. Note that even while using a VPN, you should be aware of the dangers when downloading unknown files.
Netflix
Yes, you read correctly. With CyberGhost VPN, you will not only get secure torrenting but also unblock Netflix! That's one of the reasons why people turn to VPN services in the first place. However, in order to unblock Netflix, you need to know which server to connect to.
To give you an answer, I asked CyberGhost VPN customer service representative: "how does Netflix unblocking feature works?"; and here's the answer that I received: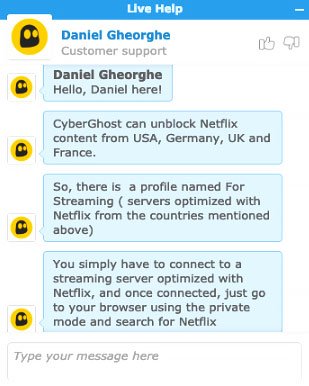 You can see that everything is effortless, all you need is to connect to the server optimized with Netflix (USA, Germany, UK, or France) and simply go to Netflix with the private mode on. Couldn't be simpler, right?
Do you want to hear even better news? It turns out that CyberGhost VPN has a dedicated streaming server, that keeps changing your IP address whenever Netflix tries to decipher it. So, is CyberGhost safe? By now you should be sure that it is!
Live Chat Support Will Answer All of Your Questions
A few years back people used to speak negatively about customer service in Cyberghost Reviews. But now it compleeeeteely chaaanged for the better!
Good customer service is hard to find. You probably already had some bad experience regarding support. But it has to stop now, and it will! With Cyberghost VPN nothing like that will ever happen. It has one of the best customer support - I tested it myself.
CyberGhost VPN offers 24/7 live chat, which should be mentioned in every CyberGhost review. It's very simple to use, all you need to do is press Help window at the right bottom of CyberGhost VPN main page, ask a question that you're concerned about, and you will receive an answer in a few seconds!
Let me tell you, it positively surprised me, since I didn't have that good customer support in a really long time. You will understand why I'm saying this after testing it yourself!
Compatibility with TOR and Unbreakable 256-bit AES Encryption
If no one introduced you with TOR before, it's my pleasure to do that in this CyberGhost review. TOR stands for the Onion Router. Shortly, onion routing is the technique used to communicate anonymously all over a computer network. It's named after onion because it has layers of encryption.
But is CyberGhost safe without TOR? I can firmly tell you that it is. CyberGhost itself has powerful 256-bit AES encryption, which is not (yet) breakable.
What is 256-bit AES encryption?
256-bit AES encryption is a military-grade data/file encryption, it's one of the most secure encryption keys. Numbers 256 mean that every time hacker wants to break such code, he will need 2256combinations to encrypt message written in 256-bit AES encryption. Think about how much time it would take to try each of the combinations.
Now, I want your closer attention. I want to warn that if you choose to use TOR, you should always connect to VPN first and only then to TOR. What is more, if you use both programs together, it can slow your internet experience.
Therefore, TOR is not necessary, even without it, you will have military-grade encryption. But, if you want to be extra safe, it's always an option.
Great Speed - Reduces only by 10Mbps
As I was going through CyberGhost VPN reviews, I noticed a repetitive flaw mentioned by some users and that imperfection was speed. So, I decided to test whether or not it was true.
Before giving you information, I want to note that my data can differ from yours, as it varies depending on servers that you're connected to.
Here's my benchmark before connecting to CyberGhost:

And here's after connecting to the VPN:

As you can see, download speed lowered only by 10 Mbps, which are great news for CyberGhost! However, this is the medium speed of all VPN service providers and remember, as I said before, your benchmark can differ.
Let's see what CyberGhost itself says.
CyberGhost claims that while using a regular subscription, you won't fall behind 6Mbps, and the maximum speed of the CyberGhost can reach up to 1GB. One advice from me: if you notice that VPN works slowly, try switching to a different server, might work instantly.
If you feel that your CyberGhost VPN slows down your internet connection, then take a look at fixes below that CyberGhost offers, they will be helpful if you want to boost your speed.

Therefore, even though in many CyberGhost reviews you can find negative comments about its speed, you should understand that speed depends on many factors, including a server that you choose. So, if your speed decreases, you can quickly fix the situation using my and CyberGhost advice.
CyberGhost Review: CONS
Since I already named every positive feature that I wanted to include in this CyberGhost review, it's time to move on further and look at the negative side, which cannot be avoided.
Price Could be Lower

What is CyberGhost price?
Every CyberGhost VPN review should pay attention to the price. It varies depending on the plan you choose. If you take a 1-month plan, then it is quite expensive compared to other VPNs. However, if you decide to take the 3-years plan, you will be satisfied with the pricing as it's lower than $3 per month.
So, the decision is in your hands, and it's your choice whether you want to stay safe longer or choose the shorter option.
What is more, if you take the 3-year plan, you will get a 45-day money back guarantee. 45 days are enough to test and see whether Cyberghost VPN works for you. So, if you won't be satisfied with it, you will be able to get your money back.
Moreover, if you like to have the possibility to choose from different payment methods, you will be satisfied with the options CyberGhost has to offer. You can choose from payment options such as credit card, PayPal and even with bitcoins.

Would I Recommend It?
Yes. It is a great VPN service provider which allows torrenting, Netflix and even compatibility with TOR. You will get a military-grade 256-bit AES encryption system, which will keep you secure, strict no logs policy that will keep your identity unknown, and amazing speed that is only 10Mbps lower than without the CyberGhost.
Even though the price could get lower, there's no good service that would be cheap, after all, you have to pay for the quality you get. With CyberGhost you will get all of those qualities for $2.75 per month, which is a modest price to pay for your security.
Leave your honest CyberGhost review
By leaving your honest opinion you can help thousands of readers to choose the best VPN. We accept genuine & helpful user reviews, ether positive or negative. Have in mind that biased reviews will not be published. If you want to share your opinion, experience or advice, we want you to spill the beans!