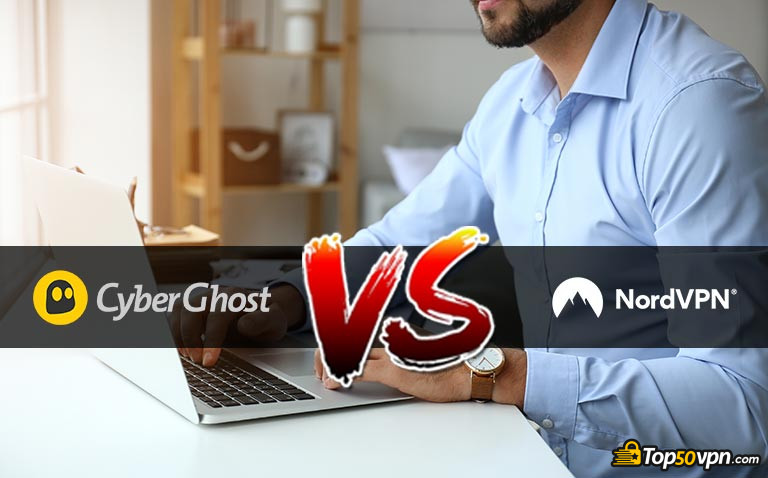 Choosing the best VPN for yourself can seem like a difficult task at first - I mean, it kind of is, if you don't have any guidance to help you out with it. That being the case, however, that's exactly why this CyberGhost VS NordVPN comparison is created - with the help of this article, you should be able to make a choice between two of the VPN industry giants.
Needless to say, while everyone is going to have their own preferences for the "perfect VPN", there are some things that are crucial for all types of these digital security tools to possess. Worry not - first up, we'll take a look at these crucial features, and after doing so, we'll move on straight to the NordVPN VS CyberGhost comparison at hand.
Table: CyberGhost and NordVPN comparison introduction
Note, though, that you can also check our side-by-side comparison of the two VPN in question here. Now, let's get right to it, shall we?
CyberGhost VS NordVPN: Comparison Criteria
If you've ever read any other VPN comparison on our website, you might be aware of the fact that there are some specific features that are essential for any top-tier VPN to possess.
Now, look - it's pretty self-evident that different people are going to need a VPN for different reasons. Some people might want to protect their data while transferring files among their digital workplace databases, while others will simply want to buy a VPN for Netflix.
Table: CyberGhost and NordVPN features
Having said that, allow me to reiterate - if you want to find the best product possible, it has to be a well-rounded VPN that provides all of the necessary features in order to be names "the best" - this CyberGhost VS NordVPN comparison is no different. The "essential features" that I keep on referencing are data logging policies, information leak protection, file sharing & content streaming, sever count & speed, and ease of use.
Let's take a closer look at each one of them.
Data Logging Policies. Without a single doubt, data logging is one of the most serious offenses that a VPN can commit. Whenever a VPN logs your data, it gathers the information about you and your activities online (while you're using the VPN), and then sells it to advertisers so that they could target ads at you. Think that's bad? Well, it gets worse - the same data could also be handed over to the government, too, and get you in a whole lot of trouble. Be it this CyberGhost VS NordVPN comparison or any other, data logging isn't something that should be forgivable.
DNS, IP & WebRTC Leak Protection. While this isn't something that you'd notice mentioned among customer CyberGhost VPN VS NordVPN comparisons, information leaks are actually quite common in the VPN industry, as a whole. This is mostly true with less-known VPN providers - they don't employ all of the necessary security tools, and thus the VPN gets breached pretty easily, with your information leaking out to third-party hackers. This is why it is important that, while looking for a top-tier VPN, you do your research and choose only the digital security tools that have the best-quality security features.
File Sharing & Content Streaming. On a somewhat more lighthearted note, file sharing and content streaming are among the most popular uses for a VPN, right after these software being used for digital security and data integrity-preserving features. File sharing usually refers to torrenting, but it can also mean some different things, too (such as simply sending an image to your friend via email). Content streaming is a term used to describe the use of VPN in order to access some geo-locked content, with Netflix being the usual example.
Server Count & Speed. While it doesn't really tell you the whole story about the quality of a VPN, server count is something that's as important in this CyberGhost VS NordVPN comparison as it is in any other. The more servers a VPN has, the more options you will possess when it comes to finding the best server to download or send files, watch Netflix, or simply browse online at acceptable speeds. That's the other thing, too - a high-end VPN is going to possess some above-average speed stats. If a tool like that lacks in the speed department, well… Let's just say that it's going to be a drag trying to use it long-term.
Ease of Use. Probably the most self-explanatory out of all of the VPN features, ease of use refers to a VPN being simple to navigate around and use, in the general sense of the word. A smooth user interface, features being placed in conveniant locations, super-simple and straightforward server shifting procedures - all of these things (and more!) add up to make a VPN easy to use. Granted that you'll probably be logging into the digital security software every single day, it's definitely an important aspect in this CyberGhost VS NordVPN comparison!
Now that we've got all of the essential features of any top-rated VPN out of the way, let's move on to the CyberGhost VPN VS NordVPN comparison!
CyberGhost VS NordVPN: The Comparison
For the sake of maintaining some consistency, we'll follow the same pattern as seen above and begin our comparison by talking about the data logging policies of each of the VPN's in question.
Data Logging Policies
As noted earlier on in the CyberGhost VS NordVPN comparison, data logging is one of the main unforgivable offenses that a VPN can commit.
Truth be told, a VPN provider can promise it's customers a whole lot of attractive features - top-tier speed, thousands of servers, all-platform availability and so on, but if it logs your data, it's not something that you should pay attention to. I mean, that beats the entire purpose of owning a VPN, in the first place!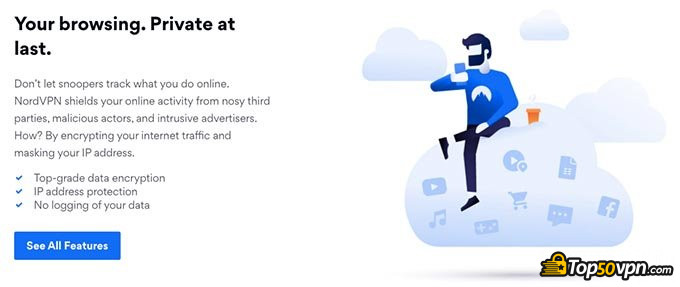 Having said that, both VPNs in this CyberGhost VPN VS NordVPN comparison are top-tier digital security tools - you can be sure that neither of them logs any sensitive information on your end.
The keyword in that sentence, however, is "sensitive" - the VPNs are still going to keep track of some data, but that's completely normal. Email addresses for billing purposes, technical information in order to help you if you encounter a bug, and some similar types of data are normal to be tracked and kept tabs on. All of the actually-sensitive information, though, is safe and sound.
Latest NordVPN Coupon Found:
GET 60% OFF
On 2-Year NordVPN Plan
Looking for ways to secure yourself online? What if we told you that you can get the top VPN on the market for way less - grab NordVPN 60% discount now!
Expiration date : 22/08/2022
3,191 People Used
Only 99 Left
DNS, IP & WebRTC Leaks
Information leaks tend to happen due to a lack (or breach) of security features on a VPN's part of the deal. If some sort of a hacker managed to breach the digital data protection "shield" that a VPN is supposed to provide to you, your information could then leak out for anyone to see - those same hackers can then utilize that information for malicious purposes.
Table: CyberGhost and NordVPN security features
In order to protect yourself from identity theft, doxing or even swatting, you should make sure that the VPN of your choice has all of the key security features in check. What are those security features, you may ask? Well, this question is perfect for both of the VPNs in this CyberGhost VS NordVPN comparison - they both possess top-tier security.
The AES 256-bit data encryption system, the OpenVPN protocol, a killswitch… You name it - both CyberGhost and NordVPN have it! Using either one of these two VPNs, you can rest assured that your personal data is going to be protected with the best security features in the industry.

Did you know?
File Sharing and Content Streaming
I've mentioned this at the beginning of the CyberGhost VS NordVPN comparison, but "P2P file-sharing" usually refers to torrenting, while "content streaming" is just a fancy way of saying "watching all of the content that Netflix has to offer, without worrying about regional restrictions".
So… What does a VPN need to be considered a good choice for both of these activities?
Well, first and foremost, the VPN should possess special, designated servers for both Netflix and torrenting. The more servers that work with the aforementioned activities, the better!
Table: CyberGhost and NordVPN P2P file-sharing and Netflix compatibility
Naturally, good server speed is also important, but we'll get to that in a minute - first of all, let's take a look at both of the VPNs in the NordVPN VS CyberGhost comparison, and see if they do actually provide users the capabilities to do either of those two activities.
Being the two industry giants that the VPNs in question are, it probably doesn't come as a surprise that yes - both CyberGhost and NordVPN allow international users to access the content available on Netflix USA, and also "have a green light" on torrenting, as well.
Server Count & Speed
For some people, things like server count might seem like some very arbitrary information. I mean, when you think about it, it doesn't really matter how many servers either of the two "CyberGhost VS NordVPN" VPNs have, as long as the servers that they DO have work properly, right?
Well, no, not really. Server count is actually quite important.
You see, if a VPN possesses a lot of different servers, you - as the user - will have that many different choices for logging in. If, say, some server in the US doesn't work the way that it's intended, no worries - there are 20 more to pick from! As you can see, it's quite crucial.
Speed, on the other hand, is very self-explanatory. If a VPN wants to be considered "a high-end digital security tool", it MUST possess some above-average server speed statistics. If you log into the VPN and notice that it takes five-and-a-half years to download a picture, you're probably going to throw that VPN right out of the digital window.

Speed-wise, yet again, the two VPNs in this NordVPN VS CyberGhost comparison are very similar - they both offer some amazing speed statistics, and don't slow down your original internet speed all that much.
When it comes to server count, though, things are… Quite different.
While CyberGhost has around 600 servers (a bit over that, actually), NordVPN offers users close to 6000 different servers! That's 10 times that of what CyberGhost has!
Ease of Use
Finally, in regards to ease of use, it's worth mentioning that both VPNs in this CyberGhost VS NordVPN comparison are quite similar.
Both Nord and CyberGhost have some interactive and fun-to-use interfaces. There is no technical jargon used to confuse the user, the installation processess are very simple with both of them, and sorting through servers is also very self-explanatory.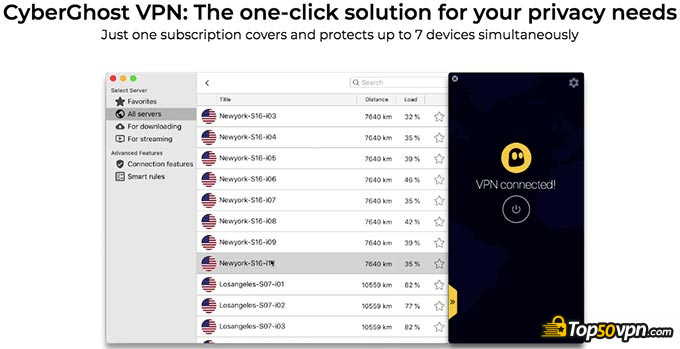 Admittedly, it would seem that some users do note that NordVPN might be a tad bit easier to use, but that's honestly very subjective. Either way, no matter which of these two VPNs it is that you choose, both of them should provide you with some great usability experience.
Price
Now that we've covered all of the main features of the CyberGhost VS NordVPN comparison, all that's left for us to discuss is the pricing of each of the two VPN providers.
Table: CyberGhost and NordVPN pricing options
The pricing options for CyberGhost are:
NordVPN's pricing plans look like this:
While the margin definitely isn't a notable one, it would seem that CyberGhost still does offer customers some better prices.
Conclusions
As you can probably tell by yourself, both of the VPNs in this CyberGhost VS NordVPN comparison are truly top-tier digital security tools. However, if you were to pick just one, our advice would be to go with NordVPN.
While CyberGhost surely is an amazing choice for a VPN, Nord offers customers many more servers - whether it be Netflix, torrenting or simply browsing online, Nord's server count should suffice for all of your wants and needs.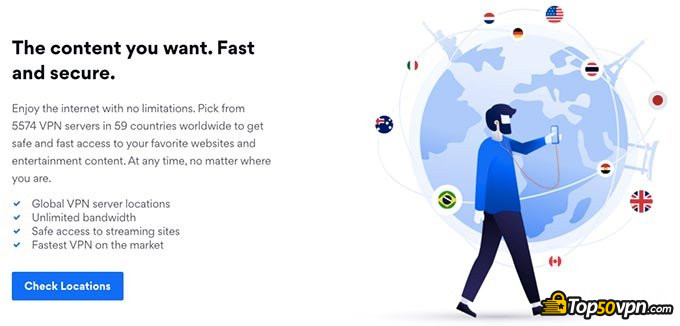 If you'd like to check out a more to-the-point comparison of both of the VPNs in question, do check out our side-by-side CyberGhost VS NordVPN comparison here. That said, I thank you for reading, and wish you all the best of luck!
Leave your honest feedback
By leaving your honest opinion you can help thousands of readers to choose the best VPN. We accept genuine & helpful user feedback, either positive or negative. Have in mind that biased feedback will not be published. If you want to share your opinion, experience or advice, we want you to spill the beans!