If you're looking for a VPN, chances are that you value the security and privacy of your data and personal information.
The fact of the matter is, however, that not all VPN providers offer the same amount (and type) of security - some have absolutely amazing safety in place, while others undermine safety and concentrate on the "additional feature" department. Today, we'll try to figure out the most secure VPN to use in 2023.
Here's a quick rundown of the top 7 contenders for this list. We'll go further in-depth with each one of them, as soon as we establish a clear idea of what the "safest VPN" actually means.
So, without further, let's get straight into it, shall we?
What Does the Most Secure VPN Look Like?
Before we actually get into the "Most secure VPN" review, we should define what a secure VPN actually looks like.
First of all, data encryption. The VPN industry has tons of various different choices when it comes to the way that VPNs encrypt your data. However, as with every other aspect, there's an industry standard - tools (not only the ones that relate to data encryption, but with everything else, too) that are considered to be the best out of the best.
When it comes to encrypting your information, that would be AES 256-bit encryption together with the OpenVPN protocol.
AES 256-bit data encryption is used by the safest VPNs (and even some of the most secure free VPNs) out there. It is a virtually unbreakable system, and an upgrade to the still-often-used AES 128-bit.
OpenVPN is an open-source (that's important!) software designed for safe peer-to-peer connections on specific networks. It ensures that the information that you send and receive is protected and secure - this is crucial for people who like to torrent files and participate in other, similar file-sharing activities.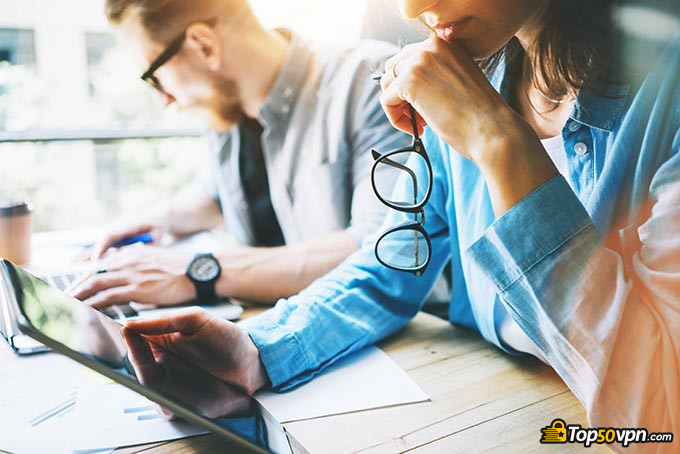 Another important point when we're talking about the best VPN for privacy is the "no data logging" policy.
Whenever a VPN logs your data, it tracks all of the things that you do online while you're connected to the VPN. Whether it be your browsing history, your purchases or sales, your IP and other personal information - anything and everything can be logged by the service provider.
There are two things that can happen with your information afterwards - it can either be sold off to advertising agencies or handed over to the government.
Data logging is an extremely serious topic and an almost unforgivable offense in the VPN industry. This means that, if you're looking for the most secure VPN, you should look at providers who do not track any of your sensitive information (some logging, like the one used for technical support or billing information, is normal).
Finally, we have the DNS, IP and WebRTC leaks. A very common issue in the VPN world, these leaks mean that, while you're using the VPN, third parties (i.e. your internet service provider) can see your activities (in other words, the VPN becomes ineffective).
So, the criteria for the "most secure VPN of 2023" are pretty simple: no data logging, no leaks (DNS, IP or WebRTC) and it has to use the most advanced form of data encryption. With that said, let's take a look at the very first contender on the list.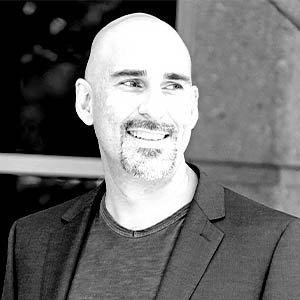 Steve Tcherchian
CISO at XYPRO
What threats can people face when going online?
You're essentially identifying who you are – your address, your browsing habits, interests to whatever website you're connecting. If you're browsing weird or inappropriate things (not that you should do this), incognito browser mode won't help you. Assume the website owner knows exactly who you are. Public WiFi is another serious threat for users not using VPN. You can't be sure the "Starbucks WiFi" you're connecting to is a real thing and not some pineapple setup by someone malicious intending to steal your credentials and data. Without a VPN, you're at the mercy of the WiFi provider. That means, in most cases, they can see all data being sent in and out of the WiFi network – including passwords to email accounts, online banking websites, etc.
Ranks #1 out of 7 VPNs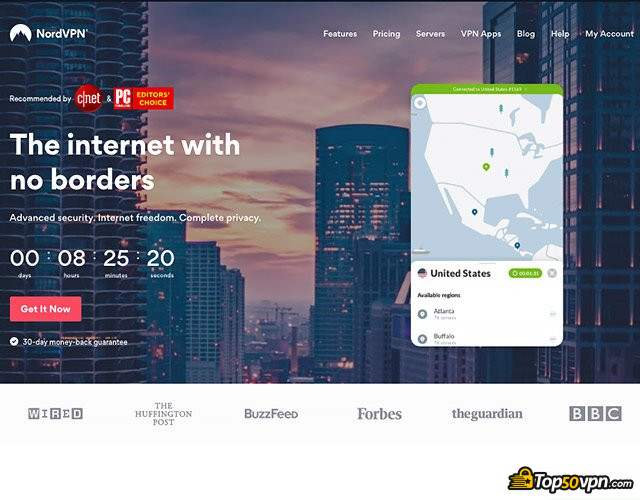 Things we liked:
+ Amazing prices
+ Easy to use
+ Safe jurisdiction
+ Great security
Things we didn't like:
- Some plans could have higher discounts
GET 63% OFF
+ 3 Months Free
Looking for ways to secure yourself online? What if we told you that you can get the top VPN on the market for way less - grab NordVPN 60% discount now & get 3 months FREE!
Expiration date : 02/10/2023
3191 People Used
Only 99 Left
If you're a fan of YouTube, you might perfectly well be familiar with NordVPN - it seems like every single huge YouTuber has advertised this VPN provider, especially after Article 13 has been approved by the European Union.
In all of the advertisements, though, one thing is emphasized more than anything else - Nord's security.
NordVPN deserves a spot on the most secure VPN list mainly because it has everything that a secure VPN should. You want AES 256-bit data encryption? You've got it! What about the OpenVPN protocol? Sure thing! All of the top data encryption and security features go hand-in-hand with NordVPN.
Furthermore, the VPN provider has a zero-tolerance policy when it comes to information logging. This means that you won't only be safe from outside threats and possible breaches, but will also be able to rest assured that your information isn't sold off to third parties or - worse yet - handed over to the government.
Pricing-wise, NordVPN is one of the cheapest alternatives when it comes to the most secure VPNs out there. The most popular 3-year plan costs $2,99 per month (converted from EUR into USD). People who are looking for a free secure VPN will be happy, too - NordVPN offers its users a 7-day free trial!
So, if you're in the market for the safest free VPN, NordVPN might be a pretty good contender!
Ranks #2 out of 7 VPNs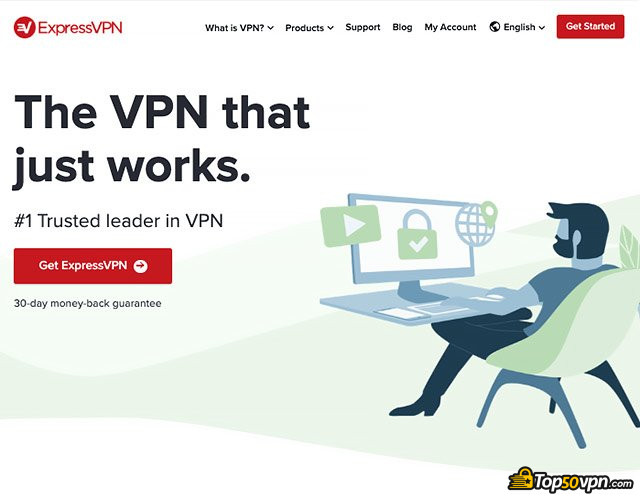 Things we liked:
+ Great security
+ Super-high speed
+ No logging
+ OpenVPN protocol support
Things we didn't like:
- Small number of devices available to be connected simultaneously
GET 35% OFF
On ExpressVPN 12-Month Plan
Purchase the most popular ExpressVPN 12-month plan f with this special ExpressVPN discount!
Expiration date : 02/10/2023
2491 People Used
Only 9 Left
ExpressVPN is an industry behemoth that's famous for being almost unreasonably fast and secure.
Express utilizes the industry-standard AES 256-bit data encryption together with the OpenVPN protocol, but has a ton of additional security features, too.
People who are looking for the most secure VPN will be happy to know that Express uses an advanced form of negotiation between the VPN and your device (better-known as a handshake), a message authenticator, and many more interesting, security-ensuring tools.
In addition to all of that, ExpressVPN is also very straightforward with their logging policies. The company does not log any of your sensitive data - you can rest assured. Also, ExpressVPN is somewhat special in that it manages to balance two of the most important aspects for a VPN - security and speed.
Quite frankly, you might not even feel the difference between using ExpressVPN and keeping it off.
Express is a tad bit pricier than some other VPNs on this list. To add to that, people looking for the most secure free VPN might be a little disappointed - this VPN provider offers no free trial.
The most popular 12-month plan would cost you $8,32 per month. In addition to that, though, you'll receive the standard 30-day money-back guarantee.
Ranks #3 out of 7 VPNs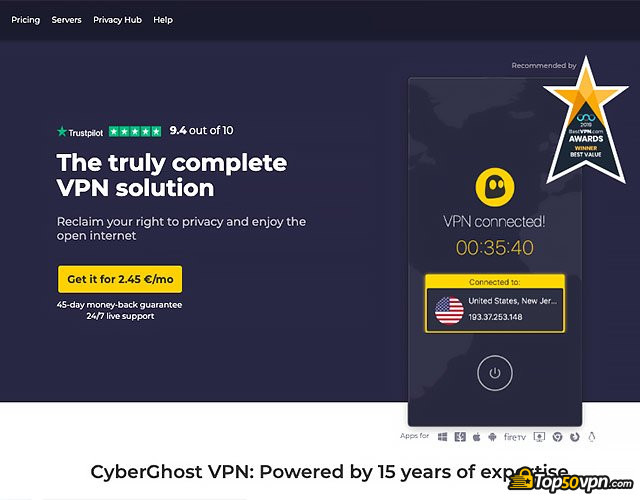 Things we liked:
+ Strict No Logs Policy
+ Lots of Features & Add-Ons
+ Allows Torrenting
+ Amazing Customer Support
+ Compatibility with TOR
+ Fast
Things we didn't like:
82% OFF + 3 MONTHS FREE
Limited-Time CyberGhost Deal
Your chance to save big is now - use this CyberGhost coupon & get 82% OFF a 2-year plan + 3 FREE months. Don't miss the opportunity to save on a top-rated VPN!
Expiration date : 02/10/2023
3284 People Used
Only 53 Left
CyberGhost is one of the best examples of how to manage both high-end security and decent pricing in a single VPN product.
As with other contenders on this "most secure VPN" list, CyberGhost comes equipped with a strict "no data logging" policy. While using the VPN, you can rest assured that all of your sensitive information will remain with you and you alone, and the provider won't try to scrape it and then sell it off to some advertising agency or even give it to the government.
Also, data encryption. As do all of the other industry leaders, CyberGhost uses the virtually-unbreakable AES 256-bit data encryption. It is yet to be breached, and chances are that such a time might not come any time soon.
Pricing-wise, CyberGhost can get a bit pricey... Or not. It does all depend on the plan that you choose to go with. If you decide to trust the VPN provider and pick the longest (yet, most popular) plan (the 3-year one), it will cost you $2,75 per month. Pretty good!

Did you know?
Ranks #4 out of 7 VPNs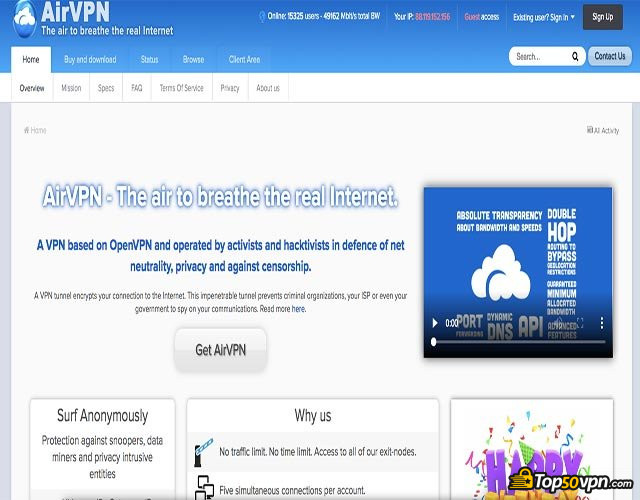 Things we liked:
+ No data logging
+ Good information security
+ No DNS, WebRTC or IP leaks
Things we didn't like:
Save 60%
By Purchasing AirVPN 3-Year Plan
Grab this AirVPN coupon & enjoy your AirVPN subscription only for 2.75 Eur/month instead of the usual 7 Eur per month. Ofer is valid only when purchasing a 3-year plan.
Expiration date : 02/10/2023
1239 People Used
Only 61 Left
If you're not really a huge VPN fan yourself, chances are that this might be your first time hearing about AirVPN. Well, let me tell you - it's definitely a VPN worth paying attention to.
AirVPN was created in Italy (which isn't necessarily a good thing). Even though the jurisdiction doesn't provide much comfort, Air is actually a community project created by people who believe in net neutrality and are extremely opposed to things such as Article 13.
Why should this matter when we're talking about the most secure VPNs? Well, for starters, AirVPN is based on the OpenVPN protocol - that's already a good sign. Furthermore, even though Air isn't at all that well-known, an increasing number of people are talking about the VPN's no-logging policy - it's actually one-of-a-kind.
Most VPN providers around the world offer "no data logging" policies - we've already established that. These policies tend to exclude things like technical support information, bug logging, billing information, and so on - we know that, too. Depending on the provider, these criteria could be more or less flexible. So, what's so special about AirVPN?
It does not log ANY of your information. And I do mean ANY.
Even when it comes to payment, if you decide to pay via Bitcoin, you will remain 100% anonymous. Air literally has 0-clue of who you are and what you're doing on their VPN - and that's the way they like it, too. It's amazingly refreshing to come across such a transparent and data integrity-honoring VPN provider.
Yet again, however, people looking for the most secure free VPN will be disappointed - AirVPN is definitely a secure VPN, but it's not a free secure VPN. However, the pricing plans that the company offers are still rather interesting:
The closest that you'd get to the "safest free VPN" would be their 3-day plan - it would come out to be approximately $2,26. The longest-lasting plan that you can purchase (and the one that offers the best deal) is the 3-year one, coming out to be around $2,48 per month (with the current promotion). A pretty solid price!
Ranks #5 out of 7 VPNs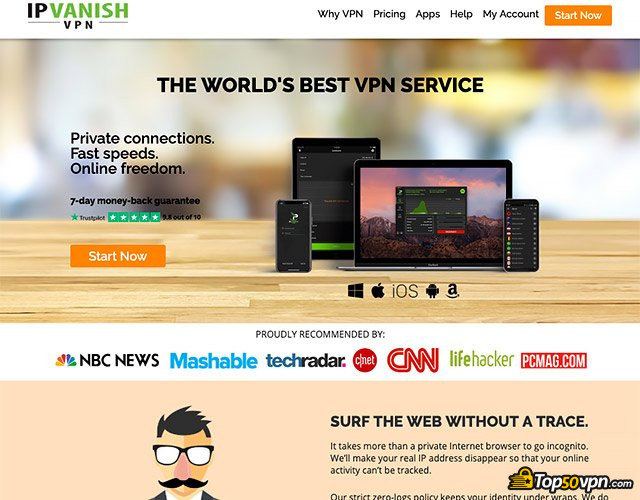 Things we liked:
+ Great Speed
+ Torrenting/P2P Allowed
+ Does Not Keep Logs
+ AES-256 Military-Grade Encryption
+ DNS and IPv6 Leak Protection
+ Netflix Works With Some Servers
Things we didn't like:
- Price Relatively High
- Bad Third Party Reviews
IPVanish is one of the less-known names in the industry. Don't get me wrong - it's a huge VPN provider, but it's not as popular as, say, ExpressVPN or CyberGhost.
Straight off the bat, let me just say that if you're looking for a free secure VPN, IPVanish ain't one of them. This VPN provider has no free version in place.
That being said, however, it does have a refund policy - if you don't enjoy your experience with the VPN, you can get your money back in 7 or fewer days from your initial purchase.
Same as its contenders, IPVanish offers top-tier security features and employs the SHA256 hashing algorithm together with the AES 256-bit data encryption. Protocol-wise, you'll find that the company has a pretty good pool of software to choose from - it supports quite a few different protocols.
The fact that IPVanish belongs in the "most secure VPN" lists is further emphasized by the fact that the company utilizes multiple additional security features. A good example of this would be the kill switch - a tool used to terminate all of your processes in case of a connection loss.
IPVanish also offers pretty decent prices - the 12-month plan would cost you $3,24 per month, and you would even get an additional year, as well!
Ranks #6 out of 7 VPNs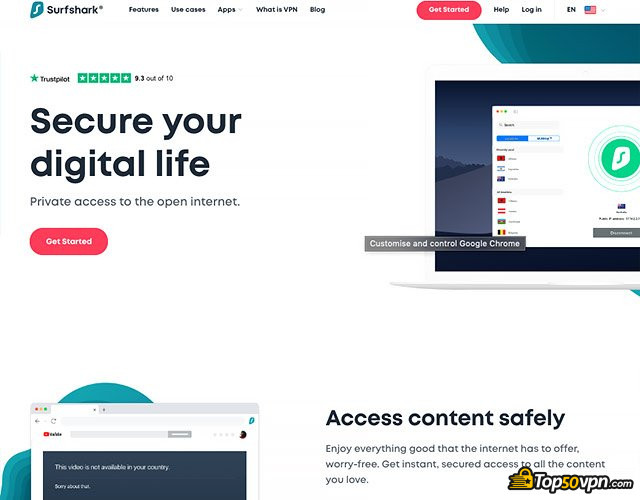 Things we liked:
+ Extremely affordable
+ Doesn't log your information
+ Allows torrenting
+ Supports an unlimited number of devices
Things we didn't like:
- Speed tends to fluctuate
- Not too many servers
81% OFF
Special Surfshark Offer
Get the best-value 24-months plan with this Surfshark VPN coupon! Pay only $2.49 per month by grabbing your 81% discount!
Expiration date : 02/10/2023
1739 People Used
Only 24 Left
SurfShark is a rather young VPN when compared to its competitors, but it has already skyrocketed to the top of the "most secure VPN" lists. Why? Well, to put it simply, it has nailed the ratio of quality VS price pretty well.
Security-wise, Surfshark walks hand-in-hand with the industry giants - super-strict no-logging policy, all three of the main data encryption protocols (OpenVPN, IPSec and IKEv2), doesn't have a history of leaks or other security breaches, etc.
Furthermore, same as ExpressVPN, Surfshark is based out in the British Virgin Islands. Security experts will tell you that this is one of the best places to locate a VPN - the islands are independent and do not belong to any of the intelligence-sharing alliances of the world.
Remember when I mentioned the "quality VS price" thing? Well, I wasn't joking - while not necessarily being the safest "free" VPN, Surfshark has one of the most (if not the most) competitive prices in the game.
A 24-month subscription will only cost you $1,99 per month - now that's a competitive price! All in all, with top-notch security and a great location, Surfshark definitely deserves a spot on the Most Secure VPN list.
Ranks #7 out of 7 VPNs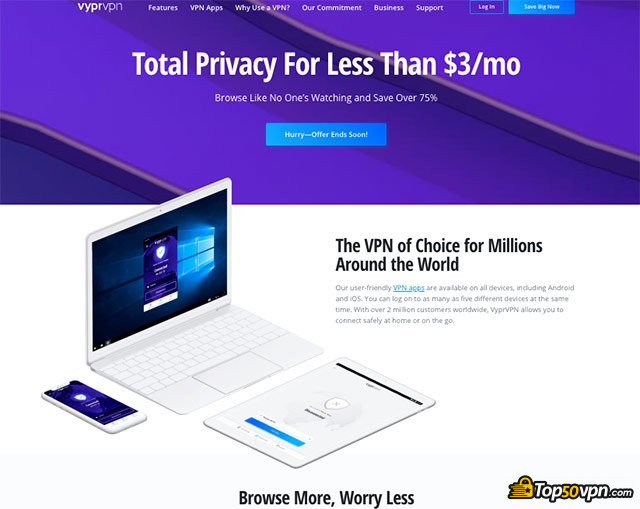 Things we liked:
+ No-Logging Policy
+ Netflix and Torrenting Allowed
+ Strong Security: Chameleon for Premium Plan
+ Great Customer Support
+ No IP or DNS Leaks Detected
Things we didn't like:
- A Little Bit Pricey
- No Bitcoin Payment Method
87% OFF
3-Year Vypr VPN Plan
Vypr VPN coupon lets you save 87% on a valuable 3-year plan. Just apply the discount & enjoy these huge Vypr VPN savings!
Expiration date : 02/10/2023
731 People Used
Only 64 Left
VyprVPN is one of the more commonly-encountered VPNs when people talk about "the most secure VPNs in the world". Let's take a look at why that's the case.
First of all, Vypr offers some really cool security features for anyone that purchases the VPN. In addition to the standard kill switch, Vypr provides its users with a DNS leak protection, some extra protocols (in addition to OpenVPN), and so on.
One of the cooler of these features would be the Chameleon protocol - it aims to ensure that websites have a harder time detecting whether or not you're using a VPN. This is super-beneficial if, for example, you want to access Netflix's region-locked content without getting caught by their systems.
As it relates to the best VPN for privacy, Vypr enforces all of the standard measures that you would expect out of the safest VPN - no logging, top-tier data encryption, etc.
A nice addition to all of that security is the fact that Vypr has some pretty neat speed statistics - it's one of the faster VPNs that you'll come across, which is rare when we're talking about the most secure VPNs (high amounts of security tend to slow VPN connections down).
VyprVPN does offer a 3-day free trial for anyone wanting to test the VPN out. After that, if you want to receive all of the benefits listed above, you'll have to purchase Vypr's premium plan - this will cost you $6,67 per month, billed annually.
Conclusion
With 7 of the top secure VPNs laid out in front of you, one question remains - which ones if the best VPN for privacy?
Honestly, each of the above-mentioned VPNs will give you some great amounts of security and data protection. The one that you decide to choose depends on your own preferences - maybe the price is an important factor when it comes to making your mind up? Or the speed of a particular VPN provider?
Whatever the case might be, just know that each of the VPNs mentioned in this article have their own strengths and weaknesses, but they are all fully dedicated to keeping your information secure.
Table: The most secure VPNs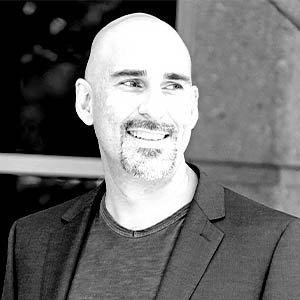 Steve Tcherchian
CISO at XYPRO
Contributed by: Steve Tcherchian , CISO at XYPRO
Steve is Chief Information Security Officer at XYPRO, a leading cybersecurity analytics company. He is on the ISSA CISO Advi...
Read Full Bio...
Leave your honest Most Secure VPN review
By leaving your honest opinion you can help thousands of readers to choose the best VPN. We accept genuine & helpful user reviews, either positive or negative. Have in mind that biased reviews will not be published. If you want to share your opinion, experience or advice, we want you to spill the beans!