In the VPN industry, there seems to be a negative connotation with the term "cheap VPN".
The general consensus is that "cheap" usually equals "bad" - which is nonsense! Think about it - some of the best VPNs in the game offer amazing, cheap prices for their services! That said, "cheap" can be somewhat difficult to define - every single person will have a different understanding of the term.
Today, we'll talk about some of the cheapest VPNs in the industry. More precisely, we'll be discussing the best cheap VPNs - penny-costing proxies that act as VPNs aren't gonna be a part of this list.
Before we actually go ahead with the "cheapest VPN" review, however, we'll need to set some certain guidelines for the term itself. Once we got that out of the way, we'll be able to move on to the actual list itself.
The cheap VPN options are:
Right, then - let's get straight into it.
The Definition of a Cheap VPN
So then… What defines "cheap VPN"?
Well, as I've mentioned in the beginning, everyone has their way of defining the "best and cheapest VPN". However, for consistency's sake, let's lay down some ground rules that we'll be using in this article.
Honestly, there are only two specifications that will have to be met in order for a VPN to make it to this list.
First of all, it has to cost no more than $5. Now, you might say - every single VPN costs less than that if you buy the cheapest plan! Yes, I know that - this is why, when I say $5, I'm talking about a VPN provider's most popular plan. If that costs more than 5 bucks, it's not going to be a part of this list.
And the second rule is pretty simple, too - it has to be at least somewhat good. In this context, when I say good, I'm talking about a VPN that people would actually use, and not one that costs 10 cents, but is full of malware.
Also, do keep in mind that free VPNs (or free versions of a particular VPN) are also going to be excluded from this article - reviewing a free VPN requires a whole different review, and isn't really in-line with talking about best affordable VPNs.
Now, with all of that out of the way, we can finally move on to discussing the cheapest VPNs in the game.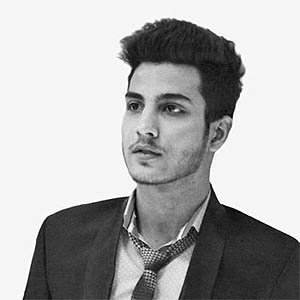 Rameez Ghayas Usmani
Digital Marketing Executive at PureVPN
What is important to consider when choosing a VPN service?
I'd suggest evaluating which features are important for you and which ones aren't. For instance, a journalist that needs a VPN to carry out their research and due diligence is likely to want no trails leading back to him. Hence, he may want the strongest encryptions available. Similarly, a teen blog site may need a VPN to access geo-restricted streaming content. So, for them, the number of servers in different countries is of higher value. In the end, it all depends on what you'll need the VPN for. No two VPNs can offer the same service at the same quality. Research your part and evaluate which VPN providers offer the best features that would fulfil your needs.
Ranks #1 out of 7 VPNs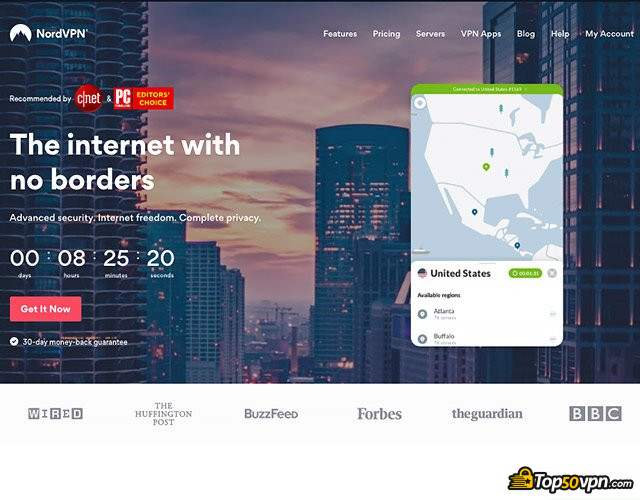 Things we liked:
+ Amazing prices
+ Easy to use
+ Safe jurisdiction
+ Great security
Things we didn't like:
- Some plans could have higher discounts
GET 63% OFF
+ 3 Months Free
Looking for ways to secure yourself online? What if we told you that you can get the top VPN on the market for way less - grab NordVPN 60% discount now & get 3 months FREE!
Expiration date : 10/12/2023
3191 People Used
Only 99 Left
What are the main NordVPN Pros?
Here's the list of the benefits NordVPN offers:
Amazing security
Great data encryption
Netflix and torrenting allowed
You probably saw it coming now, didn't you?
If you're at all familiar with the VPN industry, you've probably heard about NordVPN. Without a doubt, it is currently one of the leading VPN providers in the world. Since its main competitor - ExpressVPN - has some higher pricing options, Nord can easily take a spot in this cheap VPN review.
NordVPN offers all of the amazing features that VPN users have come to expect out of the tool - you'll be able to watch Netflix's geo-locked content from almost any part of the world, torrent files (and use Peer-to-Peer file sharing for other purposes, too), and so on.
Nord also offers some of the best security features in the game - it uses the industry-standard AES 256-bit data encryption, the OpenVPN protocol, has no known DNS, IP or WebRTC leaks, and (perhaps most importantly) employes a strict no data logging policy.
So, why is NordVPN on this cheap VPN list?
Well, because the company's most popular plan costs only $2,99 per month (converted from EU into USD)!
Yup, you've read that right - one of the best and cheapest VPNs is also one of the top players in the game, overall! How about that!
Without a doubt, if you're looking for a cheap VPN, Nord should definitely be on your list.
Ranks #2 out of 7 VPNs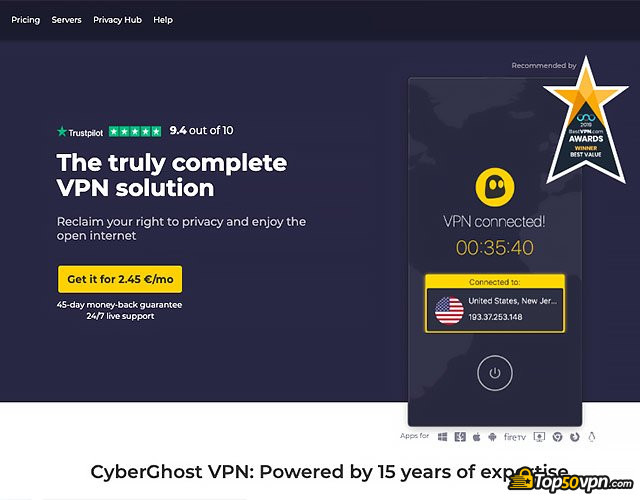 Things we liked:
+ Strict No Logs Policy
+ Lots of Features & Add-Ons
+ Allows Torrenting
+ Amazing Customer Support
+ Compatibility with TOR
+ Fast
Things we didn't like:
82% OFF + 3 MONTHS FREE
Limited-Time CyberGhost Deal
Your chance to save big is now - use this CyberGhost coupon & get 82% OFF a 2-year plan + 3 FREE months. Don't miss the opportunity to save on a top-rated VPN!
Expiration date : 10/12/2023
3284 People Used
Only 53 Left
What are the main CyberGhost Pros?
Here's the list of the benefits CyberGhost offers:
No logging
No known leaks
Military-grade data encryption
CyberGhost is in a unique position when it comes to the best cheap VPNs - even though it's an amazingly-popular VPN, it seems to be way less often talked-about when compared to, for example, Nord.
One of the strongest features of CyberGhost is that it provides military-grade data encryption with AES 256-bit protection. Same as with Nord, Cyberghost users can rest assured that their information is protected by the best type of encryption around.
CyberGhost also has a "no logs" policy, and offers its users the ability to use torrents and access Netflix freely. Furthermore, this VPN can be used with up to 7 devices simultaneously - that's a lot of devices!
As for the main critiques attributed to this cheap VPN, you might find that it's a bit on the slower side. You won't really "get stuck" downloading files or doing something else that requires a high download speed, but you will, in fact, notice a difference.
Pricing-wise, CyberGhost is one of the best affordable VPNs around! Converted into USD, the price for the company's most popular plan (the 3-year one) comes out to be around $2,75 per month.
To add to that, Cyberghost offers its users a wapping 45-day money-back guarantee! Definitely a great addition to a cheap VPN list.
Ranks #3 out of 7 VPNs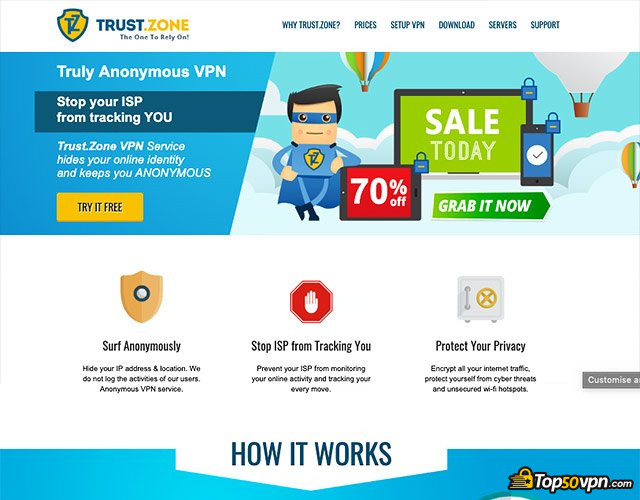 Things we liked:
+ Supports torrenting
+ Unlocks Netflix
+ No logging policy
+ Good speed
Things we didn't like:
- Customer support could be better
- A longer money-back guarantee would be nice
What are the main Trust.Zone Pros?
Here's the list of the benefits Trust.Zone offers:
No logging, no leaks
Netflix and torrenting support
OpenVPN and L2TP
Trust.Zone offers its users working Netflix servers and torrent support, but the thing that I like most about this VPN provider is that it values security - the kill switch feature that Trust.Zone provides is a great example of that.
If you didn't know, kill switches are special tools that are there to help ensure that your information does not leak to third parties (namely, your ISP) in an event of a connection loss.
What a kill switch does is that it cuts and terminates all of your processes as soon as you lose connection with the VPN. A great addition to any cheap VPN list indeed!
Trust.Zone also offers its user the ability to choose from a few different secure-connection protocols, namely OpenVPN and L2TP. Do keep in mind that OpenVPN is considered to be the industry standard, and the safest protocol to use for Peer-to-Peer connections.
Price-wise, Trust.Zone fits the description of a "best affordable VPN" perfectly - the 2-year plan on the site costs $2,88 per month, and offers 5 simultaneous connections, unlimited amounts of bandwidth, and so on.

Did you know?
Ranks #4 out of 7 VPNs
Things we liked:
+ Works with Netflix
+ Secure AES-256 Encryption
+ Great UX
+ OpenVPN, L2TP/IPSec, IKEv2, KeepSolid Wise Protocols
+ A Lifetime Subscription
Things we didn't like:
- Keeps Some Logs
- Limited Torrenting
A lot of servers (more than 400)
Netflix works
Top-tier data encryption
VPN Unlimited might be one of the less-known names in the cheap VPN industry, but it's definitely one that you should know about.
With more than 400 servers available to pick from, you'll be able to use VPN Unlimited for all of your wants and needs… Well, kind of.
You see, a major drawback that this VPN has is that torrenting is rather limited - if that's your main reason for looking for a cheap VPN, you'd best look elsewhere. That said, if Netflix is of a higher priority to you, then you're in luck - VPN Unlimited does have servers that unlock Netflix USA to international users.
Another great thing that VPN Unlimited offers is data encryption. While not being a very well-known VPN provider, the company still used the AES 256-bit encryption in a combination with the OpenVPN software-protocol.
Finally, the pricing.
If a VPN for 5 devices is enough for you, then their "best valued" plan (3-years) comes out to be $2,78 per month. An interesting to mention here, however, that VPN Unlimited also has a lifetime subscription available - while it's far from being cheap, it's still a feature that isn't available all that often.
Ranks #5 out of 7 VPNs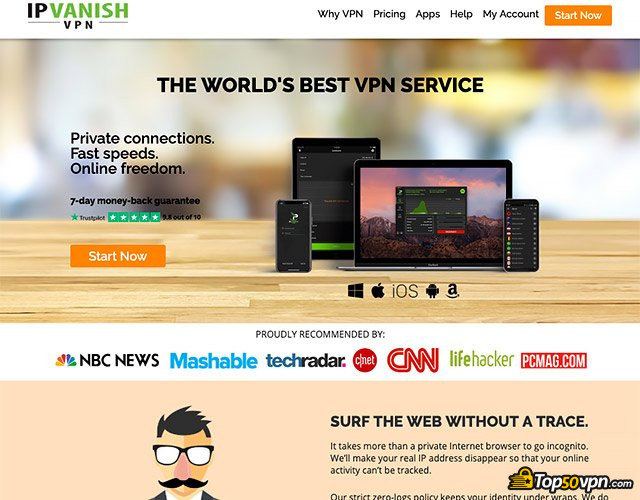 Things we liked:
+ Great Speed
+ Torrenting/P2P Allowed
+ Does Not Keep Logs
+ AES-256 Military-Grade Encryption
+ DNS and IPv6 Leak Protection
+ Netflix Works With Some Servers
Things we didn't like:
- Price Relatively High
- Bad Third Party Reviews
What are the main NordVPN Pros?
Here's the list of the benefits IPVanish offers:
Great speed
Torrenting and Netflix support
Leak protection
Depending on where it is that you look, some customer reviews are going to claim that IPVanish has a relatively high price tag, while others will emphasize that it's very affordable.
So... Who's lying?
No one, actually - it all depends on the plan that you choose to purchase.
IPVanish offers customers great speed, torrenting and Netflix, and a strong IPv6 and DNS leak protection. The VPN itself also does not keep any logs on its customers, and has the highest grade of data encryption in the game, too.
The most popular plan from the company - the 12-month one - is going to cost you $3,24 per month. Pretty neat, considering that you receive all of the top-tier features you'd expect from a high-end VPN!
Ranks #6 out of 7 VPNs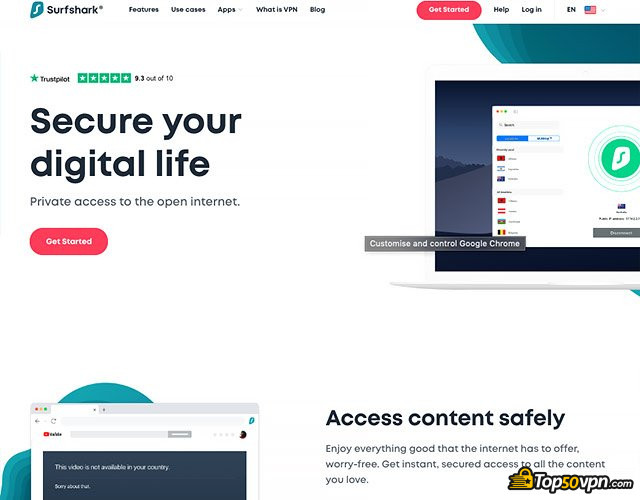 Things we liked:
+ Extremely affordable
+ Doesn't log your information
+ Allows torrenting
+ Supports an unlimited number of devices
Things we didn't like:
- Speed tends to fluctuate
- Not too many servers
81% OFF
Special Surfshark Offer
Get the best-value 24-months plan with this Surfshark VPN coupon! Pay only $2.49 per month by grabbing your 81% discount!
Expiration date : 10/12/2023
1739 People Used
Only 24 Left
What are the main Surfshark Pros?
Here's the list of the benefits SurfShark offers:
No logging
More than 800 servers
Very easy to use
With some of the best prices around, Surfshark is a VPN provider that has lately been booming in the cheapest VPN lists. And with good reason, too - even though it's still only building up its name in the industry, the company has already managed to garner a pretty good reputation around the VPN.
First of all, Surfshark offers more than 800 servers that you can utilize for torrenting, Netflix, other types of file sharing, and so on. That's a significant number of servers to choose from! To add to that, the VPN is super-easy to use, and is thus perfect for beginners.
Keeping up with the security trend when it comes to the best cheap VPNs, Surfshark employs a few different protocols (including OpenVPN), high-tier data encryption, and has a straightforward no-logging policy.
The place where the VPN truly shines, however, is the price tag.
If you got with the company's 24-month plan, you'll be charged $1,99 per month. Talk about the best and cheapest VPN! Honestly, that's one of the lowest prices that you'd find - a great deal indeed!
Ranks #7 out of 7 VPNs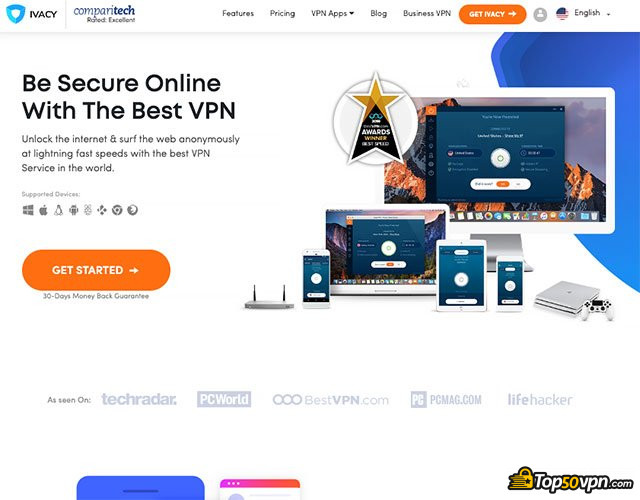 Things we liked:
+ Inexpensive
+ Quite Fast
+ Amazing Device Compatibility
Things we didn't like:
- Five Eyes Jurisdiction
- Not Compatible with TOR
- Tricky Money-back Guarantee
What are the main Ivacy Pros?
Here's the list of the benefits Ivacy offers:
Great price
Compatible with multiple devices
Fast
Ivacy is one of the less-known VPN providers in the current industry. That said, the VPN still has a few things to offer for the average customer, all with a pretty decent price tag.
First of all, Ivacy is fast. This is great news for anyone who's looking for a VPN that wouldn't restrict file download and upload speeds, or increase ping, for that matter.
Furthermore, the VPN is very compatible with multiple different devices (everything from Android to Kodi and Firestick). It also does not keep logs on its customers, and utilizes top-grade data encryption.
The downsides? Well, Ivacy isn't compatible with Tor, and is located in the 5-Eyes jurisdiction.
Pricing-wise, the most popular plan will cost you $3,50 per month. Pretty good!
Choosing the Right VPN
These are the top 7 cheap VPN providers that are currently in the game. All of them have the two before-mentioned conditions in check - a price tag that's less than $5, and a guarantee of safety and information security.
But, with the list in front of you, how should you go about picking the right cheap VPN for yourself?
Naturally, everyone might have somewhat different reasons for wanting to purchase a VPN. Some people might actually require the biggest amount of security and data encryption possible, while others could just be looking for a way to view their favorite Netflix shows without having to download them from a third party.
Undoubtedly, both of these people are going to need different VPNs, right?
Well… Not necessarily.
The fact of the matter is, there are certain VPN providers that offer users an all-around amazing service. Whether it be great download speeds or top-notch security, a select few VPNs have you covered.
This would include such industry giants as CyberGhost or ExpressVPN, but since Express is on a bit of a pricier side, CyberGhost took the lead in this cheap VPN article.
If CyberGhost doesn't really "float your boat", the rest of the contenders on this list have a pretty good chance of providing you with what you are looking for.
Here is The Best NordVPN Offer I Found:
GET 63% OFF
+ 3 Months Free
Looking for ways to secure yourself online? What if we told you that you can get the top VPN on the market for way less - grab NordVPN 60% discount now & get 3 months FREE!
Expiration date : 10/12/2023
3,191 People Used
Only 99 Left
Conclusions
Whichever cheap VPN you decide to choose, always remember that security should stay the name of the game. If your VPN isn't secure, there isn't going to be much use out of it in the first place, right?
Sure, you might have access to some region-locked content, but even that can be quickly taken away as soon as your connection gets breached.
The VPN providers on this list, however, don't have many (if all) problems with their security. You can go ahead and freely choose the provider that suits you best, and feel safe about the security of your data.
Note that some of these providers break through the "cheap VPN" tag, and are often chosen by people who are able to invest an unlimited amount of money into their VPNs. This just goes to further prove the point that "cheap" doesn't always equal "bad" - you would never, for example, hear CyberGhost defined as "cheap" in a bad way.
Just some food for thought!
I hope that you've enjoyed this cheap VPN list, and that at least one of these VPNs will be able to suit you well!
Table: Top 3 of the best 'cheap' VPNs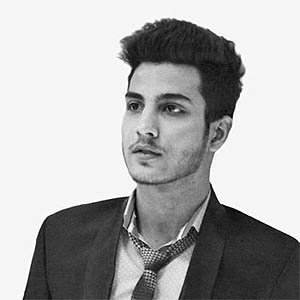 Rameez Ghayas Usmani
Digital Marketing Executive at PureVPN
Contributed by: Rameez Ghayas Usmani , Digital Marketing Executive at PureVPN
Rameez Ghayas Usmani is a digital marketing and cybersecurity expert, with experience in the fields of Artificial Intelligence and Machine Learning. Rameez is currently working as a&...
Read Full Bio...
Leave your honest Best Cheap VPN review
By leaving your honest opinion you can help thousands of readers to choose the best VPN. We accept genuine & helpful user reviews, either positive or negative. Have in mind that biased reviews will not be published. If you want to share your opinion, experience or advice, we want you to spill the beans!