If you're looking for a VPN, it is highly likely that you value the security and privacy of your information. However, even though VPNs are primarily dedicated to doing just that - protecting the integrity of your data - some providers like to walk the edge of the sword (or go completely HAM) and log some (or all) of their user information.
In this review, we'll be taking a look at the top 7 zero log VPNs in the industry.
In the very beginning, I'll tell you (very briefly) what is information logging and why is it such a big deal. Once that is out of the way, we'll move on to talking about the actual VPNs themselves - we'll analyze each and every one of them, and dive deep into their information logging policies to find the ultimate zero log VPN provider.
The VPNs in this list are:
Before we get into it, however... What is data logging, in the first place?
What is "Data Logging" and What Are "Zero Log VPNs"?
Depending on who you ask, you'll receive different answers to the question "how bad is data logging?". Some people will say that they don't give a donkey's butt about it, and that a VPN may log all of their data for all they care.
However, this would be an answer given by the minority - the majority of people are going to tell you that data logging is one of the most serious (if not the most serious) offenses that a VPN provider can commit. This is especially true if you ask someone who's knowledgeable in the realm of VPNs.
So, what is data logging, in the first place, and what are "zero log VPNs"? Data (or information) logging is a process when your VPN provider keeps track of all of your sensitive information - in other words, logs it in their systems.
This can include everything from the time at which you log on to the VPN, to the websites that you visit, the messages that you write and receive, the products that you buy or sell, and so on.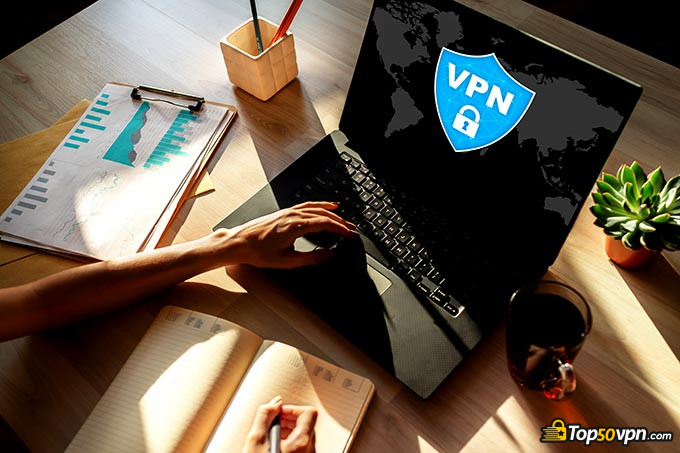 Straight off the bat, you can probably see why this is so serious - it goes directly against everything that a VPN should stand for.
After your information is logged, the provider could then either sell it to 3rd party advertising agencies so that they could target their ads at you more precisely, or, as a worst-case scenario, that information could be handed over to the government.
Note that some data logging is common in the industry, and is not considered anything that would be worth batting an eye about. Even zero log VPNs usually collect your email address, payment information, bug reports and other, similar data - that's not a crime. Sensitive, personal information - that is what you should be worried about.
A zero log VPN is a VPN that has explicitly claimed to not log any of your sensitive info. These claims are then tested by the community, and if they come out to be true, it can be stated that it is a "VPN no logs".
With that said, let's dive straight into the "best no log VPN" list.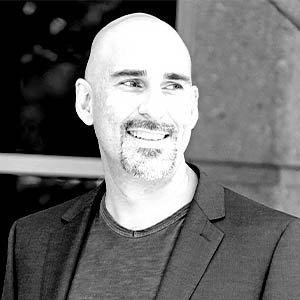 Steve Tcherchian
CISO at XYPRO
What is important to keep in mind when using a VPN?
Most people hear "VPN" and automatically assume security and anonymity on the internet. Unfortunately, that's not the case. Anyone can set up a "vpn" and start selling services. All VPN means is you're connecting to someone else's network/endpoint, and they're routing traffic on your behalf. In reality, they could have visibility to EVERYTHING you're sending from your computer or home network.
Ranks #1 out of 7 VPNs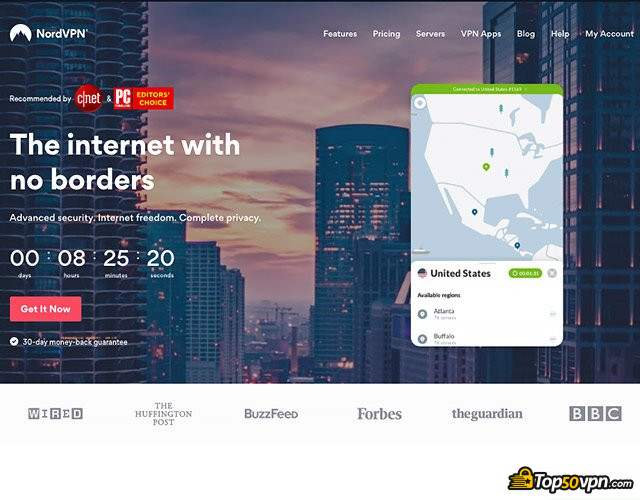 Things we liked:
+ Amazing prices
+ Easy to use
+ Safe jurisdiction
+ Great security
Things we didn't like:
- Some plans could have higher discounts
GET 68% OFF
NordVPN Black Friday Sale
NordVPN Black Friday Sale has begun - get 68% off + 3 months for FREE. Secure yourself for way less!
Expiration date : 04/04/2023
3716 People Used
Only 84 Left
NordVPN and ExpressVPN are the two VPN providers that are constantly at it when it comes to competing for the first place in different VPN categories - a "zero log VPN" review is no different.
Nord boasts the fact that it is located in Panama - a jurisdiction that is far away from any of the 5-Eye or 9-Eye alliances. If you're not familiar with these alliances, they are made up of some specific, developed countries, and are there for the purpose of sharing with other members intel about what certain residents do online (it's a bit more complicated than that, but it's a good general premise).
Being based out in Panama, NordVPN can make sure that your information isn't going to leak or be handed over to the government upon some random request. Do keep note, however, that ExpressVPN is also based out in a secure jurisdiction - the British Virgin Islands.
When it comes to the company's logging policies, Nord exclaims that they are a zero log VPN. Somewhat similar to ExpressVPN, Nord does not keep track of any of its customers sensitive information. The provider does, however, log the following non-sensitive data:
The email address that you use while paying for the service;
Your payment information;
Technical data about the performance of the company's servers.
Overall, NordVPN is definitely a great contender when it comes to a VPN that doesn't keep logs. So, if you're in the market for a zero logs VPN that doesn't only have great prices ($2,99 per month, 36 months), but also a ton of servers and security measures, Nord might be just what you're looking for.
Ranks #2 out of 7 VPNs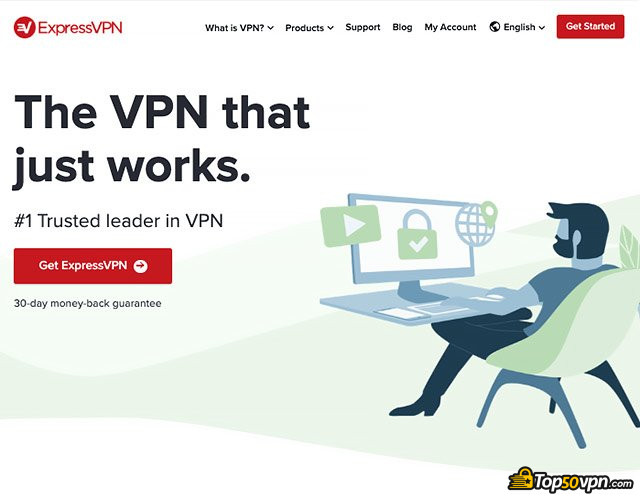 Things we liked:
+ Great security
+ Super-high speed
+ No logging
+ OpenVPN protocol support
Things we didn't like:
- Small number of devices available to be connected simultaneously
Get 49% OFF
Express VPN Black Friday Offer
Follow this Express VPN coupon link & get 49% OFF on 1-year plan + 3 months FREE. Secure your privacy online with this amazing Express VPN Black Friday offer!
Expiration date : 04/04/2023
4817 People Used
Only 74 Left
ExpressVPN is one of the largest VPN providers in the industry. It is a famous name as far as VPNs go, and has garnered a pretty stable reputation over the years.
Express is famous for its security features and speed.
It offers some of the most advanced data encryption and information safety tools in the game (such as the AES 256-bit data encryption together with the OpenVPN protocol, IKEv2 and IPSec protocols), some great additional security features (kill switch, anonymous IP, etc.) and has no history of leaking user DNS, IP or WebRTC.
However, you're not really here to hear about how fast or secure ExpressVPN is, now are you? No, you're interested in something much more subtle than that - in finding out is ExpressVPN a no log VPN.
On their official website, ExpressVPN makes it pretty clear - it is a VPN that doesn't log any of your information. This means that they do not keep track of your IP addresses, your DNS queries, browsing history, or anything else that could be considered as sensitive information.
Express does, however, go on to elaborate that some of the information that IS, in fact, collected, is going to revolve around the version of the app, server locations, amounts of data transferred per day and the dates (not the times of day, just the dates themselves!) when you connect to the VPN.
All of this falls under the "common information" sector, and is not an indication of anything bad - Express can still say that they are a zero log VPN.
Ranks #3 out of 7 VPNs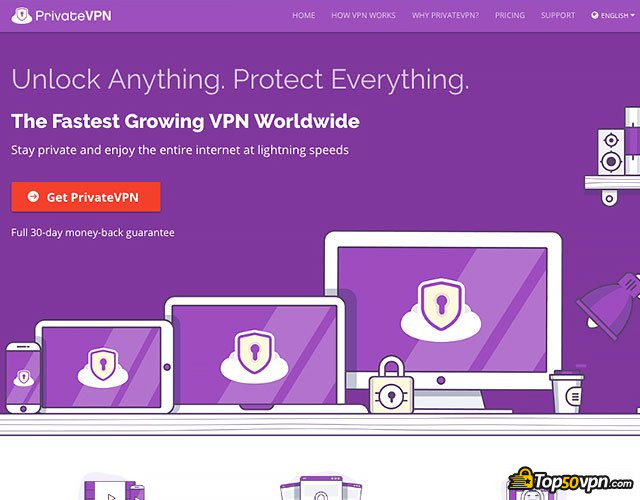 Things we liked:
+ No Logs
+ Torrenting and Netflix Allowed
+ Relatively Low Price
+ Great Customer Support
+ AES-256 Encryption
Things we didn't like:
PrivateVPN might not be one of the most recognizable names within the VPN industry, but this is bound to change with time - founded in 2009, the tool is often considered to be a very reliable alternative to some of the biggest names out there.
Same as its competitors, PrivateVPN takes data logging very seriously. The company does not touch your sensitive and private information - it keeps no logs on what it is that you do upon logging on to the VPN.
Private VPN also employs AES 256 as its preferred form of data encryption. That's not at all surprising, since the absolute majority of reliable VPNs out there do the same - quite frankly, AES 256 is the way to go. The encryption system is yet to be cracked, and it's not likely to fail any time soon.
The VPN also unlocks Netflix USA for international users, and even supports torrenting. With time, this is becoming an increasingly rarer combination - it's refreshing to know that some VPNs are still able to provide it!
PrivateVPN isn't the cheapest VPN out there, but it's very far from being the most expensive, too. A 13-month subscription will cost you $3,83 per month - pretty good!

Did you know?
Ranks #4 out of 7 VPNs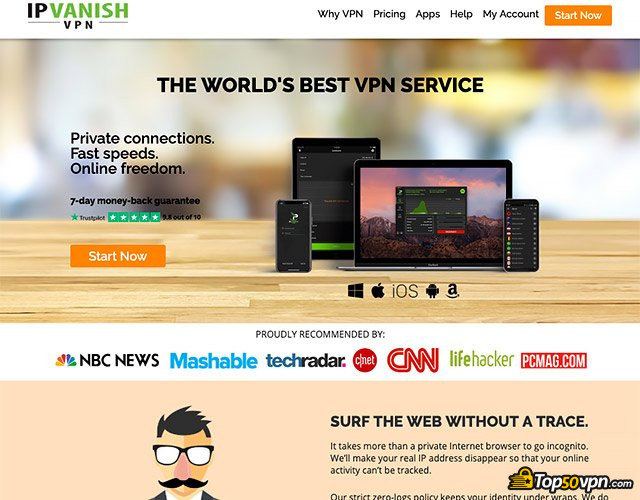 Things we liked:
+ Great Speed
+ Torrenting/P2P Allowed
+ Does Not Keep Logs
+ AES-256 Military-Grade Encryption
+ DNS and IPv6 Leak Protection
+ Netflix Works With Some Servers
Things we didn't like:
- Price Relatively High
- Bad Third Party Reviews
IPVanish excels in a few different areas. It has working Netflix servers, supports torrenting and other Peer-to-Peer file-sharing activities, and even offers pretty decent speed parameters.
While that's all fine and dandy, it's also not what we're here to talk about today. Instead, we should take a look at the VPN's ability to protect your data while also not logging it, in the first place. I can tell you in advance, though - IPVanish has got all of that covered.
The VPN has a "0-logging" policy - it does not log any of your personal data while you're using the VPN. As do all entries on this list, IPVanish also utilizes the AES 256-bit encryption system in order to keep all of that data protected while you browse online and deal with your own, personal business.
Furthermore, IPVanish offers high-end DNS leak protection. If your DNS leaks, the sites that you visit become compromised, and get "put on a platter" for any third parties to do with as they wish. IPVanish's protection does not allow anyone with a malicious intent to breach the security and reach your DNS - a handy feature indeed!
Cost-wise, IPVanish isn't too expensive, but it's also not the most affordable VPN in the world. The most popular 12-month plan is going to cost you $3,24 per month.
Ranks #5 out of 7 VPNs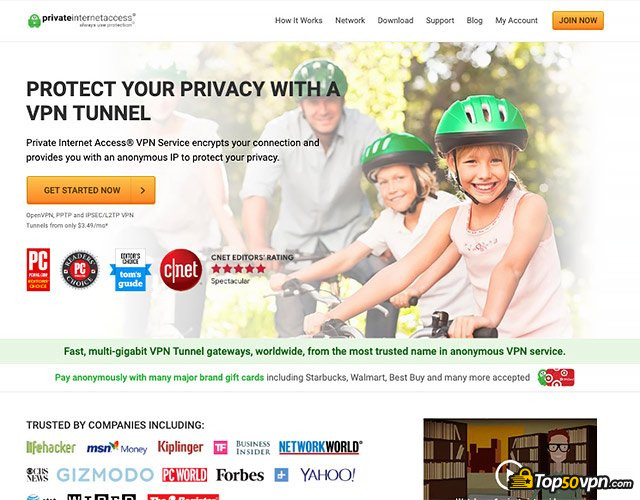 Things we liked:
+ Super affordable
+ Doesn't log your data
+ Good speed
Things we didn't like:
- Located in the United States
- No live customer support
Save 73%
On PIA 2-Year Subscription
Receive a 73% discount and pay as low as $2.50/month with this Private Internet Access coupon. Enjoy top privacy for less!
Expiration date : 04/04/2023
2956 People Used
Only 44 Left
Private Internet Access, by popular opinion, is definitely one of the best contenders for the spot of "best no log VPN". This is mostly due to the fact that PIA is and always had taken security very seriously - be it data encryption-wise, or when it comes to information logging.
Just to give you a quick overview of the VPN, you should know that it's really affordable, provides users the ability to log in to more than 3000 servers (that's a lot of servers to choose from!), has some super-strong data encryption and does not leak DNS, IP or WebRTC.
When it comes to being a zero log VPN, PIA has a very simple and clear answer to anyone asking - the company "absolutely does not keep any logs, of any kind, period". The reason for why they might be this adamant on the statement could be the recently-surfaced questions about the VPN's jurisdiction.
Private Internet Access is located in the US. Truth be told, this is one of the worst possible locations for a VPN in the world, mainly because the US is a huge player in the 14-Eyes alliance. However, PIA seemingly addresses this by stating that the Mandatory Data Retention laws that are present in the US are only applicable to telecommunication agencies and ISPs.
Even if the government was to obtain a legal order to hand over user information, the company would not be able to do so, mainly because it does not track any of it in the first place.
Honestly, that's as good of an explanation as any!
Visit Private Internet Access
...or read our Private Internet Access review
Ranks #6 out of 7 VPNs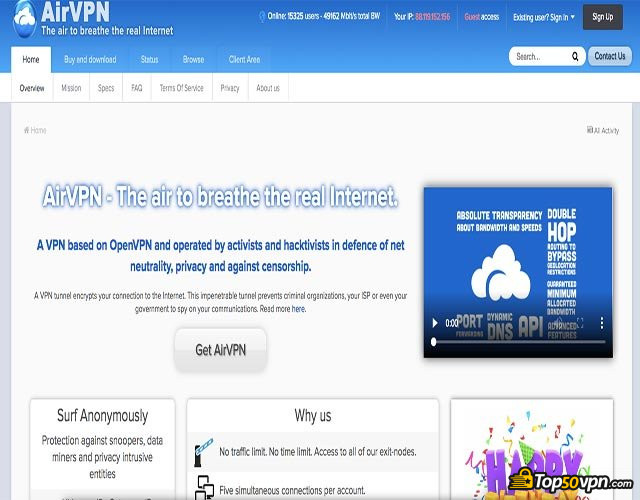 Things we liked:
+ No data logging
+ Good information security
+ No DNS, WebRTC or IP leaks
Things we didn't like:
Save 60%
By Purchasing AirVPN 3-Year Plan
Grab this AirVPN coupon & enjoy your AirVPN subscription only for 2.75 Eur/month instead of the usual 7 Eur per month. Ofer is valid only when purchasing a 3-year plan.
Expiration date : 06/04/2023
1239 People Used
Only 61 Left
Without a doubt, AirVPN is one of the most interesting VPN providers out there, and it might just be the best zero logs VPN on this list. But let's not get ahead of ourselves and take things from the top down.
AirVPN is an Italian zero log VPN that was created by a community of tech-savvy people who are avid believers in net neutrality and a free internet for everyone. While the Italian jurisdiction might immediately sway some people away, don't worry - once you see their logging policy, you'll be so blown away that it won't matter where they're based, even if it's in Mars.
Even though AirVPN is probably one of the least-known VPN providers out there (as far as good VPN providers go), it does actually offer users a lot of choices when it comes to data protection and overall information security. However, these areas are not why Air is famous for - the fact that it's a VPN no logs is.
What's so special about the company's logging policy?
AirVPN states that they do not log any - yes, ANY - of its user information. Remember when I said that most VPNs do keep track of some common, non-essential info? Well, AirVPN doesn't give a damn about that, either - the only thing that they will know about you is your payment info, but if you choose to pay via Bitcoin, they won't even have that information!
In all my time of reviewing various different VPN providers (both no log VPNs and others), AirVPN is the first one that has honestly surprised me when it comes to the "zero log VPN" policy.
Ranks #7 out of 7 VPNs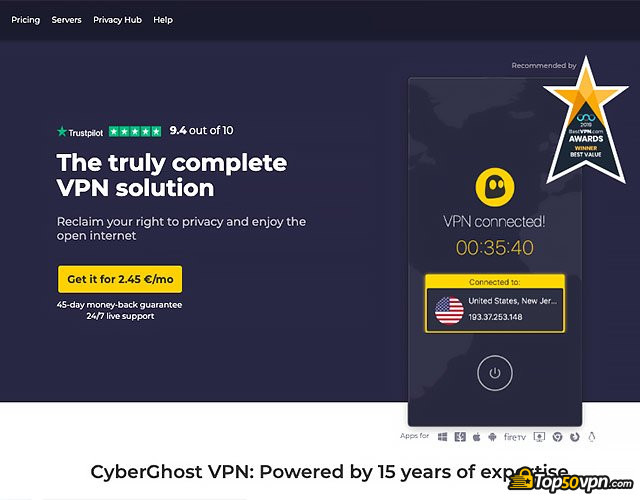 Things we liked:
+ Strict No Logs Policy
+ Lots of Features & Add-Ons
+ Allows Torrenting
+ Amazing Customer Support
+ Compatibility with TOR
+ Fast
Things we didn't like:
SAVE 83% + 4 MO FREE
CyberGhost Black Friday Deal
Take advantage of this CyberGhost Black Friday Deal & get 83% off the 2-year plan + 4 months FREE. Choose this top-rated online security provider and save a lot of money!
Expiration date : 04/04/2023
3746 People Used
Only 63 Left
Finally, as the last installment on our zero log VPN list, let's take a look at a Romanian VPN provider - CyberGhost.
CyberGhost has been around for more than 7 years now, and has secured its place as one of the top VPN providers in the world. The company has managed to strike a great compromise not only in the "zero logs VPN" department, but also concerning the price VS quality of the product that they provide.
CyberGhost supports all of the main features that we're used to seeing when it comes to the industry giants - Netflix / torrenting, 0 recorded leaks, is super easy to use and navigate around in, and has good data encryption.
As far as jurisdiction goes, Romania is definitely not the best place to locate a VPN - but it's also not the worst! That said, since you're looking for a VPN that doesn't log information, the location might not even matter.
CyberGhost seems to be quite transparent with their logging policies. On their official site, they proudly claim to be a zero logs VPN, stating that information logging might put their customer lives in danger, and they want no part in that.
What I personally found quite interesting (and daring!) within CyberGhost's statement is that they are ready to go to great lengths to prove that they are a VPN that doesn't keep logs. What are these lengths?
Well, the company is willing to invite NGO members and civil rights activists to their headquarters in order for them to inspect CyberGhost's source code for themselves. That's something that I haven't seen before as far as best no log VPNs go - it's definitely an interesting concept!
Here is The Best NordVPN Offer I Found:
GET 68% OFF
NordVPN Black Friday Sale
NordVPN Black Friday Sale has begun - get 68% off + 3 months for FREE. Secure yourself for way less!
Expiration date : 04/04/2023
3,716 People Used
Only 84 Left
Conclusions
Now that we've covered the top 7 zero logs VPNs in this list, only two questions remain to be answered - which of the 7 VPN no logs should you pick, and which one is worthy of the title "Best No Log VPN"?
Honestly, it all really boils down to your own, personal preferences.
While PrivateVPN and ExpressVPN are definitely the two main contenders in this list, they are so also because of all of the additional features that they provide, not only because they're "zero log VPNs".
Some people, however, tend to stay away from the mainstream providers, and instead choose a VPN that doesn't keep logs, but is also a bit less-known.
You can be sure of one thing, though - all of the providers mentioned in this list are at the top of the food chain when it comes to providing a VPN that does not log your information. Whichever one you choose, you'll be able to rest assured that at least that part of the deal is sealed.
Table: Top 3 of the best "no-logs" VPNs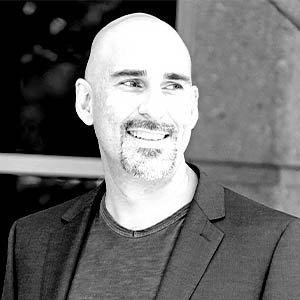 Steve Tcherchian
CISO at XYPRO
Contributed by: Steve Tcherchian , CISO at XYPRO
Steve is Chief Information Security Officer at XYPRO, a leading cybersecurity analytics company. He is on the ISSA CISO Advi...
Read Full Bio...
Leave your honest Best Zero Log VPN review
By leaving your honest opinion you can help thousands of readers to choose the best VPN. We accept genuine & helpful user reviews, either positive or negative. Have in mind that biased reviews will not be published. If you want to share your opinion, experience or advice, we want you to spill the beans!