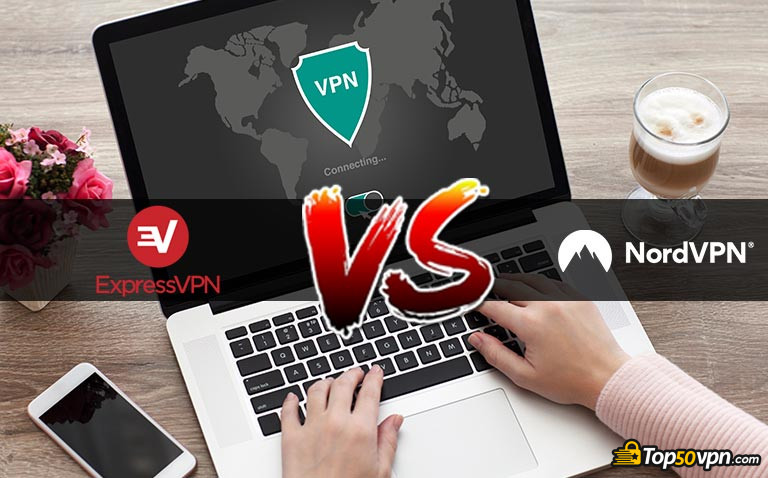 VPNs are some of the best tools when it comes to protecting your data online and accessing geo-locked content - that's a no brainer. However, with so many great VPNs that are currently out there, which one is going to be the best for you? Well, in this ExpressVPN VS NordVPN comparison, we'll talk about two of the industry giants.
If you're wondering - "ExpressVPN or NordVPN?", worry not - in this article, we'll compare both of them, and see which one might suit your wants and needs the best. In order to keep things simple, we'll use some of the most essential features that every VPN should have as talking points - this way, you'll be able to see the strong points of both of the VPNs in question.
Table: NordVPN and ExpressVPN comparison introduction
Also, if you'd like a short and to-the-point summary of everything that we'll talk about in this ExpressVPN VS NordVPN article, be sure to check out our quick side by side comparison of both Express and Nord.
ExpressVPN VS NordVPN: Comparison Criteria
As I've pointed out in the introductory part of this ExpressVPN VS NordVPN comparison, in order to keep things as accurate as possible, we'll be focusing on some specific, handpicked and essential features that all VPNs should possess.
Naturally, everyone will have their own preferences when it comes to VPN functionality - some people might be reading this NordVPN VS ExpressVPN article with the hopes of finding a great VPN for watching Netflix, while other could be focused on nothing else but the security features of such tools.
Table: NordVPN and ExpressVPN features
All that being said, though, there are some specific feature groups that are universally-important for all VPNs that want to be considered "top-tier". These feature groups are: data logging policies, information leaks, P2P file-sharing and content streaming, speed and server count, and ease of use. Let's check each of them out more closely, shall we?
Data Logging Policies. Data logging is one of the most serious offenses that a VPN provider can commit. It's seen as the ultimate game-breaker in the industry - if a VPN logs your data, the company behind the tool might then sell it to advertisers, or even hand it over to governmental agencies. It basically beats the point of using a VPN, in the first place! A high-end VPN provider will have a strict "no-logs" policy, with some minor exceptions (technical information, billing, etc.).
IP, DNS and WebRTC Leak Protection. A data leak is something that happens when your VPN protection fails, and the processes that you are doing (visiting a website, downloading a file, chatting with someone, etc.) are suddenly revealed to malicious parties - hackers, scammers, and everyone in between. A high-quality VPN (such as one from our ExpressVPN VS NordVPN comparison) is going to have tools to prevent this issue from happening.
P2P File-Sharing and Content Streaming. If we were to talk about these two processes in layman's terms, they would basically be referring to file torrenting and watching area-restricted content (i.e. Netflix USA from some other part of the world). In all honesty, a huge part of people who are thinking about getting themselves a VPN (and are thus reading through Nord VS ExpressVPN comparisons) are doing so not to protect their information, but to torrent or stream content safely. Definitely some of the most important features!
Server Speed & Count. Server speed basically refers to how fast you can expect your internet connection to be while you're logged into a VPN. The vast majority of VPNs - even some of the better ones - downgrade your initial speed parameters. Then there are some that do not affect your connection speed at all - great! That said, as you'll notice from this ExpressVPN VS NordVPN comparison, there are also some VPNs that actually UPGRADE your connection speed! Server count, on the other hand, is self-explanatory - the more servers a VPN has, the more options you have in terms of connectivity.
Ease of Use. Finally, ease of use is very self-explanatory. A proper VPN is always going to be very easy to both install and then use, afterwards - all of the core features and settings should be accessible by just a few clicks, the interface should be inviting and fun to use, there should be helpful tips or even tutorials of how to do one or another action, and so on. While there are some really difficult VPNs when it comes to setting up and installing them, it's not something that you'd need to be worried about in this ExpressVPN VS NordVPN comparison.
So - those are five major groups of the most essential features that all top-tier VPNs should possess.
ExpressVPN VS NordVPN: The Comparison
Now that we've figured all of the essential out, let's get straight to business and start off this ExpressVPN VS NordVPN comparison from the top - namely, from looking at each of the VPNs and their data logging policies.
Data Logging Policies
As noted earlier on in the ExpressVPN VS NordVPN comparison, data logging is usually seen as an unforgivable offense in the VPN industry. That being said, it's worth mentioning that there are, in fact, some exceptions.
The exceptions revolve around the collection of "essential information". What this is is basically the most important, yet minimal data that a VPN provider could collect from you, while still retaining a "no-logs" policy. Such data would include:
Billing information
Your personal email address
Dates when you logged on to the VPN (not the times of day, though)
etc.
It is evident that all of the "essential" information is required in order to help you with any and all technical difficulties that you might be experiencing while using the VPN, or to simply accept your monthly payments.
Now, as far as this ExpressVPN VS NordVPN comparison is concerned, NordVPN does only collect billing information and an email address. On top of that, you could opt to pay via Bitcoin, which would mean that the company would only possess your personal email - that's it.
ExpressVPN is up there with Nord, too. The company in question doesn't log any of the user's sensitive data, and has a pretty much spotless record when it comes to data logging, in general.
In short, both brands are completely transparent with their information collection practices, and are both great in this regard.
Latest NordVPN Coupon Found:
GET 60% OFF
On 2-Year NordVPN Plan
Looking for ways to secure yourself online? What if we told you that you can get the top VPN on the market for way less - grab NordVPN 60% discount now!
Expiration date : 08/10/2022
3,191 People Used
Only 99 Left
IP, DNS and WebRTC Leaks
In order to prevent your sensitive information from leaking out to some hacker, different VPN providers have some specific, high-end data security features in place.
The most common of these features would include a "kill switch" - an automated function that terminates all of your online processess upon losing connection to the VPN. Data encryption is a big one, too - if any malicious third parties try to access and leak your information while you're using a VPN that has high-end encryption in place, you should be completely safe.
Table: NordVPN and ExpressVPN security features
Yet again, as far as this NordVPN VS ExpressVPN comparison goes, both brands are pretty similar in regards to keeping your data safe. If you're trying to pick between ExpressVPN or NordVPN, keep in mind that both brands use the unbeaten AES 256-bit data encryption together with the OpenVPN protocol, and they both also have spotless track records in regards to data leakage.

Did you know?
P2P File-Sharing and Content Streaming
When it comes to VPNs, there are a lot of different variables that go into providing torrent and content streaming support - some of these tools offer specific, designated servers for people to use, while others might even allow the usage of the Tor browser.
While the majority of the top-rated VPNs do support torrenting, some online customer NordVPN VS ExpressVPN comparisons will tell you that Netflix is a really tricky topic. The company has been banning VPN servers left and right for a few years now, and it's considered to be a treat to find a VPN with actual, working Netflix USA servers.
Table: NordVPN and ExpressVPN P2P file-sharing and Netflix compatibility
Well, let me just tell you - you're in luck. Both of the VPNs in this ExpressVPN VS NordVPN comparison support torrenting and have Netflix USA servers that are still working, at least as of writing this article. The situation might change at any given point in time, but it's definitely some great news.
Server Speed & Count
This is probably going to be the first group of features in this Nord VS ExpressVPN comparison article where you could easily spot the differences between the two brands in question.
As of writing this, NordVPN offers its customers almost 6000 servers in multiple different countries worldwide - that's an insane number of servers, especially when compared to ExpressVPN's 3000!
Now, that being said, it's obvious that no single person would ever need all of those servers - even 3000 is a crazy number! However, it's still awesome to know that there's such a huge selection available, both when it comes to "general" servers, and some specific, designated ones.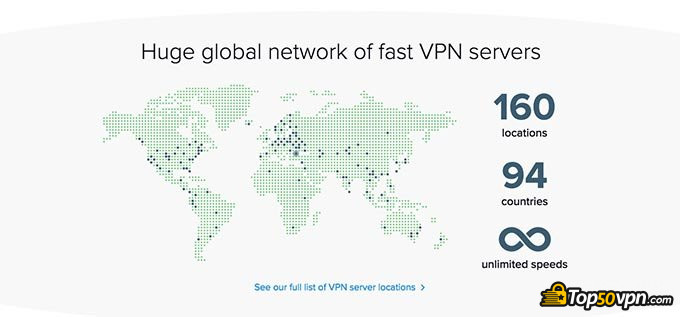 As far as NordVPN VS ExpressVPN speed is concerned, it's actually an ever-changing topic. Depending on the time when you read this comparison, the statistics might be different - sometimes, Nord takes the lead, while other times, Express is the clear winner.
As a matter of fact, it would be impossible to talk about NordVPN VS ExpressVPN speed parameters without mentioning one, single thing - sometimes, if you're lucky, using ExpressVPN might actually boost your connection speeds up from the default ones! That's a huge perk, but it does depend on some specific variables (your location, ISP, etc.).
Ease of Use
When it comes to the aspect of "ease of use", you might have guessed it by now, but both VPNs of this ExpressVPN VS NordVPN comparison are very similar.
Now, naturally, this shouldn't come as a surprise to anyone who's even heard about ExpressVPN or NordVPN before - they are the two industry leaders, and it's only normal that they'd have some of the best usability aspects in the game.

All of the features are very easy to access, both brands have tutorials and other informational content on their official websites, and both provide you with the opportunity to contact customer support if something goes wrong. Overall, great results on both ends!
Price
Finally, now that we have all of the essential features of this ExpressVPN VS NordVPN comparison sorted out, let's talk about the last, yet for some - most important thing - the pricing options of both of the VPNs.
Table: NordVPN and ExpressVPN pricing options
Nord's prices are:
Express' pricing plans look like this:
As you can probably see for yourself, the one thing that sticks out the most is the fact that ExpressVPN is quite a bit more expensive than Nord. That said, the difference in price is usually justified by the fact that ExpressVPN tends to perform better speed-wise.
Conclusions
So, out of the entirety of this ExpressVPN VS NordVPN comparison, which of the two VPNs is better?
Well, it's actually a really tough call. Both digital security tools have performed amazingly well in all of the designated categories. While NordVPN VS ExpressVPN speed may be a bit on Express' side of things, not only does this depend on the time that you measure it, but also Nord offers better prices, too.
To put it very short, no matter which VPN provider of the two you decide to go with, you won't be disappointed - both of them are going to provide you with top-tier service, either way.

Still, if you absolutely must pick a specific one, then think of it this way - if you want to save as much money as possible, go with NordVPN. If you don't care about the few extra bucks, and would like some occasional great speeds, go with ExpressVPN.
That said, be sure to check out both Nord's and Express' reviews and their short and to-the-point comparison - perhaps these sources will help you make up your mind? All in all, I hope this Nord VS ExpressVPN article was useful to you - good luck!
Leave your honest feedback
By leaving your honest opinion you can help thousands of readers to choose the best VPN. We accept genuine & helpful user feedback, either positive or negative. Have in mind that biased feedback will not be published. If you want to share your opinion, experience or advice, we want you to spill the beans!