VPNs are great - they help you stay safe and private while browsing through the web, while simultaneously unlocking various different content that you wouldn't have been able to access otherwise. However, out of the sea of all of the available VPNs out there, which one should you pick? Hopefully, this SurfEasy VPN review will help you make up your mind.
TL;DR: The SurfEasy VPN is one of the lesser-known VPNs in the industry. That being said, it offers great usability and supports both international Netflix and torrenting. However, if speed and security are what you need, you might want to look elsewhere.
Pros
Unlocks Netflix
Has a free version
Cons
Sketchy logging policy
Slow speed
SurfEasy VPN Review: PROS
Let's start this SurfEasy VPN review on a positive note with the things that this VPN provider does right. Even though it might not be as well-known as some of the industry giants, it still has quite a few of these positive sides.
Doesn't Leak Your IP, DNS or WebRTC
At this point, it's almost refreshing to find a VPN that's not in the "top 10" lists, yet still doesn't leak your IP address.
If this is your first time reading a SurfEasy VPN review (or any other VPN review for that matter), all of that terminology might sound confusing.
To help you understand the significance of DNS and IP leaks, let me put it this way - it's one of the most prominent and bothersome problems of the entire VPN industry. It's right up there, together with slow speeds and data logging (arguably, the latter is the worst of them all).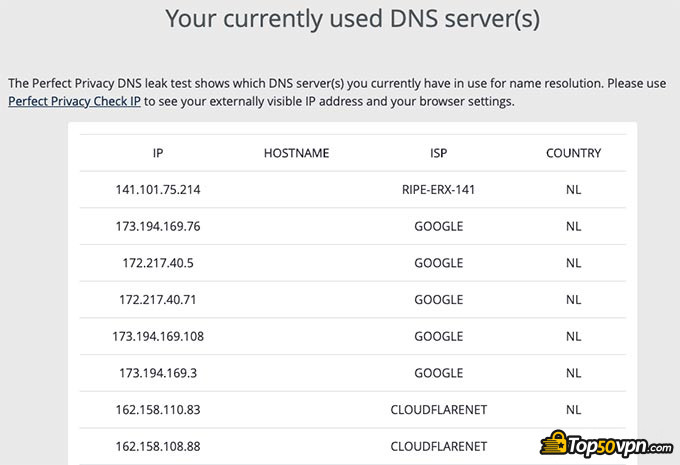 This should be super-important for the people who are wondering is SurfEasy safe, too. If a VPN leaks the above-mentioned information, both your identity and the things that you do online will be compromised and clearly visible to your ISP (Internet Service Provider). Not really something that you'd want happening, considering that you're using a VPN in the first place.

For the sake of this SurfEasy VPN review, I ran some DNS, IP and WebRTC leak tests of my own. Sure enough, the VPN passed all of them with flying colors - there are no leaks detected. Great start!
Latest NordVPN Coupon Found:
GET 63% OFF
+ 3 Months Free
Looking for ways to secure yourself online? What if we told you that you can get the top VPN on the market for way less - grab NordVPN 60% discount now & get 3 months FREE!
Expiration date : 10/12/2023
3,191 People Used
Only 99 Left
AES 256-bit Encryption and OpenVPN - All There!
In the world of VPNs, you will often hear the term "industry standard" being thrown around. This is most commonly used when the topic of security arises - industry-standard security means that the VPN that you're looking at has some top-grade data protection in place.
As it so happens to be, the term also fits in this SurfEasy VPN review, too.
SurfEasy employs both AES 256-bit data encryption and the OpenVPN protocol in its VPN. Both are used to encrypt your data and secure your connection, and both are - you've guessed it - industry-standard.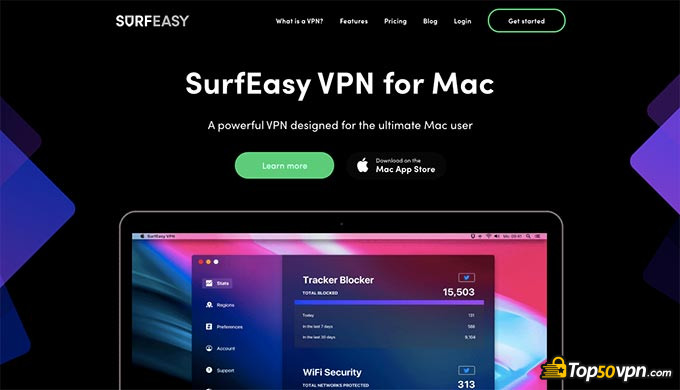 Most of the notable VPN providers in the world use one form or another of the 256-bit data encryption (most commonly AES). It's frankly impossible to breach, and so offers the best encryption around.
When it comes to the OpenVPN protocol, however, things are a tad bit different - while the majority of VPNs stick with it, there are some other ones that choose to ignore OpenVPN and create a connection software-protocol of their own.
This isn't really advised by the experts, and there's a good reason for it - history has shown that when companies start experimenting and creating their own protocols, security goes out the window.
Table: SurfEasy VPN security features
To reiterate this point of the SurfEasy VPN review, however, you can rest assured - SurfEasy uses both AES 256-bit and OpenVPN. It's definitely something worth getting excited about!
Torrenting + TOR Allowed
Torrenting is one of the major taboos for a lot of VPN providers out there. Some SurfEasy reviews mention this, but because of the increase of lawsuits that certain VPNs have to deal with, it seems that the entire industry has been very careful with this topic.
Well… The entire industry except for SurfEasy.
I literally giggled when I saw this - while some VPN providers use "codes" in order to discretely inform their users about the ability to torrent files on their platforms (others ban this ability, altogether), SurfEasy doesn't give a single damn and just blatantly states that it does allow the use of torrents.

Furthermore, the company even says that there are dedicated servers, made especially for torrenting! All available on one of their priciest plans, of course.
Since torrenting can leave your information exposed to third parties, SurfEasy even supports TOR (the Onion Browser)! While TOR is infamous for being used to venture down into the darkest depths of the Deep Web, it offers an extra layer of security for P2P (Peer-to-Peer) file sharing, too. And yup - torrenting is just one part of P2P.
Netflix (Mostly) Works
In addition to allowing the use of torrents, SurfEasy also unlocks Netflix USA for its international users… Kind of.
You see, as of writing this SurfEasy VPN review, there are only two servers that have worked for me. That said, this is actually a great deal, since most VPNs today don't have one working Netflix server, not to mention two. The reason behind this is pretty simple - legality.
For the longest time now, Netflix is trying to crack down on any and all usage of VPNs to access its geo-restricted content. The thing, though, is that they have been rather successful at it, too - every single day, there are fewer VPNs that offer users the ability to access the sought-after site.
This is why finding a VPN that would actually grant you access to the platform is becoming increasingly difficult.
With that information, you can now probably understand why I'm pretty excited to be able to state in this SurfEasy VPN review that there are even two separate servers that support Netflix.
SurfEasy VPN Review: CONS
Now that we have talked about the main pros of the VPN, let's transition and discuss something that a lot of different SurfEasy reviews seem to emphasize - the problems that this company has. Sadly, most of them seem to revolve around the safety and security of your information.
Located in Canada
To the untrained eye, the VPN provider's location might seem like a trivial matter. However, if this isn't your first SurfEasy VPN review, then you can probably understand that Canada is one of the worst places to base a VPN in.
Why?
It's one of the 5-Eye alliance countries.
The 5-Eyes alliance includes (go figure!) 5 countries: the US, the UK, Australia, New Zealand and, of course, Canada. The point of the alliance? To freely share intelligence about the residents and their actions between each of the member states. This is especially true for telecommunication agencies and ISPs.
The danger here is that a VPN located in one of these countries might be legally obliged to share information about its customers with the government. Some VPNs claim that, while this is factually correct, as long as they do not log any of your information, they won't really have anything worth sharing, in the first place.
Ya… About that…
Logs Some Information
Data logging is a strict no-go zone in the VPN industry - this is common knowledge. Most other SurfEasy VPN reviews will tell you the same - if a VPN logs your data, it should be avoided like a plague.
Things aren't really all that simple with SurfEasy, though.
Everywhere on the site, the company states that they do not log any of your information. They don't see the websites that you visit, don't track your IP address, etc. That's all nice to hear, so where's the catch?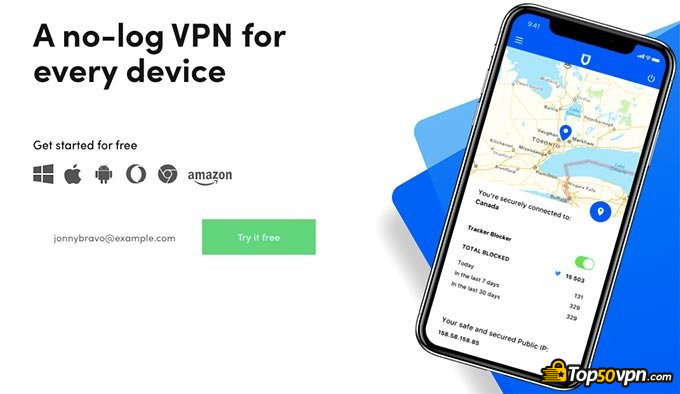 SurfEasy does exclaim that, in an event of law enforcement requesting all of the information about its users, the company will comply and hand over "personal information and usage data". Although they do play the "we don't know anything" card, I wonder how do they then know the personal information about their users.
Since you're choosing a VPN for security in the first place, it seems illogical for the VPN itself to share your data. So, be careful and always take a look into each of the providers logging policies. And, if you don't want to waste your time, you can take a look into already confirmed VPNs, which won't share any of your personal information: ExpressVPN, CyberGhost, and so on.
Slow Speeds
Moving on from the question "is SurfEasy safe?", what is the next big thing that most SurfEasy reviews tend to stress?
That's right - speed.
Speed is an extremely important part of a VPN. Some people would even go as far as to claim that speed is more important than security. If you'd ask me, I'd say that this statement is nonsensical, but I guess it all depends on the reason for why you're looking for a VPN, in the first place.
Table: SurfEasy VPN features
Knowing that speed is as important as it is, I ran a few SurfEasy speed tests of my own. While the results were far from being "crushing", they still disappointed.
I performed the tests from the middle of the EU. My average internet download speed without a VPN is somewhere around the 70 Mbps mark.
First of all, I tested the server based out in the EU: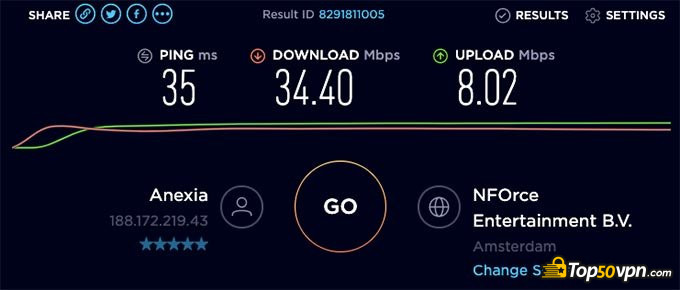 Ya… The results were far from being what I expected to see.
As you can tell for yourself, the download speed took the biggest hit. That's most commonly the case, though - VPNs do slow down your internet, and the download speed is the thing that gets struck the hardest. After I saw the results, I was hesitant on checking a server in the US - if these are the numbers I got in the EU while being in the EU, it's definitely not promising.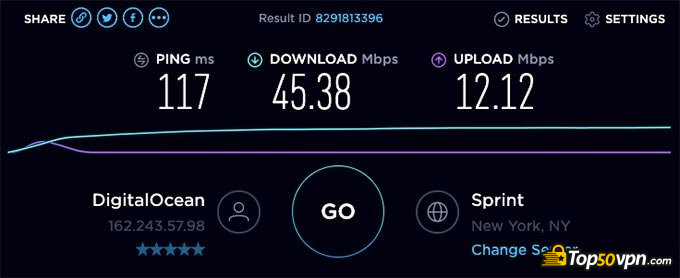 And then I was surprised.
Ping: 117 ms
Download Speed: 45,38 Mbps
Upload Speed: 12,12 Mbps
That has to be the strangest speed test result I've seen to date.
The upload speed - meh. But the download speed increased! It's rare to come across such a phenomenon, but I ain't complaining! Well, about the download speed, that is. The upload speed is still a disappointment.
Can't Pay Anonymously
Even though not a lot of SurfEasy VPN reviews mention this, it's actually something to keep in mind.
The majority of the top-tier VPN providers in the world (ExpressVPN, CyberGhost, etc.) have the option for the customers to pay anonymously, (i.e. with Bitcoin). While this definitely isn't something mandatory, it's still an important note for security and anonymity geeks.
If you're one of those people, and have yet to decide is SurfEasy safe, keep in mind that this VPN provider does not have such a feature in place. You won't be able to pay for the VPN without providing your billing information and email.
Price
Finally, let's conclude this SurfEasy VPN review by talking about the pricing options.
The company offers customers three different annual plans to choose from. You could go with the free one and receive 500 MB of free data, or choose the "Total" one and pay $3,99 per month (I swear, that's the real price and not a Pewdiepie reference).
Alternatively, you could go ahead and pick the "Ultra" plan - it supports 5 devices with an unlimited amount of data, has special torrent protection, blocks trackers, etc. This "everything-included" plan goes for $6,49 per month.
What is the SurfEasy VPN price?
So, to put the prices in a simple list, it would look something like this:
500 MB of data - FREE!
TOTAL - $3,99 per month
ULTRA - $6,49 per month
Honestly, these prices are pretty good! SurfEasy also offers a 7-day money-back guarantee. While it's far from the industry-standard 30-day one, it's still better than nothing.
Here is The Best NordVPN Offer I Found:
GET 63% OFF
+ 3 Months Free
Looking for ways to secure yourself online? What if we told you that you can get the top VPN on the market for way less - grab NordVPN 60% discount now & get 3 months FREE!
Expiration date : 10/12/2023
3,191 People Used
Only 99 Left
Conclusion
So… Is it worth investing in SurfEasy?
I wouldn't recommend it.
While the VPN does have some amazing features (everything from torrent and TOR support all the way to working Netflix servers), the security measures are simply too low to work with. Surely, if you're looking for a VPN for the solemn purpose of watching Netflix internationally, then you might be satisfied. However, if you do care about the privacy and security of your data, a company with a sketchy logging policy and some below-average speeds just won't cut it.
Also, other SurfEasy VPN reviews mention this, but there are far better VPNs that you could choose from. Take the ones mentioned earlier - CyberGhost and ExpressVPN. Both of them are better than SurfEasy, at least as of now. Who knows - perhaps the company behind this VPN will be able to fix their problems, and then emerge as a huge competitor to the industry veterans? Only time will tell!
Leave your honest SurfEasy review
By leaving your honest opinion you can help thousands of readers to choose the best VPN. We accept genuine & helpful user reviews, either positive or negative. Have in mind that biased reviews will not be published. If you want to share your opinion, experience or advice, we want you to spill the beans!