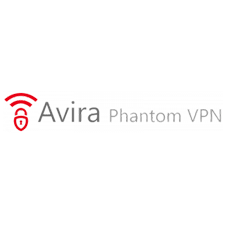 You're probably wondering, where have I heard this name before? That's what I also thought the first time I saw Avira. You may have heard this name because of Avira Antivirus for Mac and Windows. At least that was relatable for me.
Since you came to Avira Phantom VPN review, I will introduce you with the basic information that you should know and then move to the pros and cons list. What is more, I will provide you with tested information that will help you to decide if Avira Phantom VPN is what you're looking for.
The verdict at a glance
Avira Phantom VPN provides you with strong security and encryption, smooth performance, no IP or DNS leaks. It unblocks Netflix, works with almost every device on the market and has a free plan.
Pros
No Leaks
Integrated Kill-Switch
Easy to Use
Cons
14 Eyes Jurisdiction
Some Logging
Slow Speed
Introduction to Basics - All You Need to Know Before Moving to the Actual Avira Phantom VPN Review
Avira is a German multinational security software company that is mostly known (as I mentioned at the very beginning of this Avira Phantom VPN review) for its Antivirus. Avira was founded in 2006 but the antivirus was in active development since 1986.
So the history goes way back, the only problem is that I couldn't find the information when Avira Phantom was created. At the moment, it works with Android, iOS, macOS, Windows, and has both free and pro versions. I will introduce you to both of them in this Avira Phantom VPN review.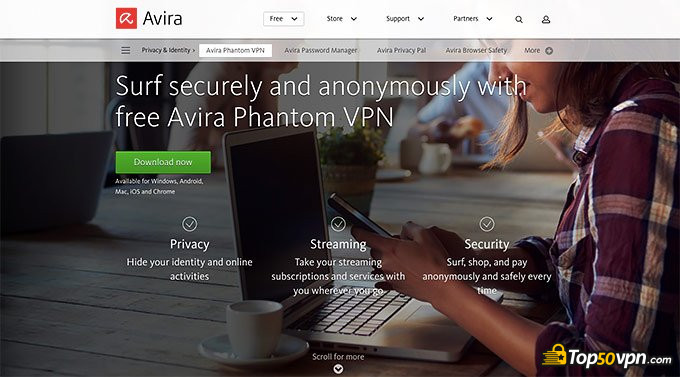 Now you now short history and the very basic information, so it's time to move on to more technical aspects and go through the pros and cons list.
Avira Phantom VPN Review: Pros
Let's begin this review from the good part.
A Capable Encryption
You probably came looking for a VPN provider because you wanted to make sure your data is protected enough. So, if you want to keep your files safe, you probably know that public WiFi is the worst when it comes to privacy.
If you connect to public WiFi without a VPN, without any encryption, then anyone who has knowledge can track your IP address, your data, and even identity.
Now not every VPN can fully protect you. At this point, the most important aspect is the encryption standard that a VPN uses.
Moving back to the Avira Phantom VPN review, I'm glad to announce that it uses the best encryption and safety protocol in the market.
Table: Avira Phantom VPN security.
But what exactly am I talking about?
If you have read Avira Phantom VPN reviews before, you will be familiar with it. I'm talking about OpenVPN protocol together with 256-bit AES encryption.
The OpenVPN protocol is one of the most used protocols by VPNs, it's most capable when using together with AES-256 encryption that Avira Phantom uses as well. AES-256 encryption standard is safe enough to be used by Banks, Government agencies, NSA and so on.
Therefore, worry no more, your data will be encrypted using the strongest ciphers and no one will be able to hack it (at least not yet).
Latest NordVPN Coupon Found:
GET 63% OFF
+ 3 Months Free
Looking for ways to secure yourself online? What if we told you that you can get the top VPN on the market for way less - grab NordVPN 60% discount now & get 3 months FREE!
Expiration date : 10/12/2023
3,191 People Used
Only 99 Left
Good News - No Leaks Were Detected
Having great encryption is amazing (I'm talking about AES-256) but if there are leaks, no matter how strong security VPN uses, it loses its primary goal - to hide your IP address.
When I'm talking about leaks, I usually refer to IP, DNS & WebRTC, which are the most important when keeping your identity unknown. Now, to find out if there are any leaks, I always test it.
Here's how the testing looks like: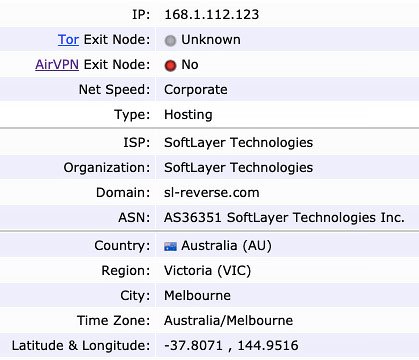 Hence, no DNS/IP/WebRTC leaks were detected at the moment of writing this Avira VPN review, meaning that Avira Phantom performs its primary function.

Did you know?
Kill-Switch - Turns Off The Internet When The Vpn Is Reconnecting
Kill-switch is one of the essential features that is a must-have to every VPN. But how does it work, you might ask? Well, every time your connection gets interrupted or VPN reloads (that might happen to the best ones too), your Internet connection is blocked. This way you're protected from using the Internet without being connected to a VPN.
I know that the time when you're disconnected can be very short but it might take just a second or a few to threaten your safety.
Therefore, Avira Phantom will make sure to keep you safe even when you're disconnected.
Unblocks Netflix
Now that security standards are all clear, it's time to move on to another important aspect of Avira VPN review - Netflix. I believe that a significant number of readers came to this Avira VPN review to find out if it manages to unblock Netflix, am I right?
The main reason for this is that content differs depending on your location. Hence, if you want to see the Netflix US content, you must connect to the US server.
Table: Avira Phantom VPN compatibility.
I want to give you some quick facts. In 2016 Netflix started to fight against VPN users. They found a way to recognize patterns of VPN providers, however, many of them managed to overcome this barrier - about 70% of them still work. But it's getting quite difficult to find a VPN provider that would unblock Netflix.
Which Avira VPN servers unblock Netflix?
When testing for Avira VPN review, I connected to five different servers to see which ones of them worked and which didn't. I was surprised to stream content across North America, the U.K, and Europe, here's the list of servers:
Canada
US (NY)
US (Washington)
U.K
Netherlands
Therefore, if you're in this Avira Phantom VPN review for Netflix, you're lucky - it works!
Easy To Use - Even Kids Could Handle It
The user experience is crucially important. Tools that are hard to crack rarely works for everyone. But with Avira VPN you won't have to worry about that, it's so easy to use that even kids could figure it out.
Look at the app interface: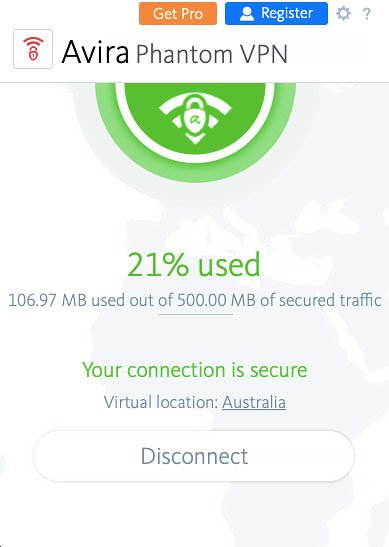 All you need to do is select the location and press Connect. That couldn't be easier.
Connect To As Many Devices As You Want
Since Avira offers both free and paid versions, you would assume that the number of devices that you can connect to differs. However, while researching for this Avira Phantom VPN review I was pleasantly surprised to see that it gives an ability to connect to as many devices as you want, including both free and paid versions.
Hence, when using Avira VPN, you won't have to limit yourself.
There Is A Free Version
If you're a light, you might be looking for a basic VPN provider that would offer either a free version or would be inexpensive. Previously in this Avira Phantom VPN review, I've mentioned that this provider offers both free and paid versions. However, I haven't yet presented you with the differences between these two plans.
Here's the full list of features that you can compare: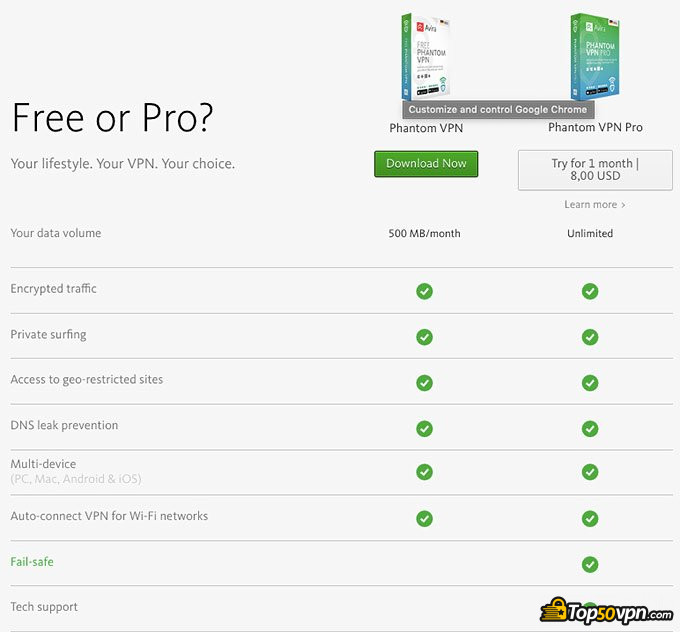 As you can see, there are only 3 differences. With the free version, you get only 500 MB/month. What is more, with the pro version, you get fail-safe (in other words, kill-switch) and tech support.
The pricing of the Pro version is 5,95€ (about $7) per month, which is relatively expensive taking into consideration that the best VPN providers, including ExpressVPN and CyberGhost, are less pricey.
Avira Phantom VPN Review: Cons
Now that all of the pros of Avira VPN review are clear, it's time to move on to the less pleasant part - the cons.
Some Information Is Logged
Many VPNs represent themselves as having zero logs policy but when digging further it can be seen that all of is just a lie or misrepresentation - whatever you prefer to call it.
Logging means that even though your data is protected when using the Internet, some of the personal information can be collected by a VPN provider. I'm not sure what's worse.
Avira Phantom VPN only tracks minor information that doesn't threaten to reveal your identity, including diagnostic data to improve their product, information that differentiates if you're a free or paid user, and the amount of consumed data.
Hence, even though Avira VPN logs some data, there's nothing major and shouldn't be considered as a major flaw.
14 Eyes Jurisdiction - Germany
If you're serious about finding a VPN provider that would ensure complete anonymity, location also matters, especially if it's located in Germany - 14 Eyes Jurisdiction.
But what do I mean by that?
14 Eyes mean the alliance between 14 countries (including Germany, of course). Those countries collect and share all the electronic data with one another, meaning that if a VPN is established in one of the countries, high chances are that data collected about you will be also shared.
Speed Extremely Slow (One Of The Slowest I've Seen)
If you've read other Avira Phantom VPN reviews or were interested in any other VPN, then you probably know that no matter how good a VPN provider is, it will still slow down your experience, the only question is: by how much?
Normally the speed decreases by about 10% - 20%, but those are pretty good results, I've seen VPNs that decrease speed by 50% - 70% and even more.
Now, how do I test?
First of all, I look into the benchmark speed without VPN, here it is:

Then I connect to other servers and check the benchmark once again.
I first connected to EU Netherlands server using Avira VPN and here are the results:

I thought that maybe another server would work better so I connected to the US server the second time. But the results were even worse, download speed was only 24.34 Mbps. Therefore, it is safe to say in this Avira Phantom VPN Pro review that speed testing didn't show good results.
If you want to find the fastest VPN service provider - go check out our "Best VPN" list.
Missing Compatibility With Some Devices
Avira Phantom is compatible with Windows, Android, iPhone/iPad, Mac, Browsers, and it also has Chrome extensions, so you won't have to install separate apps to your device.
That was the good part, Avira VPN has some flaws considering devices as well.
It's not compatible with TV or Game Console and doesn't have a router.
Therefore, it's quite limited.
Torrenting? It's a Secret They Won't Tell
Torrenting is very important for those who download files on a regular basis. Since it's extremely dangerous to download anything from unknown sources, it's important to be protected. One of the best ways to do that is to use a VPN.
When writing this Avira Phantom VPN Pro review, I faced some difficulties because I couldn't find any information about torrenting.
Is it allowed? Does it protect you?
None of those answers are clear, particularly for that reason I wouldn't recommend torrenting when connected to Avira Phantom VPN. If you want to get full protection, you should check CyberGhost or ExpressVPN.
Customer Support? I Don't Think So…
You won't get any customer support from Avira, only question-based help, which won't be helpful in every situation.
You must have a paid plan in order to be able to ask any questions, otherwise, you won't even get that possibility. Even paid users won't be able to use a free chat since it's non-existent.
Here is The Best NordVPN Offer I Found:
GET 63% OFF
+ 3 Months Free
Looking for ways to secure yourself online? What if we told you that you can get the top VPN on the market for way less - grab NordVPN 60% discount now & get 3 months FREE!
Expiration date : 10/12/2023
3,191 People Used
Only 99 Left
Do I Recommend?
No. The main reason why I would choose another VPN provider is the slow speed of barely 6Mbps and no information about Torrenting. Both of them are very important to me, so I'd rather choose ExpressVPN or NordVPN. Or if you want to find more options, you can check the list of the best VPN providers here.
But if those qualities don't matter to you, then you can always try the free version, it might work for a light user (the limit is 500 MB/month). It has the strongest encryption on the market, unblocks Netflix and you can connect to as many devices as you want. What is more, it's easy to use and has an integrated kill-switch to protect you at all times.
Also, it's very easy to use and tested free of IP or DNS leaks.
I hope that this Avira Phantom VPN Pro review was helpful, have a great journey on finding a perfect VPN provider for you.
Leave your honest Avira Phantom review
By leaving your honest opinion you can help thousands of readers to choose the best VPN. We accept genuine & helpful user reviews, either positive or negative. Have in mind that biased reviews will not be published. If you want to share your opinion, experience or advice, we want you to spill the beans!