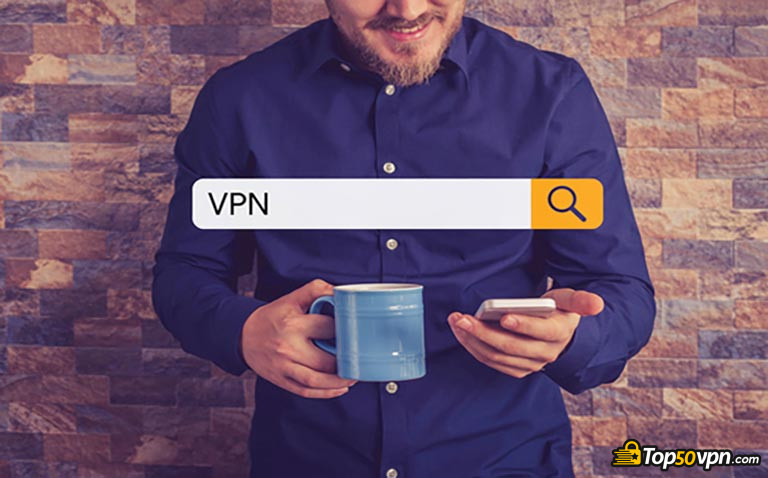 While most people choose to acquire and install VPNs on their desktop or laptop devices, the trend of looking for the best VPN routers is slowly making its way into the mainstream. And with good reason, too - there are quite a few benefits of using routers with VPN!
In this tutorial, we'll take a somewhat in-depth look at some of the best routers that support VPNs. You see, not all routers do that - some are actually a real pain when it comes to setting up a VPN on them!
That being said, before we talk about the routers themselves, let's discuss the benefits of using VPN routers instead of installing a VPN on a single device.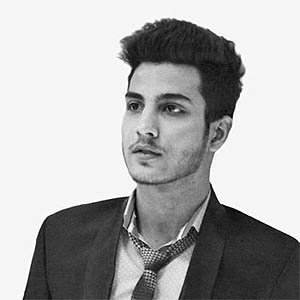 Rameez Ghayas Usmani
Digital Marketing Executive at PureVPN
What are the benefits of using VPN with a router?
Firstly, the most important reason why you need to get a VPN with a router is the protection of multiple devices. Most VPN providers limit the number of simultaneous connections you can have on one VPN subscription. So, when you set up a VPN via your router, you're using just one connection and securing multiple devices as a result. Secondly, it protects business data. Having your VPN connected directly to your router gives you additional protection for all your employees and clients. Lastly, it simply saves time. Having a router directly connected to a VPN will relieve you from the need to connect to a VPN from each device separately. If you're someone that uses multiple devices daily, this can end up saving you a lot of precious time that can be better spent elsewhere.
The Benefits of Using the Best VPN Routers
VPN routers - what are they good for? Absolutely everything!
The above-given phrase should be read while humming the chorus melody of Edwin Starr's "War".
On a serious note, though, choosing to install a VPN on your router instead of doing so on a single device comes with many added benefits. To put it short, you could say that VPN routers are able to provide you with the same features that you would get when having a VPN on a single piece of machinery… Times ten!
"Putting it short", however, doesn't do it justice. Let's take a closer look.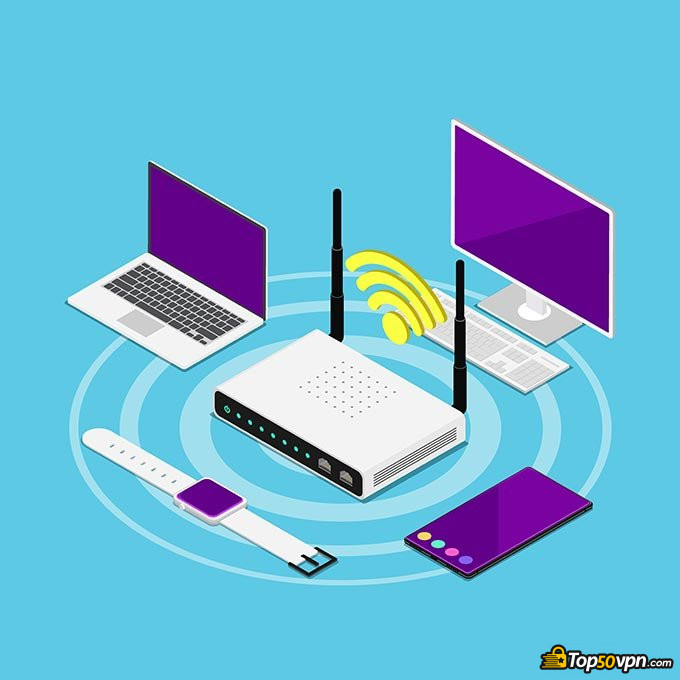 If you've read our guide on how to set up a VPN on a router, you likely know that there are three main uses that most people reference when they are talking about VPNs - security, content streaming and file sharing. Admittedly, out of those three, content streaming has to be the least relevant when it comes to the best VPN routers.
However, as far as security and file sharing are concerned, things become much more interesting. Let's talk about security first.
Using a VPN on a Router: Security
If you're using a VPN for the purpose of keeping your identity and information safe, you would likely want to do that on multiple different devices - not only your laptop.
While it is true that most people perform the majority of their tasks on a computer (desktop or laptop), with the undeniable rise of the mobile industry, more and more sensitive information is being transferred via your phone.
We use phones to log into our bank accounts, to make payments, send and receive various files, chat in private messaging groups (work-related, or else), and so on. Naturally, all of that information is valuable to you - it being leaked could mean a whole bunch of bad things.
Well, if you choose to install the best VPN routers in your home or office, and choose the best VPN for that router, you can rest assured that anytime you log in to that designated WiFi connection, your information is going to remain encrypted and safe. Admittedly, this is especially important for companies.
Latest NordVPN Coupon Found:
GET 63% OFF
+ 3 Months Free
Looking for ways to secure yourself online? What if we told you that you can get the top VPN on the market for way less - grab NordVPN 60% discount now & get 3 months FREE!
Expiration date : 10/12/2023
3,191 People Used
Only 99 Left
Using a VPN on a Router: File Sharing
When it comes to VPN routers, file sharing is closely related to information security. However, it's such a broad and important topic, that it deserves to be talked about separately.
You will find that many VPN providers talk about "P2P file sharing". P2P stands for "Peer-to-Peer" - it's basically the act of sending and receiving information between you and another party (person) via utilizing shared resources.
While this is rarely exclaimed out loud (mostly due to legal reasons), P2P file sharing often simply means torrenting. Sure, it's a much broader field than that, but that's the general association.
Routers that support VPNs are going to allow you to torrent any and all files on multiple different devices at a time, with having a peace of mind that neither your information is going to leak to authorities, nor will you get your data breached by a hacker. That's pretty significant.
The List of the Best VPNs for Routers
Now, with the benefits of using VPN routers cleared up and out of the way, let's turn to some of the best routers with VPN compatibility.

Did you know?
1. Asus RT-AC86U
Asus is a pretty well-known company in the IT world - this is especially true when it comes to gaming equipment, whether it be desktop computers, monitors, mice… or routers.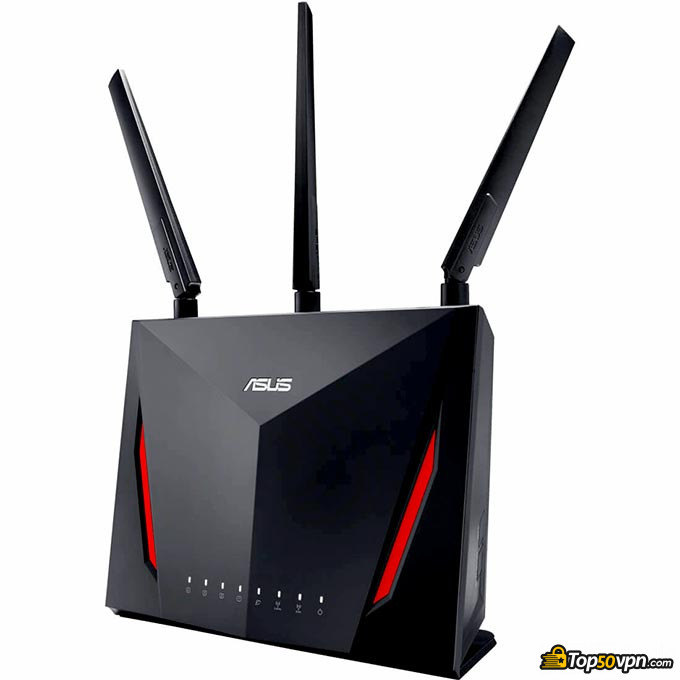 If you're into online gaming, you probably know that Asus sponsors some gaming events and companies - Dreamhack is a good example. This means that the company is not only aware of how important good CPUs or graphics cards are, but also knows that ping is the main enemy of every online game.
What is the world does this have to do with VPN routers?
Well, that's pretty simple - Asus built RT-AC86U to last.
The router is well-known to maintain great internet speeds and has a pretty wide field of coverage. While this is great news for any gamers out there, it's also amazing news for VPN users, too - a strong internet connection means that whatever the number of devices you choose to connect to the VPN, your RT-AC86U is going to support it.
Well, to a certain extent, of course. You probably wouldn't want to connect all of your neighbors' devices, too (although you'd struggle to find a VPN that would support so many simultaneous connections, in the first place).
What is the Price of Asus RT-AC86U?
Admittedly, the Asus RT-AC86U isn't exactly the cheapest option out of all of the VPN routers around. Most of the buying options you'll find online are going to sway at around the $180 mark.
That being said, judging by the many user reviews that the device has accumulated, the price does make a lot of sense. Out of all the routers that support VPNs, the RT-AC86U (or its successor - the Asus AC88U dual router) is seen as one of the best options on the current market.
2. D-link DIR-885L/R
D-link has a pretty vast array of options to choose from, at least for the average customer whos looking for affordable, yet reliable VPN routers. And while the DIR-885L/R isn't exactly the definition of "affordable", it's definitely one of the best routers with VPN compatibility.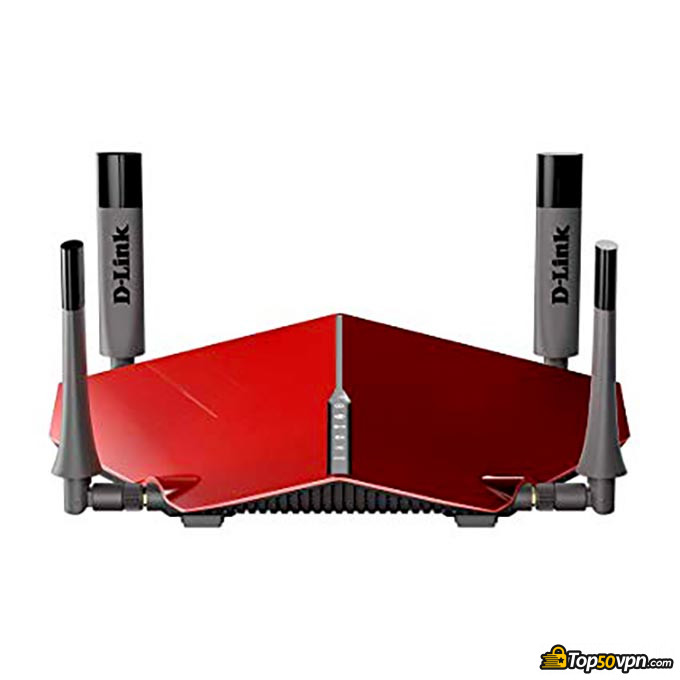 Why so? Well, while the router provides some awesome internet speed, connection stability and coverage parameters (these things are frankly a given), it is also very simple to set up, as far as VPN routers are concerned.
And no, I don't mean "set up" as in plugging the cable into the socket. Rather, I'm talking about the oh-so-hated process of configuring your router so that it would be compatible with your VPN.
Many people who are trying to find VPN routers don't know this, but once you install your VPN into your system, you also need to set it up in your router configuration menu. This is most commonly accessed by entering your IP address (you can check it here) into your browser's search bar, and then typing in your username and password in the screen that pops up.
Don't know your username and password? That's OK - most people don't even know they can access their router configuration menus, not to mention keeping track of usernames and passwords. You should usually be able to find this information in the router's manual, though, or by contacting the seller.
The DIR-885L/R has a very easy-to-use menu, and setting up your VPN on this device should be a breeze. That's actually a pretty big deal, seeing that many routers with VPN compatibility require you to configure the security software manually.
What is the Price of D-link DIR-885L/R?
I've hinted at this earlier, but the DIR-885L/R isn't a cheap option when it comes to VPN routers.
You'll find that, in most online shops, the router retails at around $270 - $280. Price-wise, that's definitely up there! However, if you've got some spare money, and are willing to invest in a product that will serve you for a long time to come, the DIR-885L/R is definitely an option to consider.
3. Linksys WRT 3200 ACM
Linksys is a very popular pick in many different user router reviews online. When it comes to VPN routers, the WRT 3200 ACM offers exactly what you would come to expect out of a top-tier router - great internet connection speeds, stability, and a wide coverage.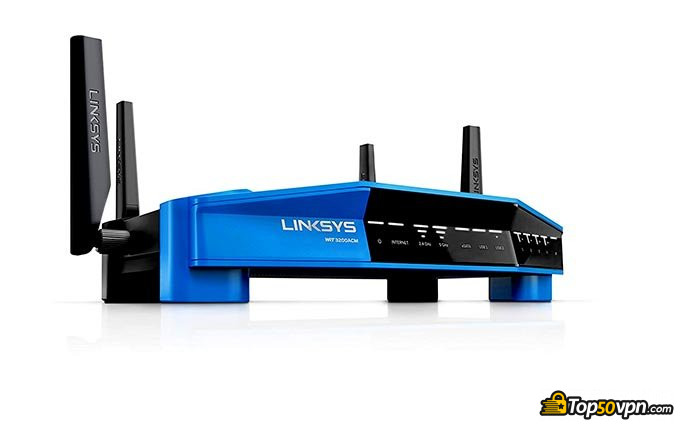 If you choose to install the router's firmware into it, the device is going to support your VPN just fine. However, with the option of utilizing any open source firmware, WRT 3200 ACM becomes an even more attractive option.
Note, though, that this router is (seemingly) most commonly used in an office environment. That's probably because of its coverage and connection strength. That doesn't mean, however, that you wouldn't be able to utilize it at home.
What is the Price of Linksys WRT 3200 ACM?
The WRT 3200 ACM router retails at a price of around $180. Compared to most of the high-end VPN routers on the market right now, that's actually very affordable.
4. Asus RT-AC5300
Asus is back on our list, and it's back strong - the RT-AC5300 is a true behemoth when it comes to VPN routers.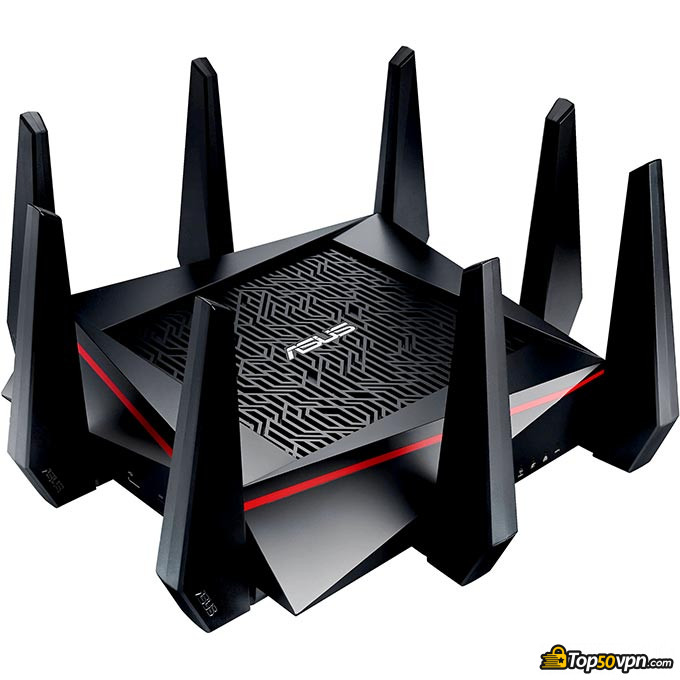 This router is special in two different ways. First of all, it looks awesome - while the style might not suit everyone, it's definitely one of the more visually-impressive devices on this list.
The size of the router isn't just to compensate for something else, though - it actually offers some of the best coverage parameters you'll come across. That's a pretty important factor for anyone looking for the best VPN routers!
What is the Price of Asus RT-AC5300?
The router comes out to be around $260 - the actual price is going to depend on where you choose to purchase it. While it's definitely on the pricier side of things, it's going to be a perfect fit for anyone who wants to have a VPN router that's easy to set up and looks pretty impressive, as an added bonus.
5. Trendnet AC2600 StreamBoost MU-MIMO
Ya… That's definitely a mouthful…
Trendnet's AC2600 is one of the best compromises when it comes to the debate of "price VS quality" of VPN routers.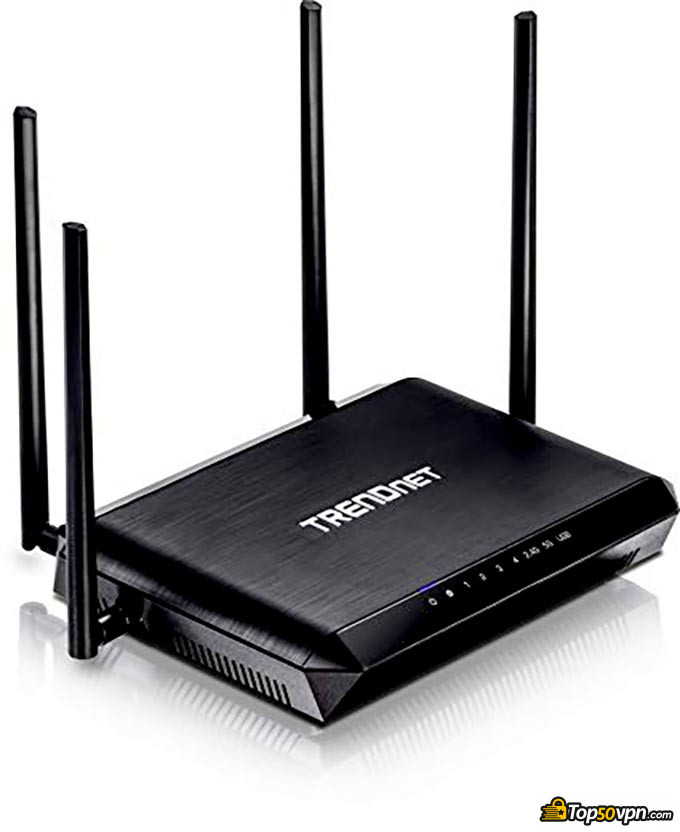 The router is really fast, and handles internet connections pretty well (as far as connection stability is concerned, that is). Also, users report that, when it comes to router configurations, it's really easy to set up and manage.
What is the Price of Trendnet AC2600 SteamBoost MU-MIMO?
The router retails at around $120. Honestly, when compared to some of the other VPN routers on this list, that's a pretty good price! That is especially true when you keep in mind that it's a pretty good option for a VPN-compatible device.
Conclusions
While people are still mostly focusing on finding the best VPN for their individual devices, VPN routers are slowly growing in popularity. Most of the time, the concept of having to install and set up the VPN on your router is what scares the majority of people away.
However, it doesn't have to be that way.
You see, if you choose to purchase both the best VPN router and the best VPN for that router, you can rest assured that the whole entire configuration process is going to be a breeze and you'll have it finished in no time. Sure, there are VPNs that might not be compatible with routers - and there are routers that don't support VPNs.
That being said, with more and more new products coming out on both sides of the table, it has become commonplace for VPN routers to have clear built-in menu options to help you deal with any and all features you might need while having the VPN installed.
That being said, always remember to check our guide on the best VPNs for routers. This way, you'll be able to not only avoid worrying about your online security and privacy, but also secure your internet connection in any of the devices that you might need to.
With that, I wish you the best of luck in your search for the best VPN routers of 2023! Thanks for reading, and until next time!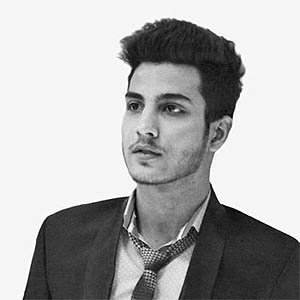 Rameez Ghayas Usmani
Digital Marketing Executive at PureVPN
Contributed by: Rameez Ghayas Usmani , Digital Marketing Executive at PureVPN
Rameez Ghayas Usmani is a digital marketing and cybersecurity expert, with experience in the fields of Artificial Intelligence and Machine Learning. Rameez is currently working as a&...
Read Full Bio...
Leave your honest feedback
By leaving your honest opinion you can help thousands of readers to choose the best VPN. We accept genuine & helpful user feedback, either positive or negative. Have in mind that biased feedback will not be published. If you want to share your opinion, experience or advice, we want you to spill the beans!