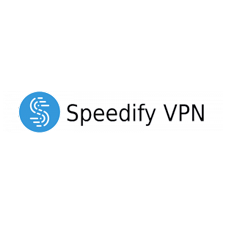 It would seem that, when choosing a VPN provider, all that you really need to focus on is the security of your data… Right? Well, as time would go to show again and again, that's not really the case. In this Speedify review, we'll talk about a VPN that has seemingly nailed the data encryption game, but has flunked in many other ways.
Granted the above-mentioned information is true, and you find that Speedify isn't exactly your cup of tea, do check out our list of the best VPNs - perhaps you'll find something to your liking there?
TL;DR: Speedify is a VPN that has gained some controversial attention as of late. It has great data security measures in place, but also has many integrity issues and lacks a lot of the popular features that are seen as vital for a VPN.
Pros
Good data encryption
Kill switch
Supports Tor
Cons
Minor torrenting / No Netflix
Logs (some) data
Located in the US
Leaks DNS
Speedify Review: PROS
That's usually the thing that people are looking for when they browse through Speedify reviews (or any other VPN reviews, for that matter). It makes perfect sense - the whole idea behind a VPN is to keep your information safe and your identity unknown while you're browsing and doing your stuff on the internet.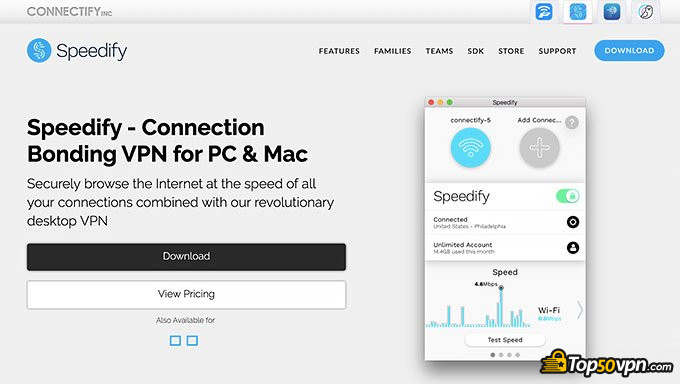 Since security is such a strong word in this industry, let's start this Speedify review talking about the things that the VPN provider has done right in that department.
The Highest Tier of Data Encryption
A lot of VPNs play around the fact that they offer "industry standard" data encryption. Naturally, that would be the AES 256-bit encryption. Honestly, they have the right to act cool - AES doesn't have that reputation for nothing! It is widely accepted that it is the most sophisticated data encryption method in the world - it's literally unbreakable and unbreachable!
As it turns out, however, Speedify offers something better.
While you have the option to use AES, one of the most prominent selling points (according to many different Speedify reviews, at least) of the company is their ChaCha type of data encryption. What's so special about it?
Well, it's practically the same as AES… But better.

ChaCha uses the same type of data encryption as AES (the 256-bit), but is superior from the technical standpoint of things. Doing research for this Speedify VPN review, I was quite impressed when I came across this fact - I haven't seen ChaCha offered as an option even by the top VPNs in the game.
Just to offer some clarification for the people that have never read a single VPN review and are still wondering what is Speedify, the 256-bit information encryption is the most advanced and sophisticated encryption type to date.
It is virtually uncrackable, and is used by the top intel-gathering agencies in the world. ChaCha is just one of the (quote, unquote) "better" forms of the encryption.
Latest NordVPN Coupon Found:
GET 63% OFF
+ 3 Months Free
Looking for ways to secure yourself online? What if we told you that you can get the top VPN on the market for way less - grab NordVPN 60% discount now & get 3 months FREE!
Expiration date : 02/10/2023
3,191 People Used
Only 99 Left
Kill Switch - In Place!
Some VPN providers that are super proud of their security and data encryption measures still seem to forget one of the most simple tools of data protection - a kill switch.
Some years ago, kill switches were seen as a "nice, added bonus" that comes with a VPN. Companies that had kill switches in place advertised the hell out of the fact - after all, it wasn't really a common thing!
Now, however, even though it's still not a standard thing per se, most "serious" VPNs do support and utilize kill switches. They are a great argument in the "is Speedify safe?" debate, too! But I'm getting way ahead of myself - what even is a kill switch, in the first place?

You can view kill switches as your emergency management functions. To put it simply, if you have a kill switch enabled while you're browsing with an active VPN, it will immediately cut all of your processess in a situation where you get disconnected from the VPN (i.e. loss of connection).
This way, your identity and personal information won't get exposed and compromised to third parties (your internet service providers).
Even if you don't really know what is Speedify, you should keep the fact that the VPN does offer a kill switch in mind. It's a great feature, and a huge plus for the company's overall reputation!

Did you know?
TOR Works… Sort Of
TOR, otherwise known as the Onion Browser, is quite infamous in the VPN community. Even if you've never read a Speedify review before, you might be familiar with TOR from a different perspective - it's the browser that is commonly used to access the Deep Web.
While the above-mentioned fact is often associated with some shady business, TOR is actually often used for the simple purpose of increased anonymity. Combined with a proper VPN, it makes it almost impossible for third parties to track your identity.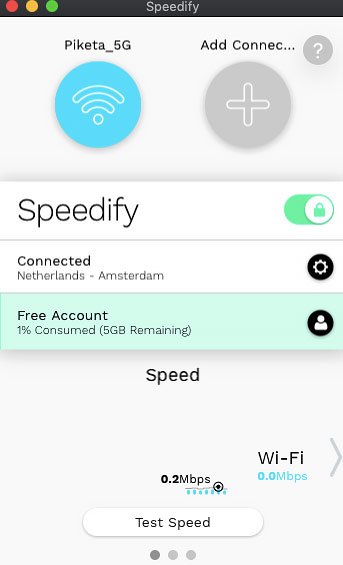 Speedify does support TOR… Kind of.
In the company's official privacy policy, it states that while TOR is supported, it may be blocked on some certain servers. This is also something that a lot of other Speedify reviews mention, too, so do keep this in mind!
More Than 200 Servers
Good VPN providers tend to have a huge variety of servers to choose from. The vast majority of these are simple servers around the world that can be utilized for the so-called "day-to-day" use, but there are also those that are dedicated to some specific uses, too.
For example, there could be Netflix-exclusive servers that are designed to help unlock Netflix's locked content, or some that are there specifically for torrenting (these usually have extra layers of security).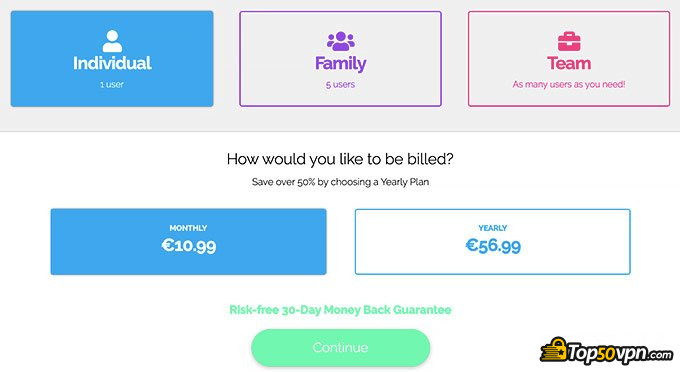 Speedify offers more than 200 servers to use. According to their official website, the number of servers is constantly growing. So… Is 200 a lot?
If you were to take a look at some of the industry giants (read: ExpressVPN, Cyber Ghost), you'd see that most of them offer thousands of servers to choose from! While 200 is a nice number, and you probably aren't going to run out any time soon, there's still room for improvement.
Speedify Review: CONS
So, we've discussed the main pros that this VPN provider offers to its customers. Now, to continue with the Speedify VPN review, let's take an in-depth look into the problems that are associated with Speedify.
The fact of the matter is that Speedify is somewhat of a unique VPN. It's unique in that it offers amazing data protection, while simultaneously having security issues. If you're confused, don't worry - so was I when I first heard this. However, after I gave the VPN a closer look, it all started making sense.
Located in the US (5-Eyes)
When reading about what is Speedify, one of the very first things that you'll notice is that the company is based in the US. That's one of the worst jurisdictions in the world when it comes to VPN locations.
The US, together with the UK, Canada, Australia and New Zeland all belong to the 5-Eyes alliance. This alliance is based on intelligence sharing - if you do something illegal in one of these countries, it will be known in all five of them. Basically, the alliance shares information with one another about the things that the residents of each country do online.
Table: Speedify company information
A VPN based out in the US has to comply with the law. This means that, if the government so wishes, the VPN service provider will have to hand over all the information that they have concerning an individual's online activity. Some VPN companies, however, claim that since they do not log any of the user's information, they would have nothing to show to the authorities. Which brings us to the next problem…
Logs Some Information
Some customer Speedify reviews have offered advice to look into the company's privacy policy more in-depth. To give you a short summary of everything I've found, Speedify does log some of your information. The company hides it under a guise of "only using it to improve your experience and their customer support", but that's honestly little to no condolence.

The vast majority of the top-grade VPNs in the world (such as the earlier-mentioned CyberGhost or ExpressVPN) log some minor information, but minor is actually the word that's important here. You'll never see them keeping track of your location, the time when you log on to the VPN, IP address (what the..?) and so on. This is a major red flag for anyone trying to figure out is Speedify safe.
You might think - why is this such a big deal? Aren't I overreacting?
Nope. And here's why.
Information logging is seen by many as the most severe problem that a VPN can have. If your VPN logs your information, they can later sell it to third party advertisers so that they could target their ads at you.
You think that's bad? That's nothing compared to the situation that Speedify is in.
Since Speedify is based in the US AND it logs your data, you can be sure that there's nothing you could do to prevent your sensitive information from reaching the hands of the governments around the world, if only they wished upon it. Now THAT is a tragedy, and it goes directly against everything a VPN is supposed to stand for.
DNS Leaks
On top of that, the VPN leaks DNS. While some Speedify reviews brush this off as a minor detail, I would tend to argue that it's actually much more severe than that.
If your DNS leaks, it means that information regarding the websites that you visit is visible to your ISP. Since you're using a VPN in the first place, that's probably something that you don't really want happening.
Table: Speedify security feature information
It's somewhat sad, really. You would think that a VPN provider that offers "the best data encryption in the industry" would have their DNS in place. However, as seen in the picture above, this is not the case in this Speedify review.
UPDATE: After recently re-testing Speedify's DNS leaks, we've found zero of them, as opposed to the previous tests.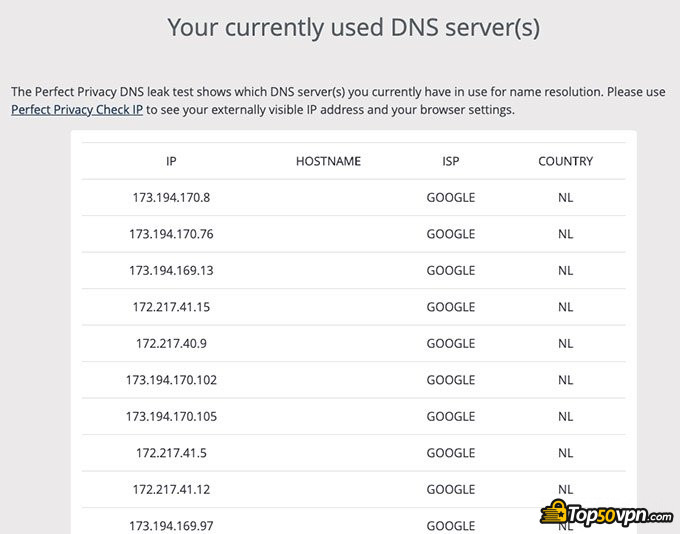 It would seem that the company has managed to solve this issue - if that's really the long-term case, good on them!
No Netflix / Limited Torrenting
For the past 7 years, Netflix has been hard at work banning VPNs from accessing the company's region-locked content. People around the world have grown accustomed to using a VPN to view Netflix USA-exclusive material, but things are rapidly changing. Now, it's a luxury to find a VPN provider that has Netflix in their list of features.
I'm sad to have to say this in the Speedify review, but this VPN is not one of them. Netflix has successfully banned Speedify's VPN from accessing its content. So, if Netflix is what you want, you'll have to look elsewhere.
And that's not just it, either! While Speedify does state that it supports BitTorrent, the reality is actually a little bit different. It's true that you can torrent files with this VPN… But the servers from which you can do so are assigned to you automatically, meaning that you don't really have a choice of your own.
Not the Best Speed Results
Since this is a Speedify VPN review, you would think that speed is something that the VPN has covered, right? Well, only somewhat.
I've tested Speedify's servers from the middle of the EU. Without a VPN, my usual download speed is around 70 Mbps. While the EU server faired rather well, it's the US one that I had problems with.
Ping: 201
Download Speed: 24,92 Mbps
Upload Speed: 9,28 Mbps
Neither the download speed, the upload speed or the ping are great to look at. Again, with a name that literally has the word "speed" in it, I had honestly expected better.
Price
For an individual user, Speedify costs $12,30 per month, or $62,68 per year (here, €1 = $1,12). That's actually on the costly side of things! That said, the company does offer the standard 30-day money-back guarantee.
What is the Speedify VPN price?
Here's a list of all the prices and plans available:
Individual - $12,30 per month or $62,68 per year
Family (up to 5 users) - $22,34 per month or $95,11 per year
Team - Custom.
Rather mediocre price tags.
Here is The Best NordVPN Offer I Found:
GET 63% OFF
+ 3 Months Free
Looking for ways to secure yourself online? What if we told you that you can get the top VPN on the market for way less - grab NordVPN 60% discount now & get 3 months FREE!
Expiration date : 02/10/2023
3,191 People Used
Only 99 Left
Conclusions
To finish off this Speedify review, let me just say - I wouldn't really recommend using this VPN.
As you will find other Speedify reviews mentioning, the VPN is simply not worth using the way that it currently is. Even though it does offer a whole lot of cool things for the average user, there are simply too many risks involved.
Is Speedify safe? No, it leaks DNS. Is your data protected? Nope - US-based, logs information, etc. On top of that, there's no Netflix, limited torrenting and so on. It's a shame to end this Speedify review on such a note, but there are far better VPNs out there - do check our "Best Overall VPN" review to get to know these providers better.
Leave your honest Speedify review
By leaving your honest opinion you can help thousands of readers to choose the best VPN. We accept genuine & helpful user reviews, either positive or negative. Have in mind that biased reviews will not be published. If you want to share your opinion, experience or advice, we want you to spill the beans!