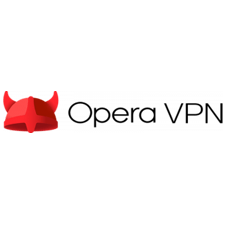 While free VPNs are too far in between, it doesn't always mean that the ones that do exist are necessarily worth paying attention to. In this Opera VPN review, we'll talk about a browser-dependent free VPN (not really) provider that, while having some cool features, still lacks in many different departments.
If you're searching for a VPN that wouldn't lack in any way, shape or form, I'd suggest looking at ExpressVPN and CyberGhost.
TL;DR: The cool thing about the Opera VPN is that it's free and it supports Netflix. Despite that, however, there are some serious issues that this VPN provider needs to sort out in order to raise its reputation in the grand scheme of things. That said, one should take into account that the Opera VPN isn't an ACTUAL VPN - this might make things a bit more lenient.
Pros
Supports Netflix
(Almost) no logging
Free
Cons
No torrenting support
No customer support
Browser-exclusive
Before We Start the Opera VPN Review, a Short Disclaimer - It's Not Really a VPN
Before we actually get into the Opera VPN review, it is important that you understand one single thing - the Opera VPN isn't an actual VPN. Confused? Let me explain.
The Opera VPN is something that is known as a proxy. While the expression "VPN" is used here as an umbrella term, it does not reflect the true nature of the Opera VPN.
Since this is an Opera VPN review, the question that is probably on your mind right about now sounds something like this - what's the difference?
Well, to start off, the main difference lies within the topic of security. You see, VPNs encrypt both your data and your connection itself. Proxies, however, are only responsible for hiding your IP address. This makes them EXTREMELY UNSAFE and liable to break-ins, dataflow interceptions, and so on.
An important note to mention for all of those wondering is Opera VPN safe is that the proxy does have its own form of data encryption - the HTTP/SSL protocol. That said, the protocol does not encrypt your connection itself - it just focuses on the browser.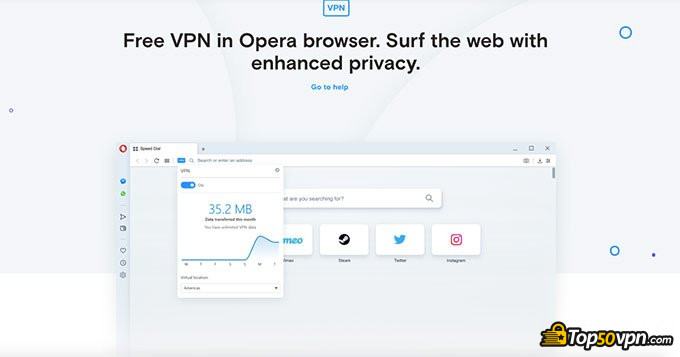 For clearance sake, and to keep things as simple as possible, in the rest of this Opera VPN review I shall be referring to the proxy as a "VPN", for it is the most common and well-known tag that people call and associate it with.
Opera VPN: PROS
To start off, let's talk about just how good is Opera VPN. While lacking a lot of the core components of a VPN, Opera can still provide some specific features for the average user (especially seeing that it is free).
Supports Netflix
You could go as far as to say that Netflix is almost without a doubt the main reason why people use the Opera VPN.
By now, it is almost common knowledge that Netflix has been cracking down on VPN users worldwide. Whatever the motivations might be, the results are rather obvious - more and more VPNs every single day declare that they no longer support the usage of Netflix.
The Opera VPN stands out of the crowd, though.
The VPN offers three servers, and all of them unlock Netflix USA and all of its region-locked content to the rest of the world. That's a pretty big deal!
The above is especially true when you think about just how many VPNs no longer support Netflix. Coming across a proxy (not even a fully-fledged VPN!) that unlocks Netflix does feel awesome, especially when it's completely free and integrated into your browser!
So, the next time you ask "does Opera VPN work with Netflix?", you'll know the answer.
Latest NordVPN Coupon Found:
GET 63% OFF
+ 3 Months Free
Looking for ways to secure yourself online? What if we told you that you can get the top VPN on the market for way less - grab NordVPN 60% discount now & get 3 months FREE!
Expiration date : 10/12/2023
3,191 People Used
Only 99 Left
No Information Logging (Kind Of)
If you're unaware, data logging is a very serious issue that has been plaguing the VPN world. It is also one of the main reasons why people ask is Opera VPN safe to use.
Data logging happens when a VPN provider has malicious intents and tracks your movements and personal information while you're using the VPN. Later, the information is sold off to interested third parties. Quite frankly, it completely beats the entire purpose of owning a VPN.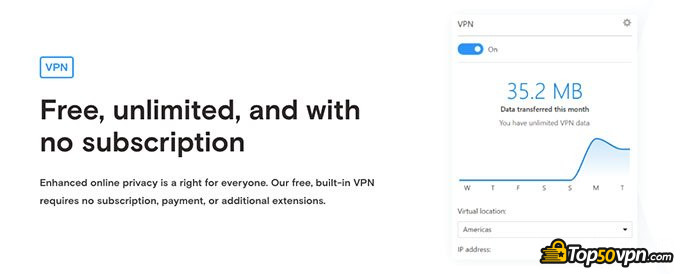 As some Opera VPN reviews have pointed out, though, Opera does not track or log your data. The company is rather transparent with its information tracking practices - they admit that they take note of some information, but only the one that's necessary for the development of their own products.
Be it as it may, if you're still wondering is Opera VPN safe, you should keep one thing in mind - you would never want to use the VPN for activities that would require the highest level of protection.
It's not the biggest deal in the world if you only want to watch Netflix, but if there's a need for more serious anonymity, then a proxy simply won't cut it.

Did you know?
Easy to Use and Doesn't Push Ads
Reading through other Opera VPN reviews, I've noticed that some people go as far with their skepticism as to wonder does Opera VPN work at all. And, just to be clear - it does!
The VPN actually even has a pretty simple and straightforward installation.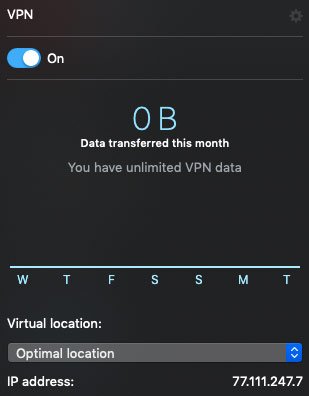 All that you'd have to do is go to the "Settings" tab in the Opera browser, navigate to the "Privacy and Security" tab and enable the VPN. That's it!
Using the VPN is actually pretty straightforward, too. You can jump between servers rather easily - all that you need to do is navigate to the top of your search bar (where the "VPN" button is, on the top-left corner) and press the button for a drop-down menu for all of the options available.
Another great thing worth mentioning in this Opera VPN review is that it doesn't shove your screen with ads. Why is this so noteworthy?
Because Opera VPN is free. And free VPNs tend to do that.
It's actually one of the main reasons why people tend to not trust free VPN providers (other than the fact that they don't really have a good reputation).
If you're constantly bombarded with various advertisements of how you should purchase "the amazing, premium paid version" of the VPN, the experience of using one becomes rather tedious.
Opera VPN: CONS
Now, to continue with our Opera VPN review, let's take a look at the cons that this VPN has. And, well… There are quite a few.
Do keep in mind, however, the thing that we discussed at the beginning of this Opera VPN review - the Opera VPN is a proxy, and not an actual VPN per se.
Browser-Exclusive (No Stand-Alone Version)
This might perfectly well be the deciding factor for the majority of people when it comes to the topic of how good is Opera VPN.
The VPN is purely browser-dependant.

Doing some digging, I've learned that the Opera VPN used to have a stable, mobile version of the VPN. Apparently, back then it was a fully-fledged VPN, too!
Today, however, the remnants of that VPN are only available if you're using the Opera web browser. This can be a real deal-breaker.
Admittedly, only a very select group of people use Opera - there are many better alternatives to be found! And to use a web browser solemnly for a VPN, well… Let's just say that not many people would be up to the idea, even if we're talking about a free VPN.
If this VPN provider doesn't quite cut it for you, don't worry - there are better alternatives out there. You can always check out ExpressVPN or CyberGhost - they're some of the most popular VPN providers in the current market, and rightfully so.
Super-Slow Speeds
Some Opera VPN reviews mention that the VPN offers slow speeds (download and upload), but few of them stress just how slow those speeds actually are.
Once I've noticed that my browsing experience was a bit laggy and the videos weren't really rendering properly, I decided to run a speed test. And, well… The results speak for themselves.
The Opera VPN offers a download speed of around 8 Mbps. The test was done from the EU, and the server that was tested is EU-based, too.
Just to help you understand how slow this download speed actually is, the average speed without a VPN would be around 70 Mbps. Ya, it's that bad.
On one hand, it would be rather tough to expect great speeds from a free, browser-exclusive VPN - you get what you "paid" for. On the other hand, however, it becomes difficult to answer the question "does Opera VPN work properly?" on a positive note.
No Torrents Allowed
Yet another deal-breaker for a whole lot of people, the Opera VPN does not support P2P file sharing (aka torrenting).
It is probably of no secret that a decreasing number of VPNs these days allow torrenting. With a ton of copyright lawsuits being thrown around, it's becoming increasingly riskier to openly support torrents. The (quote, unquote) "legal" term that most VPNs use is P2P (Peer-to-Peer) file sharing.
That said, torrenting is still one of the main selling points for many VPN providers out there. However, in order to be successful, simply allowing torrents doesn't quite cut it.
The VPN must also ensure that there are dedicated servers that are there mainly to be used for P2P purposes - they should have high-level encryptions and be as secure as possible.
On the topic of the Opera VPN, though, it has neither. It doesn't support torrenting, but even if it would, you probably wouldn't be too keen on doing it with Opera - Opera VPN being a proxy, it has no proper security measure in place.
No Customer Service
Like, literally… None.
Either you're trying to find out how good is Opera VPN, or you have some questions about the VPN's logging policy or Netflix support, it's always important to be able to have your questions answered. Well, this isn't a likely scenario with this VPN.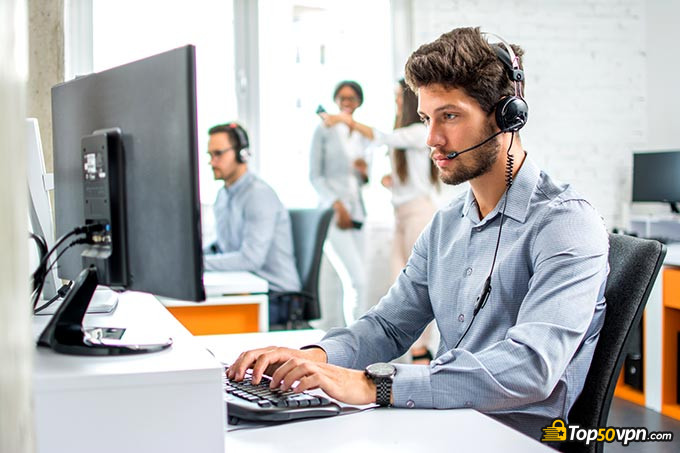 The only help that you'll get is the self-explanatory button on their official site - "Go to Help". That's literally it - no live chat, not even a ticketing system!
Surely, one wouldn't expect any more from a free VPN provider, but you are then left to search for various Opera VPN reviews online in order to find some REAL help.
Limited Amount of Things That You Can Do
Opera VPN offers only three servers - one in the EU, one in the US and one in Asia.
Needless to say, that's underwhelming.
To add to that, you never really know where the actual servers are located. Even for a free VPN, the lack of information is bothersome.
With such a limited amount of possibilities, there really aren't many things that you can do. Furthermore, keeping in mind the lack of security that Opera VPN offers, the number of activities one would be willing to engage in drops down even further.
Truthfully, it would seem that the only "proper" feature that's available with the Opera VPN is watching Netflix's restricted content. That's literally it - any other activity that requires some form for privacy or anonymity is out of the question!
On their official site, the Opera VPN list two main "appeals" for their VPN - reducing online tracking and keeping your public browsing secure. Both are lackluster, to say the very least.
To put it simply, the Opera VPN can claim any and all security measures that they want - the proxy "VPN" simply has too many security loopholes for them to be ignored.
Here is The Best NordVPN Offer I Found:
GET 63% OFF
+ 3 Months Free
Looking for ways to secure yourself online? What if we told you that you can get the top VPN on the market for way less - grab NordVPN 60% discount now & get 3 months FREE!
Expiration date : 10/12/2023
3,191 People Used
Only 99 Left
Would I recommend using Opera VPN?
No.
As you might have gathered up until this point in the Opera VPN review, the service has a whole lot of flaws - too many and too serious for it to be a viable VPN service. And that's exactly it - it's not a VPN, in the first place!
Even proxy-wise, Netflix does seem to be the only (quote, unquote) "popular" feature that it offers. A huge lack of security and data encryption, no information whatsoever, no customer support, only three servers to choose from… I could go on, but you get the idea.
Some Opera VPN reviews try to play off the fact that it's free, but even that doesn't offer any condolences! It might in a different scenario, but since the Opera VPN is browser-exclusive, it being free doesn't really mean all that much.
Overall, as sad as it is to say this, the Opera VPN definitely did not impress. If security is what you're looking for, I'd stay away from Opera as far as I could.
Since this VPN lacks not only security but also other important features, why don't you choose the VPN provider, which has it all? Take a look into ExpressVPN and CyberGhost. They're not only fast and secure, but also allow have great customer support.
Leave your honest OperaVPN review
By leaving your honest opinion you can help thousands of readers to choose the best VPN. We accept genuine & helpful user reviews, either positive or negative. Have in mind that biased reviews will not be published. If you want to share your opinion, experience or advice, we want you to spill the beans!