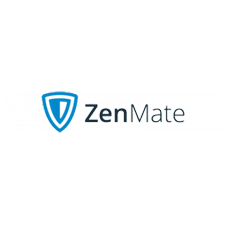 If you need a VPN, you're either in it for security or the geo-locked content that these tools unlock. Your preferences will be the deciding factor of your opinion of this Zenmate review. So, without further ado, let's jump straight into it.
TL;DR: Zenmate claims to offer "fast, secure and easy" features, but at least one of these is very far from being the truth. The VPN logs data and leaks user IP addresses - something that is considered to be a game-breaker in the industry. It does, however, unlock Netflix, and has a free version.
Pros
Unlocks Netflix
Kill switch
7-day free trial
Cons
Logs data
Leaks IP
Located in Germany
Zenmate Review: PROS
Even though there are major issues to discuss, let's start this Zenmate review on a positive note, shall we?
Unlocks Netflix
VPNs are famously used to unlock restricted and region-locked content - that's no secret at all. While a lot of the VPN providers might not acknowledge this openly, you can still find hints on their official sites. I'm happy to state that, while doing research for this Zenmate review, I've come across these hints with this VPN provider, too.
So, Zenmate does unlock Netflix. However, if this is your first time reading a Zenmate VPN review, you might struggle to understand why this is such a big deal (which it is!).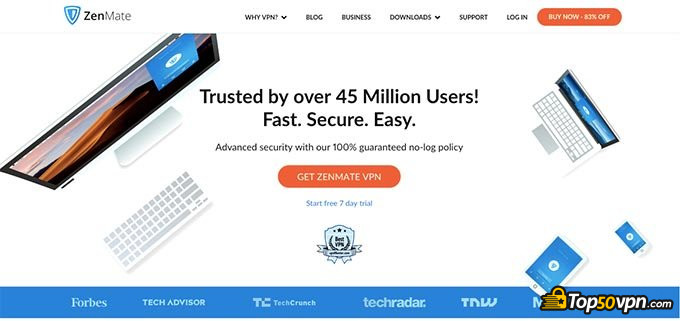 Starting from 2013, Netflix has been hard at work at cracking down VPN usage to view the platform's locked content. There are a whole bunch of legal reasons for why that became the case, but I won't bore you with that.
Suffice to say that the company has been rather successful - as of today, the vast majority of VPNs that used to offer Netflix unblocking as a service no longer do so. It has become a luxury to find one that does, and this is why it's such a big deal!
Now, you might think - why would someone want to use a VPN to view Netflix, in the first place? Isn't it available virtually everywhere? Well, let me explain.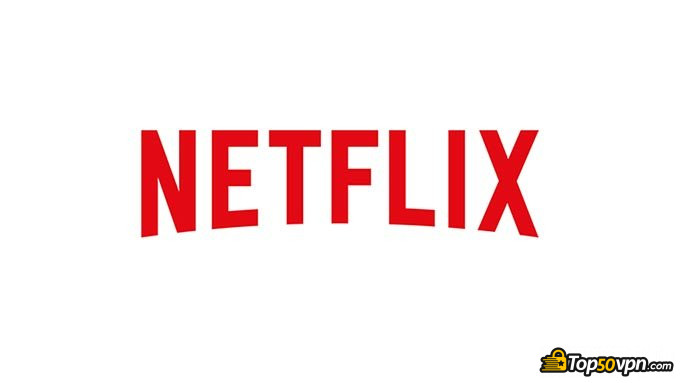 While a whole lot of countries do have Netflix available at them, the content that people see varies vastly from region to region. This is because of some certain forms of content licensing - again, not gonna bore you with that.
The fact of the matter is, however, that Netflix USA is the golden standard - it has the most amount of content to be viewed. With a VPN (such as the one in this Zenmate review), you could access that content from any other part of the world.
Latest NordVPN Coupon Found:
GET 63% OFF
+ 3 Months Free
Looking for ways to secure yourself online? What if we told you that you can get the top VPN on the market for way less - grab NordVPN 60% discount now & get 3 months FREE!
Expiration date : 10/12/2023
3,191 People Used
Only 99 Left
Hight-Tier Data Encryption
Data encryption is a key part when it comes to the security and anonymity of your information - that's a well-known fact. The VPN industry even has a standard type of encryption to use - the 256-bit one. Let me briefly tell you about it before we continue, so that you could understand the significance of this type of encryption.
The AES 256-bit encryption is the latest and greatest of what the data encryption industry has to offer. All of the top-tier VPNs in the world (ExpressVPN, NordVPN, etc.) use AES 256 - it is still, to this day, uncrackable (and will probably remain this way for many, many years to come).

When it comes to this Zenmate review, however, things are a bit more… Interesting.
Zenmate uses both 128-bit and 256-bit encryptions. The former one is used in the browser extensions, while the latter is applied on the desktop and mobile clients.
This is… Rather odd.
It's strange that the company insists on using both of those types of encryption. It's even more confusing to the people who are wondering is Zenmate safe - especially if they have no prior knowledge about data encryption, in the first place. Zenmate, however, insists that this is the optimal route to take, and that the 128-bit encryption has its advantages.
Table: ZenMate security features
It all kind of depends on your preferences - even though a lot of people reading this Zenmate VPN review would probably prefer to have a singular type of information encryption and just be done with it, using two versions of AES might prove to be superior.

Did you know?
Above-Mediocre Speed
Undoubtedly one of the most important aspects of any VPN out there, speed is often the topic for a lot of debates. Everyone and their dogs agree that speed is important, but some people state that "security doesn't matter if you have speed", while others believe that "the speed can be non-existent as long as there are optimal levels of security".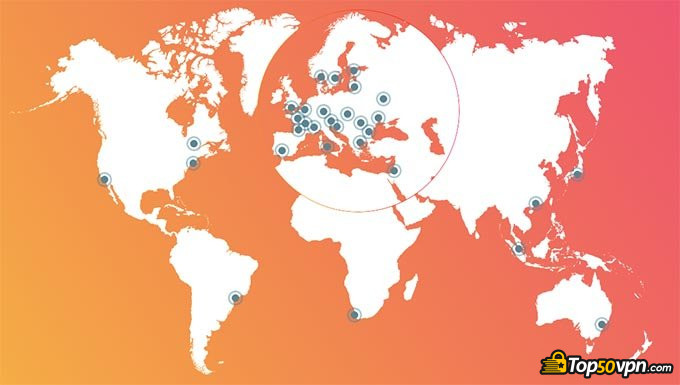 Surely, the best-case scenario lies somewhere in the middle (even though I would have to lean towards security still being more important).
Going into testing the VPN for this Zenmate review, I honestly did not expect anything much. I purposely did not read any speed reviews online before performing my own tests, so as to not get some biased predispositions beforehand. And, to tell you the truth, I was pleasantly surprised.
The test was performed from the middle of the EU. My average download speed without using a VPN lingers around the 70 Mbps mark. With that said, these are the results of the EU server test:
Ping: 71 ms
Download Speed: 61,92 Mbps
Upload Speed: 15,12 Mbps
Honestly, that's pretty good! The upload speed could be better, but that's the case with the majority of VPNs out there.
I went along and checked the speed of the US server.
Ping: 241 ms
Download Speed: 53,92 Mbps
Upload Speed: 1,72 Mbps
Not too bad, but (yet again) the upload speed was the thing that disappointed the most. While the ping can be seen as rather trivial, the download speed was actually a pretty nice surprise.
Torrenting Fully Allowed
Yup, you've read that right - Peer-to-Peer file sharing (read: torrenting) is fully allowed. Not on the free version, though.
This is actually one of the things that surprised me the most. From all of the different Zenmate reviews that I had read, I was under the impression that torrenting was a big no-no for Zenmate. And, while they do not explicitly state that they allow such activity on their platform, the VPN servers that I tested worked perfectly well.

If you're wondering why this is a notable thing to mention, it's somewhat of a similar story to the one with Netflix. Ever since a ton of copyright infringement lawsuits started falling on some of the VPN providers around the world, others have become wearier of talking about it on their sites, let alone allowing these activities to happen.
As of late, however, it seems that more and more VPNs are finding a way to unlock torrenting for their users (and even have dedicated servers for that!) without coming out and blatantly stating that they do so. Yet another huge plus in this Zenmate VPN review!
Zenmate Review: CONS
So, with all of the more notable pros of the VPN covered, let's move on to the cons section of this Zenmate review. And, unfortunately, this section deals mostly with the security side of things.
Located in Germany
Zenmate is based out in Germany.
That's bad.
Germany is part of an alliance known as the 14-Eyes. This alliance involves 14 countries around the globe that share sensitive information with one another. And not just any sensitive information - information about the residents of each country.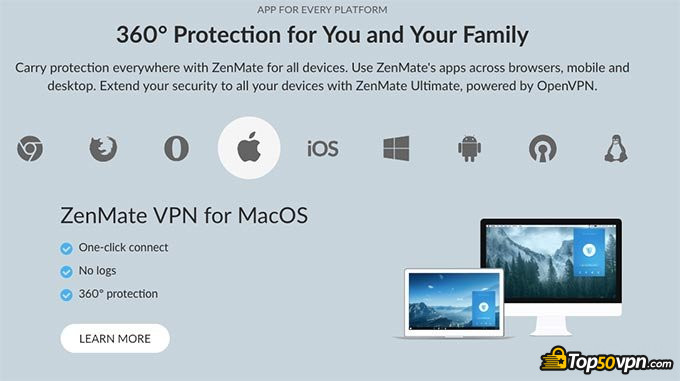 To put things simply, VPN providers that are located in one of the 14 countries (or any other cooperating country outside the alliance) can be legally obliged to hand over any and information about the activity of their customers to the government.
Some VPN providers say that, since they do not collect this type of information, they couldn't give it to the authorities, either.
Others state that, since VPN companies are usually private entities, there would be a whole legal procedure in order to extract that type of information, and it would take ages. Whatever the case might be, the fact that Zenmate is located in Germany does not add to the feeling of "safety" whilst using this VPN. And, as you'll see shortly, this is just one part of a much bigger problem.
Leaks Your IP Address
Ya… That escalated quickly.
Some user Zenmate reviews noted that the VPN (apparently) leaks its customer IP addresses. I decided to check this out myself, and, well… They were right.
There was one IP leak that I found, but that's one too many. DNS, IP and WebRTC leaks are a very sensitive topic when it comes to VPNs - not only does it hand a huge blow to the reputation of the provider, but (more importantly) it compromises the security of your data.
Just to put things into perspective, if a VPN leaks your IP address, third parties are able to see your activities online. It no longer matters whether you're using a VPN or not - your identity is compromised.
Logs Data (IP Address)
At this point in the Zenmate review, it seems that the company has a thing for IP addresses.
Zenmate (seemingly) goes to great lengths to stress that they do not log your information. That's great, right? Well, take a look at their privacy policy:

If the only thought in your head right now sounds something in the lines of "WTF..?", I don't blame you.
No information logging? That's a straight-up lie.
The company defends itself by stating that the information about your activities isn't logged upon the activation of the VPN. First of all, I don't buy it. Second of all, so what, even if that's the case? They have already demonstrated that they DO LOG that information - that's a huge breach of trust.
To add to this disaster, Zenmate even goes as far to say that they will hand over your IP address to the authorities in an event of a "statutory obligation to pass on the data".
Wondering is Zenmate safe? HELL NO it isn't - it's the opposite of that. Everything that they have stated in the above-given excerpt goes against the whole point of using a VPN - anonymity.
No worthy VPN should leak your IP or DNS. So, if you care about your security, I would recommend choosing providers that tested negative for security leaks - ExpressVPN, CyberGhost, and so on.
Price
To finish off this Zenmate review, let's talk about the pricing plans that this VPN offers.
First of all, the free version. As you could probably expect, it's far from being anything dreamy - it offers limited features, has only four servers to connect to, provides limited data encryption, can only be used as a browser extension, and - on top of that - isn't really a VPN per se, but rather a proxy.
Since proxies have been proven to be less-than-ideal when it comes to data protection, it's not really a thing worth much consideration.
Some Zenmate reviews mention this, but the company's actual pricing plans for their "Premium" subscription are rather decent pricing-wise. If you decide to purchase the 2-year plan, you'd have to pay $2,05 per year. Not too bad! The price does go up, however, especially if you need Zenmate for a month - that'll cost you $9,99.
What is the Zenmate VPN price?
The prices for all of Zenmate's plans are, as follows:
24 months - $2,05 per month
12 months - $3,99 per month
1 month - $9,99 per month
I was happy to see that Zenmate does offer the industry-standard 30-day money-back guarantee.
Here is The Best NordVPN Offer I Found:
GET 63% OFF
+ 3 Months Free
Looking for ways to secure yourself online? What if we told you that you can get the top VPN on the market for way less - grab NordVPN 60% discount now & get 3 months FREE!
Expiration date : 10/12/2023
3,191 People Used
Only 99 Left
Conclusion
All that's left to do in this Zenmate review is to answer the question that brought you here in the first place - is Zenmate worth your time and money?
No. I would not recommend using this VPN.
While there are definitely a lot of pros that Zenmate has, the security issues cannot be ignored. Honestly, even if you need a VPN just to torrent files in peace, Zenmate is still a terrible idea - your IP is out there for everyone to see, and if the company finds out that you're using their VPN for "illegal file sharing", they will hand over your information to the authorities (at least that's the way they put it in their confusing privacy policies). People wondering is Zenmate safe should take note of this.
Table: ZenMate pros and cons
And besides - there are far better VPN providers out there that ACTUALLY DO NOT log your data, and that don't leak your IP. The earlier mentioned CyberGhost and ExpressVPN are two great examples. If Zenmate cleans up their game, perhaps they will be worth checking out, but until then, it's a no-go zone for me.
Leave your honest Zenmate review
By leaving your honest opinion you can help thousands of readers to choose the best VPN. We accept genuine & helpful user reviews, either positive or negative. Have in mind that biased reviews will not be published. If you want to share your opinion, experience or advice, we want you to spill the beans!