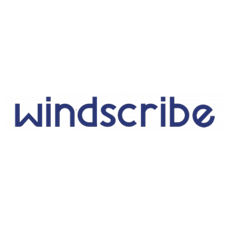 Windscribe - there must be so many questions related to this VPN service provider that you want to ask.
Is it safe?
Does it keep logs?
What's the Pricing?
Does it have any flaws?
These are the most common questions that the majority of people are concerned about. In this Windscribe VPN review, I will answer each of them while testing every important feature.
Verdict at a glance
Windscribe is a Canadian-based VPN service provider, which has unique privacy and protection features, allows Netflix and torrenting. It offers strong security and, unlike many other VPNs, has a free version that is available for everyone.
Pros
Strong Security
No Logs
Free Version Available
Netflix and Torrenting Allowed
Cool Privacy Options
Cons
No Live Chat Support
Pricey, Unless Choosing Yearly Plan
Introduction to Windscribe VPN Review: Basics
Windscribe is a Canadian VPN service that works to protect your online privacy. It consists of various amazing features but is still easy to use. The major advantage of Winscribe is its shockingly low price and the ability to use it for free.
If you're a light user, then the free version should satisfy your needs.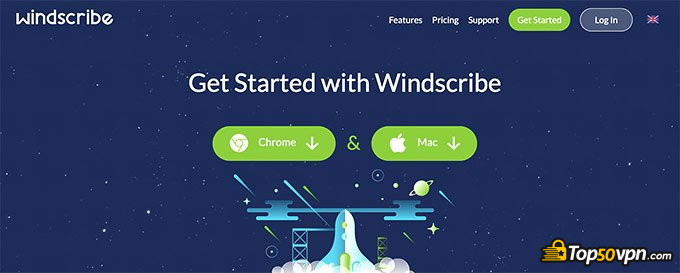 Now that I've covered Windscribe VPN review basics, it's time to move to the most important part - the pros of Windscribe VPN.
Windscribe VPN Review: PROS
I'll begin from the most vital aspects of this Windscribe VPN review.
What are Windscribe's Privacy Options?
In the very beginning of this Windscribe review, I told you that it incorporates cool features, so here they are (there'll be some more further into this review):
Ad Blocker - no more annoying ads, all of them will be blocked, it will speed up your Internet performance and improve the experience.
Anti-social - use this feature when you need a break from social media and focus more on work. With just one click, you will turn off notifications of every social media channel you're using, including Twitter, Facebook, Pinterest, and many others.
Untraceable - ad beacons and trackers from your visited websites can track you. It is used to generate your personal profile: your likes, dislikes, pages you visit. It completely destroys your privacy. So, is Windscribe VPN safe? Well, the least it will do is make sure you're not being tracked.
Split Personality - every time you go to your browser, your activity is being monitored. But don't worry, Windscribe has an option - it will rotate your browser's user agent, which will attack a browser's fingerprint. If you're unaware yet, here's how Wikipedia defines what browser's fingerprint is:
"A device fingerprint, machine fingerprint, or browser fingerprint is information collected about a remote computing device for the purpose of identification."
Latest NordVPN Coupon Found:
GET 63% OFF
+ 3 Months Free
Looking for ways to secure yourself online? What if we told you that you can get the top VPN on the market for way less - grab NordVPN 60% discount now & get 3 months FREE!
Expiration date : 02/10/2023
3,191 People Used
Only 99 Left
Strong Encryption that is Very Hard to Overcome
Is Windscribe safe?
Well, I mainly focus on this Windscribe review to answer that question. The Windscribe VPN uses the AES-256 cipher with SHA512 auth and a 4096-bit RSA key. It will keep you secure not only when connecting to a private Network but also when using wi-fi.
Table: Windscribe security.
All of your data will be processed through a network of more than 50 servers located all around the world. What is more, due to the cool features that I mentioned previously in this Windscribe VPN review, it can avoid ads and location restraints. Amazing, right?
I know that "AES-256 cipher with SHA512 auth and a 4096-bit RSA key" doesn't say a lot for a non-technical person (if you're one of them; if not, you can skip this part). So, let's take bit by bit and see what it actually means.
AES-256 cipher - advanced encryption data. It was first adopted by the U.S government and is now used all over the world. It's a symmetrical-key algorithm, meaning that it uses the same key is used for encryption and decryption. The number means that it uses a 256-bit key for encryption.
SHA512 - a set of cryptographic hash functions that were created by the U.S National Security Agency. It uses a 512-bit key for encryption in this case.
4096 -bit RSA key - numbers 4096 mean key length and RSA is one of the first public-key cryptosystems used to secure data.
Therefore, I believe that this part of the Windscribe VPN review should be clear or at least understandable, and I answered the question: "Is Windscribe safe?". So, let's move further.

Did you know?
Does Not Keep Logs
Here's what Windscribe says about logs: "We do not store any permanent access logs or monitor what our users do".
Even though many VPN providers claim to follow "zero logs policy", not all of them keep up with their promises. While testing and writing this Windscribe VPN review, I noticed that you can register to Windscribe VPN without your e-mail address and pay with bitcoins. So, there's no data used that could identify you as a person.
So, even though you cannot be 100% anonymous and invisible but Windscribe will make sure that you would be at least 90%, the rest of it depends on you. So be aware of your actions online and especially carefully download new files.
Tested Negative for Leaks
One of the reasons we use VPNs in the first place is to keep our IP address and DNS unknown. Shortly (if you're not yet aware of the terms), IP address is a numerical label assigned to each computer, it can reveal your location.
DNS (the domain name system) is a naming system for computer, service or anything else that connects to private network or the Internet.
You would be surprised to hear that some VPNs can leak your data. But what about Windscribe? Is it safe? The best way to answer that question is to make a test. And that's exactly what I did in this WindscribeVPN review. Look at the results I got:


Thus, all of the tests came out to be negative - no IP or DNS leaks were detected. So you shouldn't be asking the question "is Windscribe safe?" anymore.
Free Version Available
If you're a light user, you don't have to pay for Windscribe. Free Winscribe version delivers 2GB per month, however, if you provide your e-mail address, it grows up to 10GB. You will get unlimited connections and access to more than 10 countries.
I know that it doesn't sound like the best option, but it's free of cost, and you can use it for as long as you want. Moreover, it's considered one of the best free VPNs you can choose from. So, if I were a beginner, I would definitely take this offer, at least to see how it works. Consider it as an option, it's a piece of friendly advice.
Windflix Feature that Allows to Avoid Netflix Restrictions
If you're a Netflix fan, you will be happy to hear that Windscribe manages to unblock the US content. Many other providers can no longer do that.
Many Windscribe reviews do not distinguish Windflix but I think it's an exceptional feature that must be mentioned.
What is Windflix?

Windflix is dedicated to unlocking Netflix, it's a special feature built for streaming Netflix that only Windscribe has. However, this feature is only for users who have a paid plan. For this Windscribe VPN review, I tested to see if Windflix actually works and I didn't have any problems.
Torrenting Allowed
It's time to take this Windscribe review to torrenting. Many VPN service providers do not allow torrenting to protect from piracy. Pay attention that even though Windscribe doesn't stop you from using torrenting, it doesn't mean you can be 100% safe, always be careful when downloading files. Since torrenting is allowed, it means Windscribe has P2P networking.
So, what is P2P networking?
P2P or peer-to-peer network means computer systems' connection with each other via the Internet. you can share files directly with others without a need for a central server. What I really like about the P2P connection is that even though one or more computers disconnect, files continue to be shareable until there's no one to share files with or no one who shares.
R.O.B.E.R.T - Malware and Ad Blocker for Your Devices

Once again, it's time for this Windscribe review to get back to the cool features it has. I promise this is the last time.
So, let's talk about R.O.B.E.R.T. It is a unique customizable server-side domain blocking tool created explicitly for Windscribe. Its main aim is to protect you from Malware and work as an Ad Blocker for your devices. However, it performs many more functions.
Here are benefits of R.O.B.E.R.T as named in the Windscribe main page:
Reduce tracking - trackers can follow you even if you use VPN but if you block them, you will significantly reduce the chances
See fewer ads - blocking ads at their root
Use less data - if you block ads, your device won't have to upload spam, only the information that you've been looking for
Instant changes - every change is applied right away, you won't have to wait or refresh your page
Customizable - be in charge of your block list, customize it the way you want (look in the picture below)
Reduce the risk of infection - blocking malware will reduce chances of catching an "Internet STD"
So, Windscirbe: is it safe?
I already named so many amazing features, including R.O.B.E.R.T for your security and cipher that Windscribe uses; thus you should feel strongly protected. Now, it's time to move on to another part of Windscribe VPN review and talk about its weaknesses.
Slows Down Your Internet Connection Unnoticeably
When I examine speed, I always take a benchmark test, this time was no different. So, here's how my speed looked like before connecting to Windscribe:

And here's how it looked after:

To my surprise, download speed decreased by only 6Mbps, which are amazing results!
Windscribe VPN Review: CONS
No Live Chat Support
Since I'm using a VPN for my personal safety and already wrote a number of reviews, I know that most of the VPNs offer live chat or at least an ability to contact them via e-mail. However, while doing my research for Windscribe VPN review, I noticed that it doesn't have a live chat, only "bots".
Needless to say, bots don't always provide you with the right answer. Not only they may not understand what you're asking, but also don't have an answer to your question.
I asked why not every server allows P2P connection and here's the answer that I received: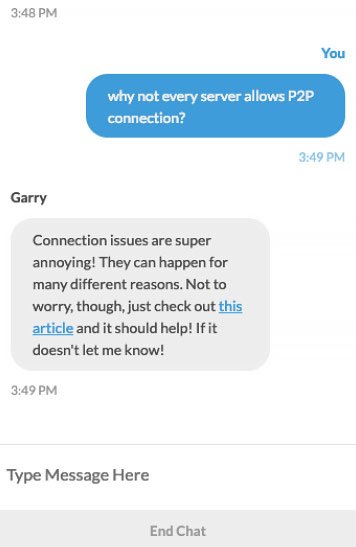 From the message I received, it seems that they took only the word "connection" from my message and ignored the rest of it.
Of course, I'm not saying that "bots" are always bad. If you have a specific question, they can be highly helpful. However, you should write in a clear manner to be understood correctly.
Where this VPN lacks, however, there are those that exceed. If you want to find out more, go check out our "Best VPN" list.
Can be Pricey, Unless Choosing Yearly Plan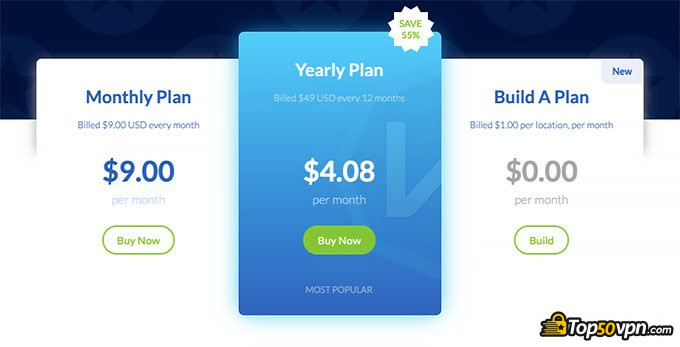 Every VPN set up a different price, however, I noticed the tendency that prices usually vary from $6 to $12 when choosing a monthly plan. Of course, the longer plan you take, the less pricey it gets. It's no different with Winscribe.
The monthly plan costs $9, which is definitely not the most expensive choice. But if you take a 1-year plan, it will cost only $4.08, it's more than 2 times less pricey.
Here's the full Winscdribe VPN pricing:
Now, as I mentioned at the beginning of Windscribe VPN review, there's an option to take a free plan and use it for as long as you want. However, it doesn't have all the cool features that I already presented. It won't have the following functions:
Unlimited data
Unlocking all locations
Config generator
R.O.B.E.R.T
Here is The Best NordVPN Offer I Found:
GET 63% OFF
+ 3 Months Free
Looking for ways to secure yourself online? What if we told you that you can get the top VPN on the market for way less - grab NordVPN 60% discount now & get 3 months FREE!
Expiration date : 02/10/2023
3,191 People Used
Only 99 Left
Do I Recommend?
Yes and no.
I really liked unique features it has to offer that I really liked using. R.O.B.E.R.T was my favorite one. What is more, privacy options, such as split personality, untraceable and others, were super useful. I loved that Windscribe VPN allows torrenting and unblock Netflix since not many VPNs do.
And, even though the price is not the lowest (yearly plan for $4.08 per month), it seems like a fair amount to pay because of strong AES-256 encryption.
WINDSCRIBE

Strong Security
No Logs
Free Version Available
Netflix and Torrenting Allowed
Cool Privacy Options

No Live Chat Support
Pricey, Unless Choosing Yearly Plan

See TOP10 Brands
Read review
Table: Windscribe features.
The only major drawback for me was speed, results are way worse than I could have expected. Still, if you haven't tried VPN before, I heartily encourage you to do that!
That being said, if Windscribe VPN isn't really up-to-speed with what you're looking for, check out our best VPN list. Who knows - maybe you'll find something of your liking there.
If you want to compare Windscribe with other VPN providers, you can do that using our comparison tool.
Leave your honest Windscribe review
By leaving your honest opinion you can help thousands of readers to choose the best VPN. We accept genuine & helpful user reviews, either positive or negative. Have in mind that biased reviews will not be published. If you want to share your opinion, experience or advice, we want you to spill the beans!