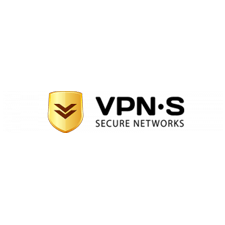 A VPN provider with almost a decade of experience - that is what we're going to talk about in this VPNSecure review. If you have a whole lot of devices that need to be connected to a VPN, and security is the name of your game - read on! VPNSecure might be just what you're looking for.
If you're looking for the best of the best, however, I'd advise you to check out our list of the top-rated VPNs out there. Products such as ExpressVPN are currently dominating the industry - it might suit you, too!
TL;DR: VPNSecure is a VPN provider based in Australia. With more than 9 years of experience in the industry, the company behind the VPN - VPNSecure Pty LTD - offers users great security, a lot of different features, and affordable price tags. Even though the VPN lacks some servers and has a pretty average speed, it's still a decent choice.
Pros
Unblocks Netflix
Supports torrents
Kill switch
No leaks
Cons
Small number of servers
Average speed
VPNSecure Review: PROS
What's is the most important part of choosing a VPN?
Whether it be a VPNSecure review, or any other VPN review out there, people are probably going to have many different answers to this question.
Some may say that the only important part of a VPN is whether or not it unlocks Netflix. Others might claim that Netflix is overrated - torrenting is the way to go. Whatever the case might be, everyone will surely agree that none of those activities could be possible without proper security in place. Using a VPN, you'd probably want to keep your private information intact - with proper security, this becomes easy peasy!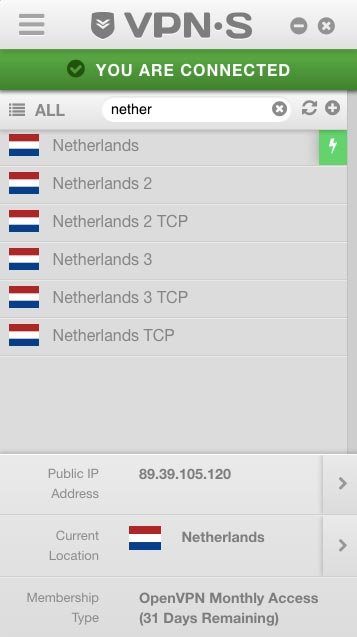 With that, let's take a look at some of the core security measures that this VPN provider has in place. Since this is a VPNSecure review, you'd expect the security part of the tool to be unparalleled.
What are the VPNSecure security benefits?
The security benefits that VPNSecure offers are, as follows:
AES 256-bit data encryption
No DNS, IP or WebRTC leaks
No data logging
Pretty standard stuff!
Latest NordVPN Coupon Found:
GET 63% OFF
+ 3 Months Free
Looking for ways to secure yourself online? What if we told you that you can get the top VPN on the market for way less - grab NordVPN 60% discount now & get 3 months FREE!
Expiration date : 02/10/2023
3,191 People Used
Only 99 Left
The Best Data Encryption in the Game
What's a better way to start a VPN Secure review than by talking about military-grade information encryption, huh?
VPNSecure uses AES 256-bit encryption. Frankly, it's one of the possible options to choose from, but why would you go with anything else when you can choose the best out of best?

You'd think that I'm overselling it, but that couldn't be further from the truth - AES 256, to this day, still hasn't been cracked. It is the most advanced data encryption system in the world used by the US government and military. And if such institutions use the system to secure their classified information, I think that's all the proof that you'd need!
Now, VPNSecure does state that whilst using an advanced encryption system (such as AES 256), your connection speed might drop significantly. That being said, however, most people will still prefer to have more advanced security and sacrifice some of the speed, rather than keep their personal information exposed and vulnerable.

Did you know?
No Logging Policy
If you've ever heard about data logging, it is probably the very first thing that you'll check when reading through VPNSecure reviews. If this is your first time hearing about it, though, no worries - allow me to give you a brief rundown.
Data logging happens when your VPN provider tracks your personal information while you're using a VPN. It's actually somewhat ironic, seeing that most people purchase a VPN for the solemn reason of keeping their activities private. Some data logging is normal, though - VPN providers usually keep your email address, payment information and bug reports, but this is done so as to provide you with the best possible customer service available.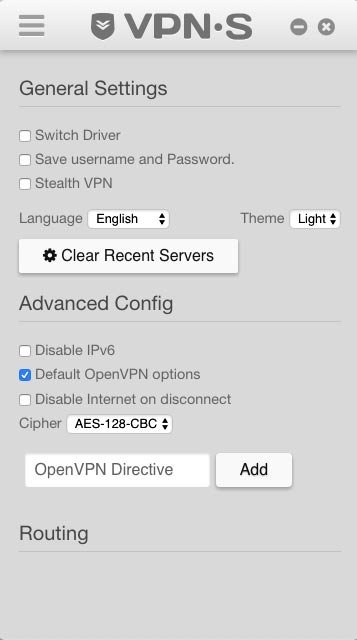 Going back to the actually BAD type of data logging (when VPNs track the sites that you visit, your actions on those pages, etc.), VPN providers that log your data usually then do one out of two things - either they sell it to advertising firms, or hand the information over to the government. Either way, it's a tragedy.
Now, there are a lot more things that go into data logging, but that short explanation should help you get the idea. Since this is such a serious issue, I'm even happier to be able to state in this VPNSecure review that no - VPNSecure does not log your information.

The company actually does a pretty good job of stressing it, too. They briefly explain it in the "Features" page, and then go into further detail in another, dedicated page. It is probably also worth mentioning that most reliable online VPNSecure reviews agree - the company does not keep track of any of your sensitive information.
Torrenting Allowed
As I've mentioned at the beginning of this VPNSecure review, some people are looking to purchase a VPN mainly because they want to be able to participate in activities known as torrenting.
While a lot of VPN providers don't advertise the option of having torrent-dedicated servers for some legal reasons, it is still an essential part of any VPN's business model. Those that do advertise it refer to it as "Peer-to-Peer file sharing" - this would include all forms of file sharing between two parties, but it's most commonly used to talk about torrenting.
Table: VPNSecure features
From the tests that I was able to perform, it seems that all but two VPNSecure's torrenting servers seem to work. That's actually a pretty good result! I've recently come across VPN providers that advertise the ability to torrent files with their VPN, but as soon as you purchase it, you see that none of the servers are actually working. This is why VPNSecure was a nice surprise.
Has Servers That Unlock Netflix USA
For the past 7 years, Netflix has waged a holy crusade against VPNs worldwide. It is no secret that people from all over the globe use VPNs in order to access Netflix's restricted content. The company seemingly did not like this, since they have been actively banning all of the VPN servers that they come across.
This is why today, if you manage to find VPN provider that actually has working Netflix servers and that isn't in the "top" lists, you've just struck gold.
And let me tell you - with this VPNSecure review, gold prices are rising.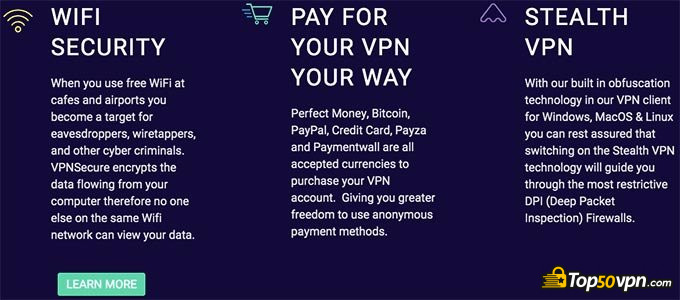 Even though only a couple of the servers actually work and unlock Netflix, it's still better than nothing. It seems like VPNSecure even subtly hints at this on their front page - the VPN "unblocks content and websites". Pretty cool!
Live and Friendly Customer Support
The VPN industry is famous for having a few reoccurring issues - it's like a plague that's constantly affecting the majority of VPN providers out there. One of these issues is customer support.
While things are getting a tad bit better nowadays, it's still far from being ideal. Not even mentioning the fact that a lot of VPN providers still use the ticketing system and have no live customer support (seriously, what the..?), a noticeable number of these providers seem to have completely random people working as support agents.
If you ask a simple question and then see that the person that is supposed to help you doesn't know the answer himself (herself), that's honestly bittersweet.
Yet again, though, I'm happy to announce that the situation is different in this VPNSecure review.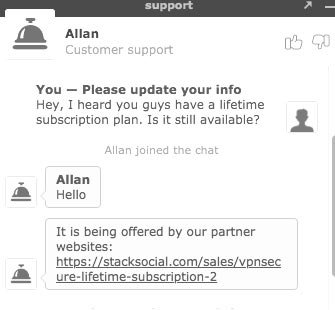 While it was somewhat on the slower side, Allan - the customer support agent for VPNSecure - answered all of my questions in a responsive and friendly manner. The fact that the company has live customer support is really cool in on its own - support actually being knowledgeable is an added bonus!
VPNSecure Review: CONS
Having praised the company for their security & data encryption measures, and their customer support, let's "do a 180" on this VPNSecure review and take a look at some of the cons that you might encounter if you do decide to choose this VPN provider.
Not the Best Speed
Priority-wise, I'd always choose security over speed. That being said, the latter is still rather important in my line of work. When I noticed my websites loading significantly slower while using the VPN, I knew something was up. So, without wasting any time, I decided to run a simple speed test. Here are the results.
First of all, I should mention that I mainly emphasize the download speed. While ping is somewhat important and I don't really care about the upload speed, download speed is also the thing that's most important to a lot of VPN users out there (*cough* torrents and Netflix *cough*).
My average download speed without using a VPN is around the 70 Mbps mark, and the tests are performed from the middle of the EU.
I tested the company's US server first.

It's bad. I mean, I'm used to VPNs slowing down my connection, but this is just plain bad. Some VPN Secure reviews emphasize the fact that the servers are far away, and distance = lack of speed, but this isn't a valid argument at all. I've used VPNs that offer close-to my original download speed on their US servers, so this is rather disappointing.
Surprisingly, the servers in Asia performed a little bit better.

That being said, it's still far from being ideal.
I don't think this needs any further comments - if VPNSecure wants to improve its reputation and sales numbers, the company needs to do something about this speed problem.
Before going further into this VPN provider, I want to remind that you can get so much faster options for similar pricing - just check out ExpressVPN and CyberGhost.
Small Amount of Servers
While this is far from being as serious as an issue as the speed, it's still something that's worth mentioning in this VPNSecure review, since it will likely be important to a lot of people.
In total, the company offers its user 79 servers around the world. That's a very, very small number to choose from. Today, you have companies offering thousands of servers in different locations and with different usages - not having even a hundred severely limits the things that you can do with the VPN.
Table: VPNSecure compatibility information
As other VPN Secure reviews point out, a small number of servers means that it'll be tough to find a working Netflix or torrenting server, it limits the choice of speeds that you might have, and so on.
Again - while this isn't a deal-breaker, it's definitely something that people reading through VPNSecure reviews should keep in mind.
Price
Finally, let's talk about the price of VPNSecure.
Before we get into it, though, I'd like to address something - a lot of people seem to be looking for VPNSecure lifetime subscription reviews online. However, if you go to the company's main page, there's nothing of the sort there. So… What's going on here?
Allan - the customer support agent that I talked with earlier - informed me that VPNSecure does not offer this service on their main page. Instead, however, people looking for VPNSecure lifetime subscription reviews should turn to VPNSecure's partners.
At first, this seemed rather fishy to me. However, Allan explained that this is a sort of a deal that their company has with other partnered companies - they market the product, VPNSecure sells it, everybody wins.
Although I've yet to come across this type of a situation, it seemed to make sense. So, if you're one of the people looking for a VPNSecure lifetime subscription review - check out VPNSecure's partners.
Now, with that out of the way, let's get into the pricing.
What is theVPNSecure price?
Some VPNSecure reviews have mentioned this before, but the pricing options that the company offers are actually relatively affordable. Here's the full pricing list:
Alternatively, you could try out the VPN for 30 days completely free of charge! You'd receive a free server and 2GB of bandwidth (not too shabby).
Here is The Best NordVPN Offer I Found:
GET 63% OFF
+ 3 Months Free
Looking for ways to secure yourself online? What if we told you that you can get the top VPN on the market for way less - grab NordVPN 60% discount now & get 3 months FREE!
Expiration date : 02/10/2023
3,191 People Used
Only 99 Left
Conclusions
So, would I recommend this VPN provider?
Well, I guess I would.
As you might have noticed from the VPNSecure review, the VPN provider has both pros and cons that are rather significant. However, even though the VPN lacks speed and servers, it has pretty good security and is quite reliable. The price seems to represent the quality, too. Furthermore, you could always try the free version of the VPN, and see whether you like what you get or not.
All of that being said, though, there are - indeed - better options available in the current VPN market. If you want to find out what these options are, check out our best VPN review!
Leave your honest VPNSecure review
By leaving your honest opinion you can help thousands of readers to choose the best VPN. We accept genuine & helpful user reviews, either positive or negative. Have in mind that biased reviews will not be published. If you want to share your opinion, experience or advice, we want you to spill the beans!