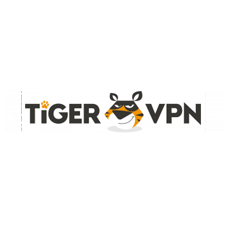 Looking for a VPN? Don't know what would be the best choice for your wants and needs? Well, in this TigerVPN review, we'll discuss one of the more frequently-talked about VPNs out there. If you like big cats and data encryption, you're in luck!
If you're more of a dog person, though, and would like to take a look at some of the better options as far as VPNs go, you'll be able to find them here.
TL;DR: TigerVPN, while being really secure and fun to use, lacks some of the most popular features that are expected out of every VPN. Furthermore, the VPN has some issues with data logging - something that is very shunned upon in the industry.
Pros
High-end data encryption
Works with Netflix (for the most part)
Torrenting - allowed
Decent number of servers
Cons
Slow connection speeds
Logs some data
TigerVPN Review: PROS
Let's begin this TigerVPN VPN review by mentioning some of the most prominent pros that the VPN has.
Truth be told, Tiger is actually viewed as a pretty good option when it comes to VPNs (looking from a general sense, that is). At first glance, people don't seem to have that many problems with it.
The company itself advertises security as the main feature of their product, stating that their VPN is "bulletproof". Well, since everyone has been talking so fondly about the overgrown cat of VPNs, I've decided to check it out myself. Let's start off with data encryption.
256-Bit Encryption
If you've read through some TigerVPN reviews already, you probably know that data encryption is an integral part of any VPN. But do you know why?
Well, when you send or receive data on the internet, the information surrounding this "transaction" is usually out there for everyone to see.
Your ISP (Internet Service Provider) can see the files that you're sending or receiving, the websites that you're visiting, what you do on those websites, etc. The purpose of a VPN is to take that information and to encrypt it so that no one could view it.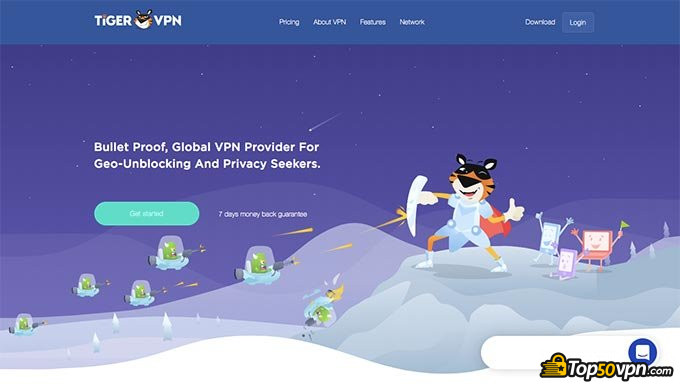 While there are various different ways of how VPNs can encrypt your data, the industry standard is considered to be the 256-bit type of encryption. And I'm very happy to be able to state in this TigerVPN review that this VPN does use this type of encryption.
What's so good about the 256-bit encryption? Well, for starters, it is the most recent form of information encryption. As of writing this TigerVPN review, it still hasn't been cracked or breached - and it's highly unlikely that it will be anytime soon.
You see, when your data is protected by the same protocols that are used by the FBI, you know that you can be safe security-wise.
No, I'm not joking.
Latest NordVPN Coupon Found:
GET 63% OFF
+ 3 Months Free
Looking for ways to secure yourself online? What if we told you that you can get the top VPN on the market for way less - grab NordVPN 60% discount now & get 3 months FREE!
Expiration date : 10/12/2023
3,191 People Used
Only 99 Left
Supported on All of the Main Platforms
Most people that are purchasing a VPN assume that they will be able to use it on all of the different devices that they have. While this is certainly the case with some of the industry giants (such as ExpressVPN or CyberGhost), it becomes way less of a commodity as the list goes down.
Since we're in the "PRO" section of a TigerVPN review, you can probably guess that things are different here.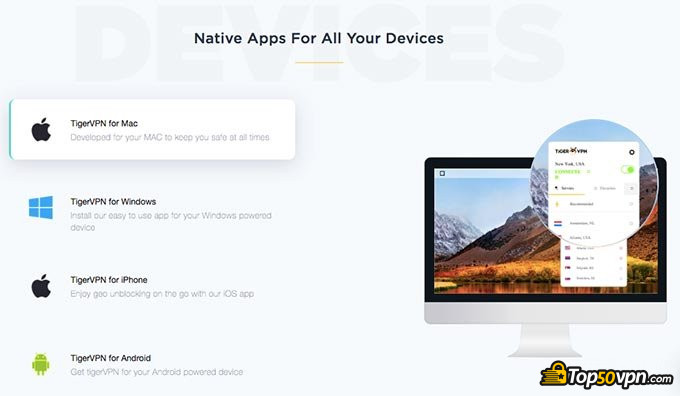 TigerVPN is supported on all of the main operating systems out there - whether it's Android, Mac or Windows, you'll be able to install and use the VPN without any notable problems.
Again, reading through other user TigerVPN reviews it becomes evident that this is actually a pretty rare thing to have! Do keep this in mind when choosing your VPN!

Did you know?
Netflix Kind of Works - So Does Torrenting
Ah, Netflix. Honestly, by now, it's like the Pandora's box of VPNs.
If you didn't know, a lot of VPNs no longer support Netflix. This is because the company has been waging holy war against the usage of VPNs to view its geo-restricted content.
Why? Well, Netflix doesn't really have the same content all over the world - for example, people in the US have a much wider pool of choices when it comes to what to watch when compared to those in France.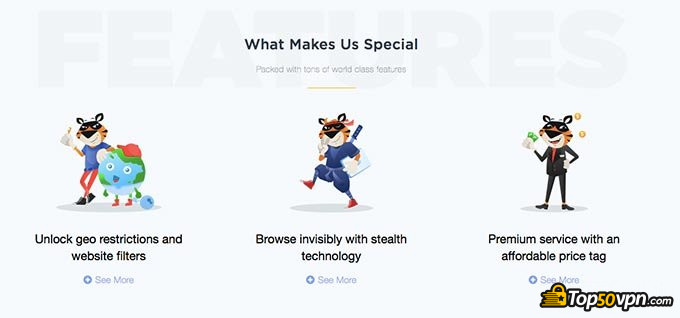 It all boils down to licensing and other legal agreements, but I won't bore you with all of that - suffice to say that it's rare for a VPN provider to have Netflix servers that would actually work these days.
That being said, Tiger is one of the few that do.
Don't get too excited, though! As with everything in life, there's a catch.
While it is true that the VPN does support Netflix, user Tiger VPN reviews point out that there are only a few servers that do so. Because of this, I decided to test it out myself. And, low and behold, they were right - the server in the US did work. Better than nothing, I guess.
Table: TigerVPN features
Torrenting is somewhat of a similar issue - while the company definitely does not support on encourage the usage of torrents via their VPN, you will still be able to find servers that seem to work perfectly for just that task. Pretty odd, if you were to ask me.
Sure, TigerVPN might just want to avoid legal trouble by not mentioning the word "torrents" at all, but you would think that they would at least hint at some sort of Peer-to-Peer file sharing option.
A Decent Amount of Servers
I haven't seen many TigerVPN reviews emphasize this, but, according to their official website, TigerVPN hosts more than 300 servers in 62 countries. Is that a big number? Well, it depends on how you look at it.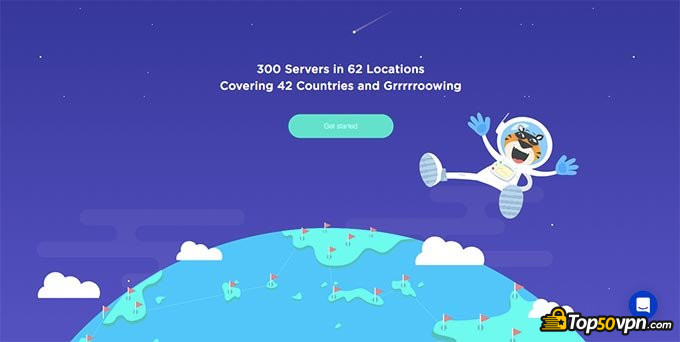 The top-dogs of the industry (read: CyberGhost and ExpressVPN) offer users thousands of servers to choose from. This is amazing since you can customize your preferences as much as you'd like, and even play around with the torrent or Netflix-dedicated servers, too.
That said, it is also worth noting that the average person doesn't really need that many servers, to begin with. If you plan to do a whole lot of stuff, then sure - "thousands" is a good number to start with.
If you just want a VPN for a specific use, though, then 300 should be more than enough. And it's not that small of a number, too! I've come across VPN providers that don't offer even 50 servers to start off with, let alone 300!
TigerVPN Review: CONS
Those were some of the more notable pros that I could find while doing research for this TigerVPN review. However, as you might have guessed from the introduction of this review, I've also come across some negative aspects, too.
Before we jump into the cons of this VPN, I want to get one thing out of the way first. When I first came across some TigerVPN reviews found online, I was rather surprised why they were ranking the VPN relatively low when compared to other, similar ones.
Using this VPN myself, I could only see two big reasons - data logging (it's not as bad as it sounds - we'll get to it in a bit) and lack of speed. Even so, Tiger proved to be a fun and easy tool to use - way better than some other reviewers put it out to be!
Logs Some of Your Data
It's no secret that data logging is a very touchy subject in the VPN industry. This problem alone has managed to bring industry giants down on their knees, and ruin their reputations without a chance of repair.
That's with good reason, too! It's not really a problem that is "just there" - it's something that the VPN providers choose to do themselves, and thus complicate the situation more than needed.
If you didn't know, data logging happens when your VPN collects information about the things that you do while you're using it. Logs can range all the way from being common and harmless (technical information, bug reports, billing, etc.) to being detrimental to the safety of your identity (the websites that you visit, the products that you order, your IP, and so on).

When it comes to this TigerVPN review, though, things are a tad bit complicated. You see, Tiger does keep SOME logs about you. However, the logs that the company keeps lean more to the "common and harmless" side than to the opposite one.
It's a pretty tough situation to be in - on one hand, data logging is a clear indication that you should be very careful with the VPN provider. On the other hand, however, harmless data gathering is rather common and isn't often seen as a complete and utter tragedy. I guess it all depends on just how serious you are about privacy and information security.
Below-Average Speed
Probably one of the biggest legitimate critiques when it comes to TigerVPN reviews, the VPN offers very lousy speeds. I know this first hand - at first, everything seemed OK, but when I started switching servers, there was a noticeable decrease in efficiency. This is when I decided to perform some tests of my own, and, well… The results weren't really all that positive.
I've tested the VPN from the middle of the EU. Above are the results of the server located in the EU.
As you can probably see for yourself, the numbers speak louder than words - while the ping might not be the biggest tragedy ever (unless you want to play online games - good luck in that scenario), both the download and upload speeds were completely atrocious.
Interestingly, though, the US speed test results were much better than those of the EU. Here are the results: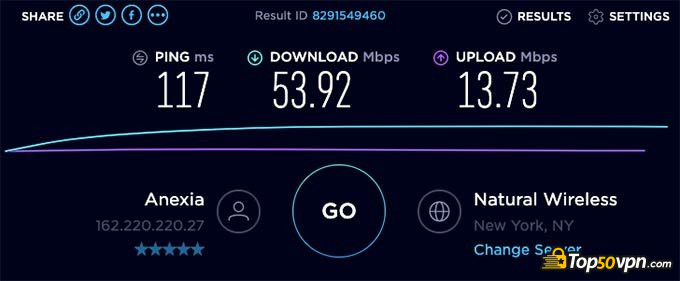 While not SIGNIFICANTLY better, these numbers still left an OK impression. Considering that my average download speed without a VPN is close to the 75 Mbps mark, it's still a significant drop. Believe it or not, however, I have encountered VPNs that offered 20 times slower speeds - in that respect, TigerVPN is far from being the worse option out there.
Price
Finally, the thing that tends to decide the conclusions of most TigerVPN reviews out there - the price.
Honestly, when I had just started thinking about purchasing the TigerVPN, I had no clue how much it could cost. Given this VPN's unique situation (it being good, but also not so good at the same time), I wouldn't have been able to give you a rough estimate.
As it turns out, the company actually has some amazing pricing options! That is, of course, if you decide to go with their 3-year plan. Choosing this option, you would have to pay $2,75 per month. Compared to some other VPN prices out there, this is an amazing deal indeed!
What is the Tiger VPN price?
Here's a full list if TigerVPN prices:
36 months - $2,75 per month
12 months - $6,67 per month
1 month - $11,99 per month
To add to that, TigerVPN offers users a 7-day money-back guarantee. While this is a bit odd considering that most VPN providers go for the 30-day guarantees, it's still better than nothing.
Here is The Best NordVPN Offer I Found:
GET 63% OFF
+ 3 Months Free
Looking for ways to secure yourself online? What if we told you that you can get the top VPN on the market for way less - grab NordVPN 60% discount now & get 3 months FREE!
Expiration date : 10/12/2023
3,191 People Used
Only 99 Left
Conclusions
To finish off this TigerVPN review, there's only one thing left to discuss - is TigerVPN worth giving attention to?
Honestly, this is one of the toughest calls I had to make to date. It's actually super-difficult to answer with a simple "yes" or "no" - there are simply too many intricacies involved.
In a way, my gut feeling would tell me to say "no". This is because, while the issues that this VPN provider has aren't completely detrimental, there are still much better alternatives out there - ones that do not partake in any data logging and don't suck speed-wise.
That being said, I can't really say "don't try TigerVPN out!", either. The VPN has some awesome features and offers top-tier security - something that's definitely worth paying attention to!
Table: General information about TigerVPN
Pricing is probably going to play a huge part in your decision making, too. If you're ready to pay whatever money that it takes to get the highest amount of security humanly possible, then you can start looking at some very different VPN providers.
However, if you really do care about the price and are not willing to spend a million dollars (that might be a slight exaggeration) on your VPN, perhaps TigerVPN can really give you what you want (or at least close to that).
As a final word in this Tiger VPN review, I'd probably have to state that if Tiger does clean up their game and bump up the speeds, it has the potential to be an amazing VPN. Until then, though, you could always turn to CyberGhost or ExpressVPN - VPNs that won't cause you similar issues.
Leave your honest TigerVPN review
By leaving your honest opinion you can help thousands of readers to choose the best VPN. We accept genuine & helpful user reviews, either positive or negative. Have in mind that biased reviews will not be published. If you want to share your opinion, experience or advice, we want you to spill the beans!