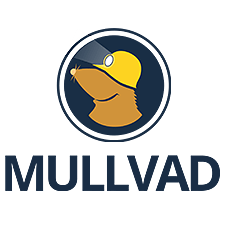 Based on the 2018 online survey by The Harris Poll, almost 60 million Americans have been affected by identity theft. These numbers indicate that we should take online privacy and security, in general, very seriously.
In this Mullvad review, I will focus on every point that matters to those who are considering this VPN. The information that I'll be presenting to you will be thoroughly tested and confirmed. Let's dive into Mullvad review and see what it has to offer.
Verdict at a glance
Mullvad offers security and anonymity online. It uses OpenVPN and WireGuard security protocols. It allows torrenting, unblocks Netflix and offers complete anonymity without a need to provide your email address when registering.
Pros
No Logging
Strong Security
Torrenting and Netflix Allowed
Integrated Kill-Switch
Cons
No Live Chat
No Dedicated Android App
14-Eyes Jurisdiction
What You Need to Know Before Moving to Mullvad Review
Mullvad is a private virtual network (VPN) service; it is located in Sweden and founded by the Amagicom AB in 2009, focusing on the universal human right - privacy. Its founders Fredrik Strömberg and Daniel Berntsson are actively participating to achieve the company's goals.
Moreover, Mullvad VPN has regular (OpenVPN), WireGuard and Bridge servers. The company accepts multiple payment options that customers truly appreciate.
PROS
Let's begin this Mullvad review from the positive aspects.
No-logs Privacy Policy and a Numbered Account to Keep You Safe
Every VPN provider aims to protect customers from online threats, after all, that's the main reason people choose VPNs in the first place. But it doesn't matter if a VPN has strong security if it collects your data. Therefore, without a zero-logging policy, a VPN loses its primary function.
Table: Mullvad VPN security.
But, there's something else you should know about. Even though a VPN service provider claims to have zero logs policy, it's not necessarily true, it might still collect your personal data for their own purposes.
Talking about Mullvad (It's Mullvad review after all), I'm glad to tell you that it has a strict no-logging policy!
If you're interested in finding out more information, you should take a look at Mullvad's VPN privacy policy:

If you would read further, you would see that it doesn't collect any data that could connect to your numbered account's activity.
But what's that?
You are likely to hear this information in many Mullvad reviews. The numbered account makes Mullvad VPN's no-logging policy one of the strongest for a reason. Just imagine, you have "no identity", only an account number that cannot reveal any information related to your identity.
So even if something happens (which I'm sure it won't) and your account number is revealed, it wouldn't say anything about you. That being said, Mullvad has a perfect privacy policy.
Latest NordVPN Coupon Found:
GET 63% OFF
+ 3 Months Free
Looking for ways to secure yourself online? What if we told you that you can get the top VPN on the market for way less - grab NordVPN 60% discount now & get 3 months FREE!
Expiration date : 31/05/2023
3,191 People Used
Only 99 Left
Secure Tunneling Protocols
Mullvad VPN uses OpenVPN and WireGuard security protocols. They are more than enough to provide you with complete security. Let me introduce you to both of the protocols to see why.
OpenVPN - you've probably heard this name in other Mullvad reviews (if not, I will briefly get you on the right track). This security protocol uses open-source software. It's highly reliable, especially when combining it with AES encryption that Mullvad uses (we will discuss it later in this Mullvad review). It's widely used and has a great reputation.
WireGuard - very simple to use, yet fast, modern and capable VPN tunnel. It's currently on the development but is already one of the most secure protocols. What is more, it's crypto-based and is able to deliver over 5 times faster connection!

Did you know?
Be Certain - There are No Leaks
If this is the first Mullvad review you're reading, then you should know that leaks are the crucial aspect. Why? It's very simple. We're using VPN to hide our IP address, however, when it leaks our IP address and even DNS (domain name system) it kind of loses the main purpose, don't you think?
To find out if Mullvad VPN leaks your IP address or/and DNS, I ran some tests and they only confirmed my assumptions - No IP or DNS leaks were detected as you can see here: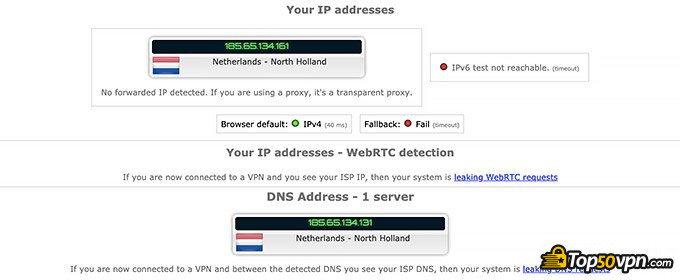 Thus, Mullvad VPN lives up to its expectations and proves once again to fully protect you from any leaks that could ruin your privacy.
Speed - More Than Enough
Every time you're using a VPN, your speed slows down. It's inevitable because instead of going straight to the point, VPN goes through different servers to hide your path and make it very difficult for anyone to trace you.
For this Mullvad VPN review, I did a speed test when connecting to different servers, to show you how much the speed decreases.
As usual, here is my benchmark before connecting to Mullvad VPN:

And here is the speed test results that came out after connecting to Mullvad VPN:
EU server

US server
Download speed: 58.79Mbps
Upload speed: 40.68Mbps
Ping: 109ms
When looking to the best VPN service providers, their speed usually decreases by about 20%, and if taking into consideration not the best examples, speed can drop down by 50% or even more.
Now, as you can see Mullvad's speed increases when connecting to the EU server! It's unlikely, yet sometimes possible!
Torrenting and Netflix? All Here
I know that the majority of people who were looking for this Mullvad VPN review were aiming to find out whether it manages to unblock Netflix and allows torrenting. You can find all the information below.
Torrenting
Many VPN service providers do not allow torrenting due to piracy concerns. Let's see what's Mullvad's position.
Since Mullvad is located in Sweden, 14-eyes Jurisdiction, which makes sure to blow every piracy-related business, web pages, actions and so on, I was suprised that this VPN provider allows torrenting or, in other words, supports P2P connection.
Table: Mullvad VPN compatibility.
To put it simply, P2P (peer-to-peer) is a file-sharing among computers via the Internet, it doesn't require a central server. P2P is great because even though one or more computers stop file-sharing or simply delete it, the download is still available until there's no one having a file or no one sharing it.
So, if you download files all the time, why not make it secure using Mullvad VPN?
Netflix
Since 2016 Netflix started fighting against VPNs users, it figured out how to recognize when a user is connected to a VPN. A big part of VPNs (about 30-40%) failed to keep up with it and no longer allows you to use Netflix. However, many of them still manage to overcome these restrictions and allows them to unblock Netflix content.
Good news, in Mullvad VPN review you won't hear about Netflix restrictions because it's one of the providers that manage to defeat these boundaries. Now, to give you all the details, I decided to perform a test and see which servers unblock Netflix (it's not like every one of them works).
So, I tested some of the main U.S servers, and I have to say, I was pessimistic at first. Here are the servers that were blocked:
Illinois
Arizona
Texas
Washington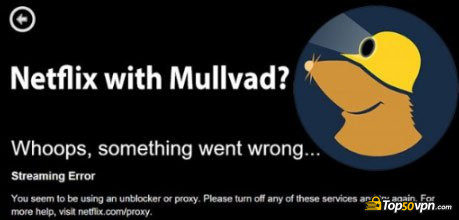 I found one Mullvad VPN server that worked with Netflix. Hooray!
Even though the results are not the best, it's crucial to find at least one that works!
Kill-Switch
Kill-switch is a very important feature that every good VPN service provider should have. If, for example, you're using a public WiFi network and your VPN connection suddenly drops, kill-switch reacts and blocks your Internet to keep your IP safe.
Therefore, even if your connection fails, you're still secure. If I haven't mentioned previously in Mullvad review that it has a kill-switch, then it's about time to reveal that it does! So, no worries if your Vpn connection drops because you will still stay secure!
Number of Servers - Not Bad
At the moment of writing this Mullvad review, it has 300 active OpenVPN servers, 57 active WireGuard servers, and 9 active Bridge servers - 366 active servers in 37 countries.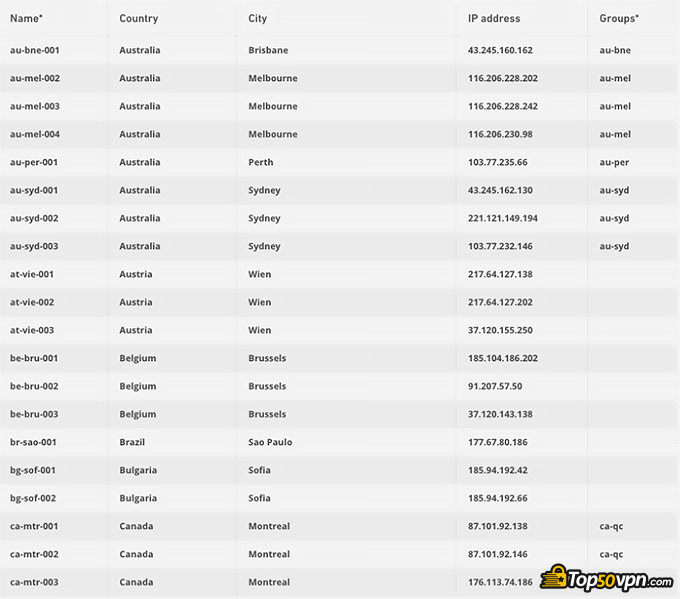 If you have no idea what those network names mean, don't worry, this Mullvad review got you covered.
OpenVPN is one of the most popular open-source software that implements a VPN to create secure connections.
WireGuard is a new VPN protocol that might bring a significant change to VPN commerce because it offers faster speeds and better security with new encryption standards.
Bridge function allows connecting the Virtual Hub on VPN Bridge to a network on a current base.
That's it with the positive aspects of Mullvad VPN. Let's move further.
CONS
Now that every pro is discussed in this Mullvad VPN review, it's time to pay attention to its flaws (even the best providers have them).
Sweden - 14 Eyes Jurisdiction, Not the Best Location

Jurisdiction is very important when it comes to choosing a VPN provider. If you haven't heard of the term "14 Eyes" before, I want to briefly explain to you. It is International surveillance alliances representing countries all around the world. They work together to collect and share mass surveillance data.
In general, jurisdiction is one of the aspects that you should pay attention to in this Mullvad VPN review. On the other hand, jurisdiction should matter for those who are seeking a higher level of security. Therefore, it all depends on your preferences.
Great Device Compatibility; Unfortunately, Has No Dedicated Android App
Mullvad supports Windows, macOS, Linux, iOS, and Android. It covers the majority of users all around the world.
It's very simple to install on a personal computer, just a few minutes and you're good to go. However, it's different on a smartphone. You will have to go through a difficult OpenVPN setup (but you can find guides on their page for a simpler setup).
What is more, if this is not your first article, you probably heard in other Mullvad VPN reviews that it has no dedicated Android app, which kind of messes with the user experience.
Customer support..? Needs to be Improved
One of the cons that I wanted to add in this Mullvad review is its customer support. Even though I don't think that it's the biggest flaw, it still matters, especially if you're an inexperienced user.
This time I decided to write to Mullvad's FB page first and see if they respond. I got an answer in about an hour, which is quite quick, to say the least.
After that, I decided to write an email, asking about DNS, security and tunneling protocols claiming "I'm not a technical person". I received an answer in less than an hour and here it is: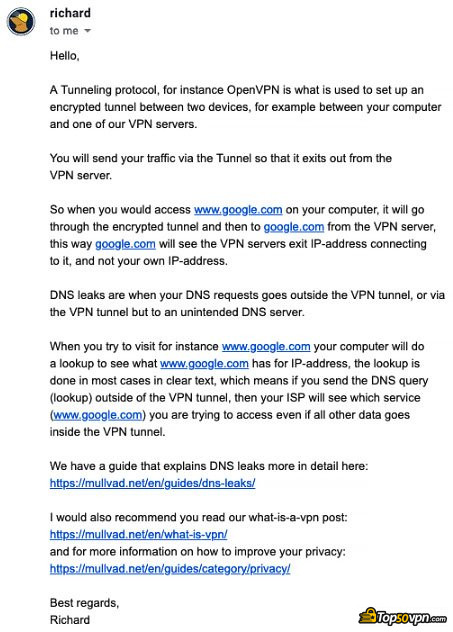 They provided me not only with an explanation but also a list of references to read for my deeper knowledge. So, even though they don't have a live chat, they're customer support works just fine.
Mullvad Pricing Payment Methods
Mullvad pricing is only €5 (about $6) per month with no additional payments, you get everything for that price. Other VPNs usually vary from $5 to $12 if you're choosing monthly payment.

Mullvad encourages you to choose an anonymous payment method, so either to pay with cash, Bitcoin or Bitcoin cash. However, if you're ok with regular payment methods, then you can consider a credit card, bank wire, PayPal or Swish.
It's strange that I mentioned cash, right? How would I send it, you might ask? You simply send an envelope (just like the old times) with money and your account number. The only issue is that there are no refunds if you pay with cash.
Thus, I have to say that I've never seen such a variety of payment methods, so I'm giving a big plus to Mullvad VPN!
Here is The Best NordVPN Offer I Found:
GET 63% OFF
+ 3 Months Free
Looking for ways to secure yourself online? What if we told you that you can get the top VPN on the market for way less - grab NordVPN 60% discount now & get 3 months FREE!
Expiration date : 31/05/2023
3,191 People Used
Only 99 Left
Do I Recommend?
Of course. Based on Mullvad reviews, it seems to be one of the most underestimated VPNs.
It has the most promising no-logs policy, secure tunneling protocols that use military-grade AES-256 encryption. What is more, no IP or DNS leaks detected, speed is better than average and Mullvad allows torrenting and unblocks Netflix. You get all of that and an ability to choose from the widest variety of payment methods for only $5 to $6 per month.
Even though it is based in Sweden and has no live chat, it is still obvious from each of the aspects in Mullvad review that the pros strongly outweigh the cons. Therefore, I would strongly recommend trying Mullvad VPN for your security.
Leave your honest Mullvad review
By leaving your honest opinion you can help thousands of readers to choose the best VPN. We accept genuine & helpful user reviews, either positive or negative. Have in mind that biased reviews will not be published. If you want to share your opinion, experience or advice, we want you to spill the beans!