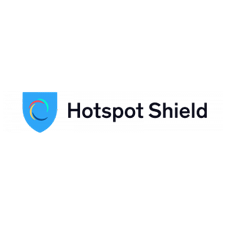 If you're looking for a reliable Hotspot Shield review, well - you've come to the right place. Hotspot Shield has been garnering a lot of attention as of late - some positive, and some not so much. Well, don't worry - we'll cover everything from what is Hotspot Shield all the way to is Hotspot Shield safe or not.
As you'll see from the review itself, safety truly is key here - with online identity theft incidents becoming more and more prevalent, VPNs are at the forefront of information protection tools[1]. That's why it's essential to choose the right one for yourself.
TL;DR: Hotspot Shield offers users a lot of different features to choose from, with an acceptable price tag attached. While the company has dealt with a fair share of controversies, it seems that they are trying to climb back up the ladder of trusted and safe VPN providers.
Pros
Great speed
Torrenting and Netflix unlocked
Decent pricing
Cons
DNS leaks
Logs some information
Hotspot Shield Review: PROS
To start this Hotspot Shield review off the right way, let's talk about the things that this VPN provider does well when it comes to their security measures. After all, if you're looking for Hotspot Shield VPN reviews, chances are that security is a top priority to you - as it should be!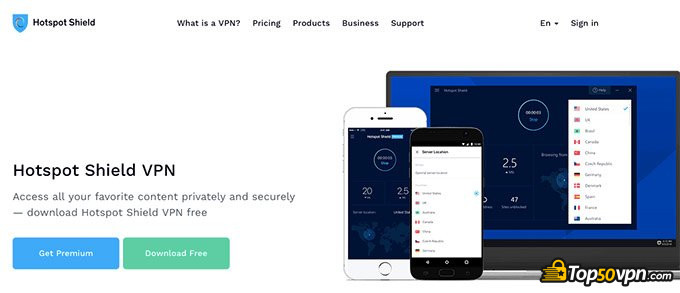 Kill Switch for When Things Go Wrong
I've noticed that many Hotspot Shield reviews fail to mention this, but this VPN provider has a really cool feature in place that acts as an "Eject" button in the Batmobile (na na na na Batman!).
While you're using a VPN, many different things might happen. Your internet connection might go out, there might be some networking issues, or even the VPN itself could crash - these things do happen! Well, no worries - in these types of situations, kill switches step in to save the day!
To put it very simply, a kill switch terminates and closes all of your processes (file downloads, browsing tabs, etc.) upon detecting that you have disconnected from the VPN.
You see, as soon as you disconnect, all of your data is served on a plater to the prying eyes of third parties. A kill switch prevents that from happening - a very interesting tool indeed!
Latest NordVPN Coupon Found:
GET 63% OFF
+ 3 Months Free
Looking for ways to secure yourself online? What if we told you that you can get the top VPN on the market for way less - grab NordVPN 60% discount now & get 3 months FREE!
Expiration date : 02/10/2023
3,191 People Used
Only 99 Left
High-Tier Encryption
When it comes to data protection and encryption, different VPNs employ various different techniques to keep their user information safe and sound. If you're wondering is Hotspot Shield safe, you'll be happy to find out that this VPN service provider offers its customers the AES 25-bit data encryption.
If your natural reaction sounds something like "what in the world is he talking about?", let me explain.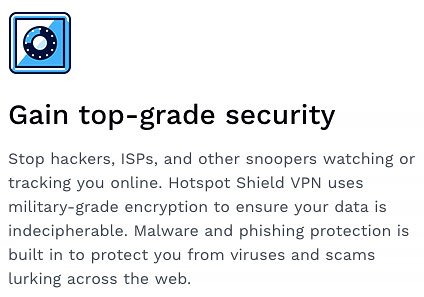 AES 256 is the most popular form of encryption used these days. This type of data encryption is used by the US government to conceal and protect sensitive information. When I found this out, it was truly overwhelming - Hotspot Shield offers its users governmental-level data encryption!

Did you know?
Amazing Speed
Another thing that people who wonder "what is Hotspot Shield?" should be aware of is the speed that this VPN provider offers. Truth be told, if you read through other Hotspot Shield reviews, a lot of them claim that Hotspot's upload and download speeds are unmatched.
Well, since I had highly doubted that, I decided to check it out for myself.

I chose to test their US server. And goddamn, was my skepticism proven wrong.
You don't need to know a whole lot about Hotspot Shield reviews to figure out that this is actually a really good result.
The ping is quite high, but that's not the highlight of the test - that would be the download speed. Honestly, from what I've seen from other VPN providers, Hotspot might actually indeed have the best download speed (given that the VPN connection spans to the other side of the world, that is)!
Torrents Allowed
Probably the vast majority of people looking through and reading Hotspot Shield reviews need a VPN so that they could share files with another party in peace. This is known as P2P, or Peer-to-Peer file sharing.
Some VPN providers, however, shy away from being associated with torrenting. While they might still offer this service, they don't really advertise about it publicly.
Table: Hotspot Shield features
Hotspot does allow the usage of torrents. What's more, they even have a whole section called "Using torrents safely and anonymously" on their Support page.
The way that this works is that most VPNs have specifically-designated servers that are used for torrenting files or watching Netflix (we'll get to this in a bit, too). These servers are usually more secure and faster - perfect for P2P file sharing and the prevention of DDoS attacks, connectivity issues, and so on.
Netflix USA Available to International Users
Lately, Netflix has been trying to block the use of VPNs from accessing the platform's geo-locked content. These attempts have been rather successful, too - a lot of VPN providers have stated that they no longer support Netflix.
When it comes to this Hotspot Shield review, however, things are a bit different.
Hotspot Shield offers the ability for their international users to connect to Netflix USA and access the region-locked content with ease. Same as with torrenting, there are specific, designated servers that should be used to do so.
That said, Netflix has already locked some of the Hotspot servers from accessing its content. The only one that is still functional is their Canada-based server. Do keep that in mind!
Hotspot Shield Review: CONS
As you will find mentioned in other Hotspot Shield reviews, the company has come under some serious fire as of late. Let's take a look at some of the claims and accusations.
Before we move on, though, let me just tell you this straight off the bat - there are better VPNs in the market. Take ExpressVPN, for example - an industry-leading VPN provider that comes equipped with all of the essential features, and then some!
Hotspot Shield Logs Information
Information logging is an extremely serious topic when it comes to VPNs. Quite frankly, logging happens when a VPN provider keeps track of sensitive information about its customers. This provider can then sell the information to third parties, most notably - advertising firms.
A lot of VPNs do keep some sort of information about their customers. This information is usually essential for both the company's well-being and good customer support. Examples can include email addresses, billing info, performance data, and so on.
This is all common practice, and is not considered to be (quote, unquote) "data logging".

The claims about Hotspot are much more severe than that, however.
Some Hotspot Shield VPN reviews mention this, but there's actually a whole FTC (Federal Trade Commission) investigation launched on to the company.
The reason?
It is claimed that Hotspot Shield tracks its user data (the websites that the platform's users visit most frequently) and sells it to third-party advertisers.
These advertisers then perform what is known as "targeting your audience", and point specific ads to customers that might be interested, based on the information that they've received from Hotspot.
Those are some really serious claims, but what are they backed with?
Well, Hotspot Shield is owned by a company called AnchorFree. This company is very openly associated with multiple different advertising agencies. Furthermore, Hotspot's privacy policies are rather… ambiguous, to say the very least.
At a certain point, some Hotspot Shield source code analysis was performed, and it revealed that the company is indeed involved in some shady business.
Although no specific conclusions can be made until the investigation is over, it would be difficult to ignore such a huge (and, seemingly, backed-up) accusation in a Hotspot Shield review.
DNS Leak History
DNS (Domain Name Systems) leaks are a well-known problem within the VPN industry. While the biggest names in the game (such as ExpressVPN or CyberGhost) don't have a single issue associated with this topic, Hotspot Shield hasn't managed to climb out undamaged.
Table: Hotspot Shield security feature information
This VPN provider leaks its customers DNS through a certain type of Chrome extension. Although it's a rather specific scenario, a company that wants to be taken seriously shouldn't have a single problem with DNS leaks. Put that on top of their current data logging controversies, and, well…
Things start looking pretty grim.
No Tor Support
People trying to find out is Hotspot shield safe and whether it's worth your attention or not should also know that this VPN provider does not support Tor (otherwise known as the Onion browser). Now, why should this be a big deal?
Tor is infamous for being the "middleman" between a person who's trying to access the Deep Web, and the Deep Web itself. While it has built a shady reputation around itself, Tor can actually be used by people who just want to maximize their security.
A scenario in which you use both a VPN and Tor is probably the safest that you'll manage to create! So, to reiterate this Hotspot Shield review point, it's rather odd that a VPN provider wouldn't support Tor.

Hotspot does offer its users an alternative, though many Hotspot Shield VPN reviews state that it's a rather weak option. The company has, what is called, the "Catapult Hydra" protocol in place. It is a type of protocol that is supposed to guarantee users the optimal amount of security.
However, the problem with this is that there aren't any more options to choose from - while Hotspot did support the usual OpenVPN protocol, they dismissed it with the introduction of Catapult Hydra.
Risky Location
If you don't even know what is Hotspot Shield, you might not be aware of the fact that the company is based out in the US. Now, why is that a problem?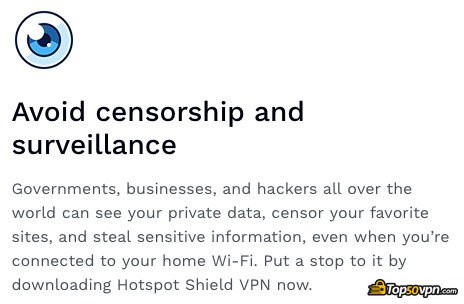 Many of the biggest VPN providers locate themselves in seemingly odd places. Panama and the British Virgin Islands are just a couple of the more popular countries in which VPN providers choose to base their operations. This isn't done without a specific reason, though.
Some Hotspot Shield reviews fail to mention this, but the United States is a country that belongs to the "5-Eyes" jurisdiction.
This means that all of the VPN providers that are located within the jurisdiction of the US are obliged to provide the government with the information of their users and their browsing history, on-demand.
This can be a detrimental fact when it comes to reading through Hotspot Shield reviews and deciding whether or not it's worth trying this VPN provider out.
Price
Finally, let's talk about the pricing plans the Hotspot Shield offers its customers.

At the time of writing this Hotspot Shield review, three of the most popular plans have some hefty discounts. The 12-month option would cost you $7,90 per month (here, $1 = €1,13). That's actually a pretty mediocre sum to pay for a year's worth of VPN services!
One thing that definitely mentioned in too few Hotspot Shield reviews is that the company offer a 45-day money-back guarantee. Now that's generous - most VPN providers give you 30 days from your initial purchase (if that!).
Summary
As you might have guessed already, running a VPN service isn't easy. All it takes is a single slip and your reputation and credibility go down the drain.
Or do they..?
Hotspot Shield serves more than 650 million users worldwide - that's an insane amount of people! You would think that, with so many negative aspects that a lot of Hotspot Shield reviews mention, the brand would have already gone bankrupt, but the reality is actually the opposite!
One of the main reasons for why that might be the case is that the people behind Hotspot seem to actually be learning from their mistakes and improving their services.
Just to give you an example, before I actually went on and bought the VPN to try it out myself, I had read through many online Hotspot Shield reviews. A whole lot of them mentioned that Hotspot doesn't have live customer support - only ticketing.
Well, they do. I checked it out myself.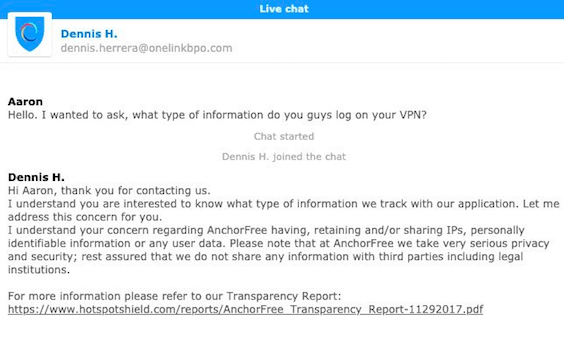 This means that the company is actually trying to fix their problems and implement a lot of changes to make the user experience that much better.
Here is The Best NordVPN Offer I Found:
GET 63% OFF
+ 3 Months Free
Looking for ways to secure yourself online? What if we told you that you can get the top VPN on the market for way less - grab NordVPN 60% discount now & get 3 months FREE!
Expiration date : 02/10/2023
3,191 People Used
Only 99 Left
Conclusion
Would I recommend the Hotspot Shield VPN?
Well… That's a tough question to answer.
If all that you're looking for is an aesthetically pleasing interface and the ability to watch Netflix and maybe torrent a couple of files, then sure - it might be an option. Great download speed and a hefty amount of device connections (up to 5 simultaneously) are great, and it comes with a reasonable price tag.
However, if the security of your personal information is your number one priority, well… Let's just say that there are VPNs out there that have a much cleaner history when it comes to data logging and DNS leakage. Even though Hotspot does seem to try and improve their services, these reputation stains are tough to ignore.
That being said, if Hotspot Shield isn't really up-to-speed with what you're looking for, check out our best VPN list. Who knows - maybe you'll find something of your liking there?
Scientific References
1. Leyla Bilge, Thorsten Strufe, Davide Balzarotti, Engin Kirda: 'All your contacts are belong to us: automated identity theft attacks on social networks'
Leave your honest Hotspot Shield review
By leaving your honest opinion you can help thousands of readers to choose the best VPN. We accept genuine & helpful user reviews, either positive or negative. Have in mind that biased reviews will not be published. If you want to share your opinion, experience or advice, we want you to spill the beans!