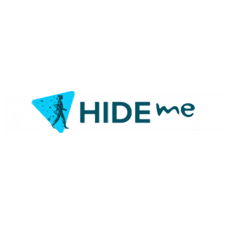 Is Hide.me safe? Is it worth it?
In this Hide.me review I will give you an answer to those questions. I will do my best to explain each of the points that every VPN user should understand. If you're a non-technical person, there's no need to worry, this review is for everyone - beginners and advanced users.
The verdict at a glance
Hide.me VPN is a VPN provider that has both free and paid versions. It's strongest features are zero logs policy and strongest security in the market. What is more, it tested leaks free, has an integrated kill-switch and allows torrenting. On the other hand, it has a small number of servers, slows down your Internet noticeably, doesn't work with Netflix and has a tricky refund policy.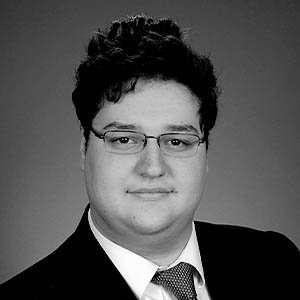 Benjamin Dynkin
Co-Founder & CEO of Atlas Cybersecurity
What to do if your identity got exposed online?
Realizing that you have been exposed online can be one of the worst feelings in the world, but to mitigate your risk, it requires serious proactivity. First and foremost, understand your exposure, use tools like Haveibeenpwned, to see where your information has been compromised. Once you know the footprint, start changing all affected passwords, and enable multifactor authentication everywhere you can. If you believe financial data may be implicated, be sure to closely monitor your credit, and consider a credit freeze. Finally, depending on what exactly was compromised, you may want to consider notifying your contacts (i.e. friends, family, colleagues, etc.).
Pros
Zero Logging
Great UX
Torrenting and P2P
Cons
No Netflix
Tricky Refund Policy
Slow Speed
Hide.me Review: Introduction
Hide.me VPN was established in 2012. It offers both free and paid versions, but as always, the free version has many restrictions. It claims to be the "world's fastest VPN" that focuses on your freedom and anonymity online, I'll find out if it's actually true by testing each of the most crucial aspects in this Hide.me review.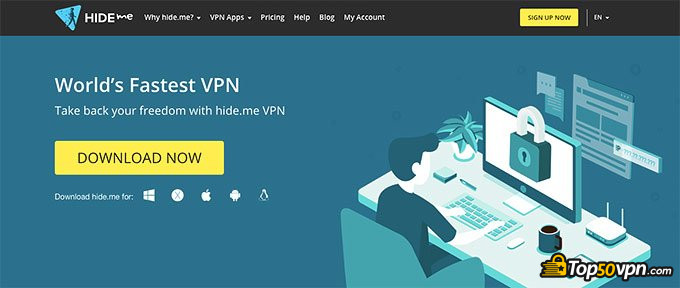 PROS
Let's begin with the Hide.me VPN review pros.
Zero Logs Policy
Do you know the expression: running from a wolf but bumping into a bear? It's very relatable when describing zero-logging policy. Since you're choosing a VPN provider to protect yourself and keep your identity unknown, you won't be happy to hear in this Hide.me VPN review that some VPNs log your data, meaning that your security is being threatened.
Therefore, always pay attention to logging policy and even if VPN providers claim to provide you with complete anonymity, dig deeper to find out more details.
Since it's Hide.me review, let's look into their privacy policy.

It's short, simple and easy to understand. Hide.me VPN does not log any of your personal data and browsing activity. Therefore, there's no way for your identity or IP address to be revealed.
Of course, you might say that it doesn't prove anything, and I agree with you. It's not only my word in this Hide.me review to be trusted, but regular auditing also confirms their word being honest.
Here is the certificate of privacy and anonymity handed out by Leon Juranic - a VPN security analyst.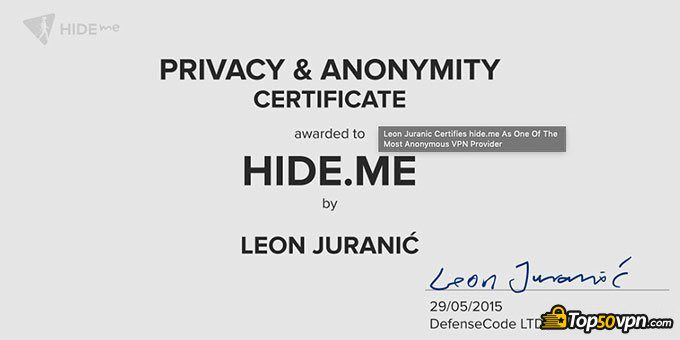 Latest NordVPN Coupon Found:
GET 63% OFF
+ 3 Months Free
Looking for ways to secure yourself online? What if we told you that you can get the top VPN on the market for way less - grab NordVPN 60% discount now & get 3 months FREE!
Expiration date : 10/12/2023
3,191 People Used
Only 99 Left
Kill-Switch
The kill-switch is an amazing feature that every VPN should have. It provides you with full security even when a VPN provider drops.
Let me explain in this Hide.me VPN review why it's so important.
Every time your VPN connection drops, you are automatically reconnected to another network (it might be a public WiFi that your phone recognizes or mobile data). It might seem like a good thing because you continue browsing, but the problem is, your data and physical location are not protected at that time.
A kill-switch makes sure to block other Internet connections in order to stop you from using the Internet without a VPN.
So, is Hide.me safe? Does it have a kill-switch?
Good news - it does! Therefore, you won't have to be worried even if your connection drops.

Did you know?
Best Security in the Market
Security and logging policy are some of the major points you should pay attention to in this Hide.me review. After all, you're here for privacy.
But is Hide.me safe?
Hide.me VPN offers the strongest security on the market (so far). It uses AES-256 encryption. You may have heard about it in other Hide.me reviews.
This encryption standard is being used when there's a need to protect the most valuable data. Banks, for example, use it to ensure safe money transfers. Even NSA uses AES-256 encryption.
Therefore, Hide.me makes sure to provide you with the best security out there. Even if many VPNs use the same encryption, I still consider it as a major advantage.
IP and DNS Leaks Free
IP and DNS leaks are part of your security and anonymity online. If IP or DNS leaks appear, it means that a VPN provider fails to keep up with its primary goal - to keep data that may identify you as a person secure.
To make sure if Hide.me serves its purpose, I always do the testing.
First I connected to the Hide.me Netherlands server and then tried to find my IP address. Here are the results I got:



I did some extra testing, just in case, but all of the results showed the same - no IP or DNS leaks were found!
Quite a Good Customer Support
I've experienced bad customer support many times before, so I know what it feels like not to get answers when in need. Sometimes you have to wait for days to get an answer but it's even worse when you don't get an answer at all... Hence, it's safe to say, that I usually keep my expectations low when talking about customer support.
But you do what you got to do, so let's see what Hide.me has to offer.

You can choose Support Ticket if you want to contact Hide.me directly, Knowledge Base to find already existing questions and answers, and join the community to share your knowledge. Without these options, Hide.me also offers a live chat that I'm about to test out.
I asked what protocols Hide.me uses and here's the answer: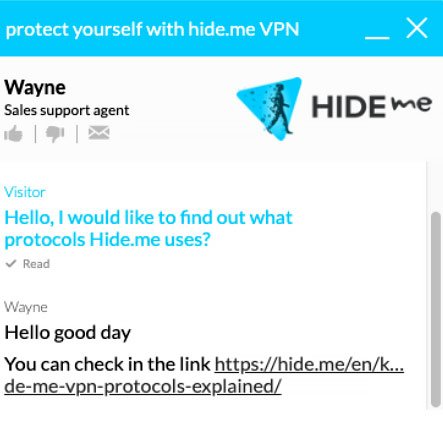 So, basically what they do is give you a link where you can find all the information. Of course, I would like it better if a clear answer would be given. But the important thing is that it works and you're not left hanging, am I right?
Torrenting and P2P? All In
Even though torrenting itself might seem quite secure but files you're downloading can be a treat to your data. The simple explanation is that ISP can connect to all IP addresses downloading a specific torrent. Other Hide.me reviews would give you similar information.
But what about Hide.me?
Hide.me allows torrenting and keeps you secure. As I was going through Hide.me reviews, I haven't noticed any negative comments related to torrenting. However, it doesn't mean that you're 100% safe, you should always be aware of the files that you're downloading and stay out of troubles.
Very easy-to-use App
No matter what device you're using, even kids could navigate Hide.me app. All it takes is one button to enable/disable VPN.
If you want to switch the server location, it also takes only a few seconds. Just scroll down or type in the search window the location that you were looking for and tap on it.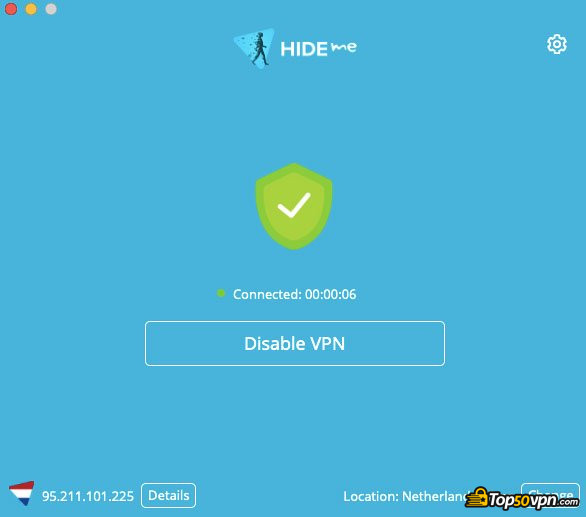 If you want to find a location or server you will be able to do it with the help of search. Therefore, as I told you previously in this Hide.me review, even kids could use this VPN, it's that simple.
CONS
Since we already covered all Hide.me VPN pros, it's time to move further and see where this provider should improve.
Small Number of Servers
Some VPNs have 1,000, 2,000 and sometimes reach up to 4,000 servers. ExpressVPN and CyberGhost are some of the best examples, they provide you with a longer list of locations to choose from, giving you more possibilities than ever before.
Hide.me VPN offers 55+ servers, which is quite a small number, to say the least. And, if you're using a free version, you will get only 5 servers… Thus, it's not something to be happy about in this Hide.me VPN review.

On the other hand, Hide.me is a quite new VPN, and the number of servers grows quite quickly.
Slow Speeds
Speed is one of the major concerns when choosing a VPN provider. Even the best ones (CyberGhost and ExpressVPN) slightly slow down your speed. So, the question shouldn't be "does a VPN slows down the speed?" but rather "how much does the speed decrease?" using a specific VPN provider.
To answer, I always check my benchmark using our speed test tool before connecting to a VPN and after it's turned on.
Here are my results before VPN:


And here are after connecting to the EU (Amsterdam) server:
Download speed: 26.43Mbps
Upload speed: 18.74Mbps
Ping: 56ms
As you can see, the results are pretty bad. For your fuller understanding, I have to say that usually speed decreases by 20% to 30%, everything more than that is not good. If you want to find faster options, check out CyberGhost and ExpressVPN.
Table: Hide.me features.
Note that depending on your location and server to which you're connecting, your speed test may seem different. So, you may find different numbers in other Hide.me VPN reviews.
Free Plan - Limited
It's great that Hide.me has a free plan, however, as most of the times, it comes with limitations. Now let's see in this Hide.me review what it has to offer.
First of all, free users get only 2GB monthly, Plus users get 75GB and Premium users have unlimited data. Moving to server locations (I mentioned that previously in this Hide.me review), free users can choose from 5 servers, paid users from more than 55. What is more, free VPN allows you to connect one device at a time, while Premium can connect up to 5 devices.
Therefore, you should choose a free or paid plan depending on your needs. Since a free plan is very limited, it won't be enough for more active users. On the other hand, it's an amazing option if you want to see how it works.
If You're Looking for Netflix - You Won't Find it Here
One of the reasons why the majority of users came to this Hide.me review might be Netflix. A significant part of VPNs fails to unblock Netflix because of its strict policies. It tends to recognize users who are using a VPN and block them from accessing the content.
But why use VPN for Netflix at all?
If you haven't heard before, I will give you the answer in this Hide.me review. Netflix shows different content depending on your location. If you're not from the US, you may not be able to watch your favorite TV series.
I tried connecting to Netflix using Hide.me VPN, however, it didn't work.
Table: Hide.me VPN compatibility.
Therefore, if you're looking for a VPN provider that unblock Netflix, I suggest you checking NordVPN or ExpressVPN.
Hide.me Pricing and Additional Details
Since all the pros and cons in this Hide.me review had already been discussed. Let's move to additional details and take a look at Hide.me pricing.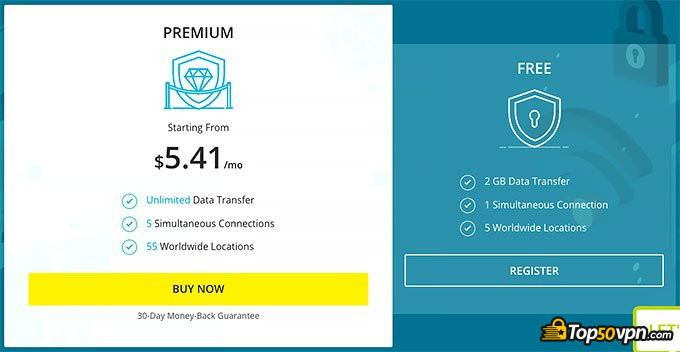 As you can see, the Premium plan costs $5.41. What I don't see is how much the pricing differs if you pick a 1-year or longer subscription, maybe it stays the same? The price range usually varies from about $5 to $12 but when choosing longer subscriptions it goes noticeably lower.
For that reason, I think that Hide.me pricing is quite expensive, especially since it has limitations and a number of cons. So, if you want to find something better for similar pricing, I recommend you to look into our TOP providers' list where you will be able to find the most reliable VPNs.
Here is The Best NordVPN Offer I Found:
GET 63% OFF
+ 3 Months Free
Looking for ways to secure yourself online? What if we told you that you can get the top VPN on the market for way less - grab NordVPN 60% discount now & get 3 months FREE!
Expiration date : 10/12/2023
3,191 People Used
Only 99 Left
Do I Recommend Hide.me VPN?
You probably already noticed from this Hide.me review that it has more cons than pros. Hide.me has a zero-logging policy and strongest encryption in the market. It has integrated kill-switch to keep you safe in case the VPN server fails. What is more, it tested IP and DNS leaks free and works with torrenting.
But as always, there's another side to it. Hide.me has a very small number of servers, it slows down your Internet speed noticeably, has a very limited free plan and doesn't work with Netflix.
Putting all the points of this review together, I would not recommend you using Hide.me because there are better options in the market, such as CyberGhost or ExpressVPN. If you want a full list of TOP VPN providers. you can find it here.
Therefore, I did my best to introduce you to Hide.me VPN and give you recommendations, now it's your turn to decide whether this VPN is worthy of your time.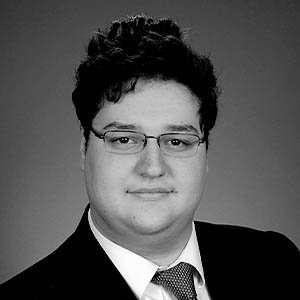 Benjamin Dynkin
Co-Founder & CEO of Atlas Cybersecurity
Contributed by: Benjamin Dynkin , Co-Founder & CEO of Atlas Cybersecurity
As the Co-Founder and CEO of Atlas Cybersecurity and the Co-Executive Director of the American Cybersecuri...
Read Full Bio...
Leave your honest Hide.me review
By leaving your honest opinion you can help thousands of readers to choose the best VPN. We accept genuine & helpful user reviews, either positive or negative. Have in mind that biased reviews will not be published. If you want to share your opinion, experience or advice, we want you to spill the beans!