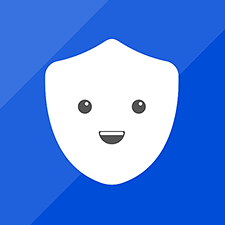 Finding a good VPN provider is not as easy as it might seem in the first place. You have to pay attention to security protocols, leaks, speed, whether you can unblock Netflix content and use torrents, and so many other factors.
The purpose of this Betternet review is to look into it from different perspectives, evaluate the major pros and cons, test its capabilities and answer the question: is Betternet a good VPN?
Without further ado, let's jump straight into it.
Verdict at a glance
Betternet is a totally free (unless you decide to try the premium version) VPN service provider. It has a zero-logging policy and an easy-to-use app. On the other hand, Betternet does not allow Netflix and is too slow for torrenting, it was tested positive for leaks and contains ads in the free version.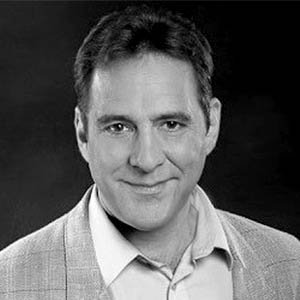 Dan Fusco
Cyber Security Speaker, Owner of InnerPC
What to do if your identity got exposed online?
This can be very complicated. First, try to find out how your identity was compromised, you might need to hire a Cyber Forensics company to do this. You will also want to notify the FBI and tell them exactly what happened.
Pros
Capable Encryption
No-Logs Policy
Live Customer Support for Paid Plan
Easy- to-Use App
Cons
Slow
No Netflix and Not Fast Enough for Torrents
IP and DNS Leaks Detected
Premium Plan is Too Expensive
What is Betternet? Is it Actually Free? Why?
Betternet is a Canadian VPN, which claims to have more than 38 million users, of which 60% are outside the U.S. It was created around 2015, so it's still quite new. What is more, they claim to have over 1 Petabyte of daily traffic, which is almost the same as watching 500,000 UltraHD movies per day.

Every Betternet review should mention that it's completely free! Yes, you heard me correctly, Betternet is entirely out of charge.
With zero payment, you can use their iOS, Android, Windows, Mac apps, plus Chrome and Firefox extensions. What is more, the exceptional part is that it does not require your email or name when registering. So, if you want to stay completely anonymous, it's an option.
Without stalling, I can say that there are a couple of drawbacks. If you want to add extra features and get rid of the ads, you have to get a premium plan, which is, obviously, no longer free.
The thing is, in 2015, when it first came out, Betternet didn't have paid subscription, but in late 2017, when everything was getting more expensive, they decided to release the premium version.
With a paid plan, you can connect to 11 servers in 10 countries that is very limited, to say the least. What is more, if you use the free version, you don't get an ability to choose a server, Betternet does it for you.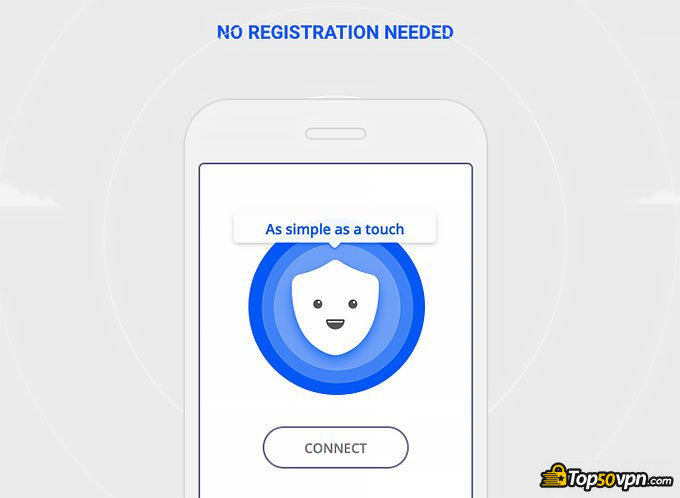 However, everything depends on your needs, if you're a light user, the free version should be enough for you. Thus, I would recommend trying it out and see how it works for yourself.
The main question is, is Betternet a good VPN?
I'd say it depends on what you're looking for but I'll answer that question at the end of this Betternet review. Let's move to the pros and see what Betternet's free alternative has to offer.
Pros
There aren't that many positive aspects when it comes to Betternet. If you're looking for the most capable VPN providers, you should take a look at the list of the best ones.
Capable Privacy and Security Options
Is Betternet safe?
It's one of the most commonly asked questions. To find out, let's take a look into Betternet's privacy and security options.
Betternet offers OpenVPN with AES- 256 encryption and 128-bit AES-CBC for IPSec.
Table: Betternet security.
This information (look below) was posted on their main page on July 23rd, 2015. It's strange that it hasn't been updated, but maybe nothing changed?
Let me briefly introduce you to the security options that Betternet offers.
OpenVPN - the most secure VPN protocol in the market, so it's definitely safe to use
AES-256 encryption - military-grade encryption with a 256-bit key, it's the most popular, not (yet) breakable encryption.
128-bit AES-CBC for IPSec
However, it does not say when the 128-bit and when 256-bit key is being used - that should be clarified.
Therefore, even though most of the VPNs are now are using AES-256 encryption, this always important to mention.
No-Logging Policy
For me, no-logging policy always comes after security, for that reason, I put it right after the safety in this Betternet review.
The thing is, even if VPNs are highly secure and protect you from third-eyes, how can you know if the company doesn't collect data about you? You would be surprised how often it happens. The most important data is the one that can identify you as a person. Hence, you should always find out if it's not the case with a VPN provider that you consider buying.
I'd say Betternet zero logs policy is quite straightforward, which I really like. If you take some time, you can find their privacy overview.


Therefore, your IP address will never be identified, and no logs of your online activity will be kept.
The reason that you do not have to create an account to download their app is really reassuring since you won't have to fill in any data related to your identity. Thus, from where I'm standing, I think no logs policy is Betternet's strongest asset. However, I'll still check if there are no leaks further in this Betternet review.
Latest NordVPN Coupon Found:
GET 63% OFF
+ 3 Months Free
Looking for ways to secure yourself online? What if we told you that you can get the top VPN on the market for way less - grab NordVPN 60% discount now & get 3 months FREE!
Expiration date : 10/12/2023
3,191 People Used
Only 99 Left
Customer Support
Even though you can only get live chat if you're a premium, it's still good to know that Betternet suggests such a possibility. However, If you don't feel like paying and enjoy the free version, then there's always FAQs where you might find a solution to your problem. Why do I say might? There simply aren't enough subjects.
Here are examples of the questions that Windows users ask: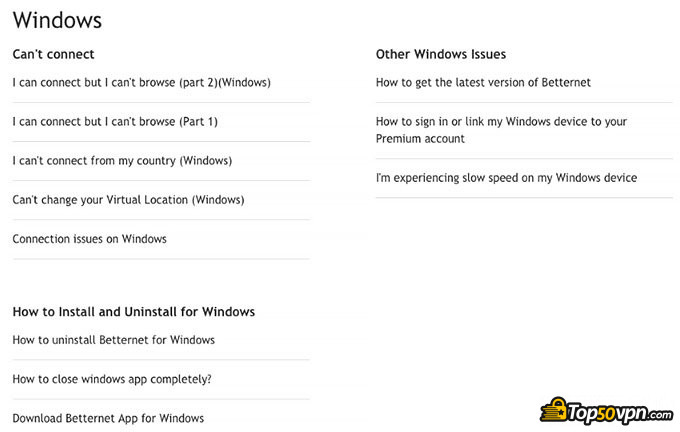 Therefore, you can find only basic questions related to connection, installation, and accounts, but that's something.
Cons
As I decided to write the Betternet review, I never thought that it would have so many flaws, but you can never know unless you try, right?

Did you know?
Irritating Ads
I know that free services are most likely to use ads because that's one of the not so many ways to make money. However, they're still very unpleasant and in order to get rid of the ads, you have to pay for the premium plan.
Now, the fact that there are so many cheap VPNs out there that do not use ads, makes me think if it's actually worth it, even though it's free.
Slow… Very Slow
Speed is usually the first thing that I like to test, it was no exception with Betternet review. My download speed was about 70Mbps before connecting to the VPN, and when I connected to Betternet it slowed down to:

4 Mbps? Really? How is that even possible? It turns out that it is. (If you test when connected to different servers, you might get slightly different results.
But is it actually that slow?
Let me compare it with some other VPNs.
Here's the speed after connecting to CyberGhost VPN:


And here's after connecting to VPN Unlimited:


But those are not the best results. Some VPNs can reach up to 80 Mbps, which sounds enormous comparing to 3 Mbps.
Netflix? No…
Since in 2016 Netflix started fighting against VPNs and forbidden to use them when connecting, many VPNs failed to keep up. Only about 70% of them managed to overcome this restriction. However, as far as tested until today, all Betternet's servers and IPs were blocked. Plus, I found similar information in all Betternet reviews.
Not Fast Enough for Torrenting
Even though Betternet allows torrenting, it is simply not fast enough. I already tested its speed previously in this review and as you've seen results weren't the best.
Table: Betternet compatibility.
Just imagine if you decide to download HD movie that takes about 5GB, then how long would you have to wait? I'd say it's just too long. Of course, I'm not saying that you cannot use it for torrenting, but I don't recommend it.
Bad Reviews
If you were looking for Betternet reviews, you may have noticed not that positive evaluations. Of course, even the best VPN providers can sometimes get bad evaluations.
However, the case is different when the majority of them are bad. That's exactly how it is with Betternet. When I was looking into different Betternet reviews (just because I wanted to see what's the general tone), I noticed that many reviewers gave only 1 or 2 stars. Therefore, I'm not the only one who noticed that there's something wrong with this provider.
Warning! IP and DNS Leaks Detected (According to Third Party Reviews)
Even though at the very beginning of this Betternet review, I was sure that it's secure and won't leak your IP address, it came out to be the other way around. Of course, I'm not happy with the results but we're all in this Betternet review for one reason, to find out the answer to the question - "is Betternet a good VPN?".
First of all, let me introduce you to the main terms used in this part of Betternet review:
IPv4 - fourth version of the internet protocol. It identifies devices on a network through an addressing system.
IPv6 - sixth version of the Internet protocol, it provides identification and location system on networks and routes traffic over the Internet.
DNS - shortly, it is the naming system for computers or other systems that are connected to the Internet or a private network.
So, I tested all of them and now let me give you test results: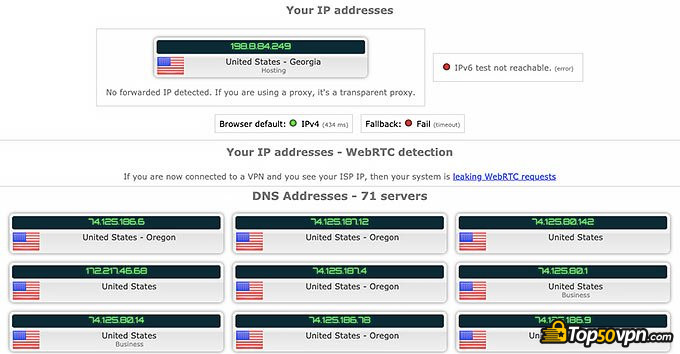 As you can see, no leaks were detected while I was doing the tests. I was surprised because every other third party review claimed that they found leaks and even provided proofs. Thus, even if the results sometimes came out to be negative, you can never know. I would simply recommend you to stay away from this VPN provider if you want to dodge a bullet.
Since this VPN lacks not only security but also other important features, why don't you choose the VPN provider, which has it all? Take a look into ExpressVPN and CyberGhost. They're not only fast and secure but also allow torrenting and Netflix.
Betternet Pricing and Additional Details
It's time to discuss the last point of the Betternet VPN review - the pricing. If you want to choose the premium plan, it will cost $11.99 per month and from $35.99 to $71.99 yearly depending on the purchasing method: from their website (the cheapest option), from the iOS app or Android app.
The yearly plan offers the lowest pricing, it's only $2.99 per month if you choose to purchase from the Betternet webpage. However, even with the premium plan, you get only 11 servers in 10 countries to choose from.
Thus, it's not expensive, but considering all the pros and cons, there are better alternatives to pick from.
What is the Betternet VPN price?
The pricing of the Betternet VPN varies, take a look at all the information below.
Subscription directly from their website:
Subscription from their iOS app:
1 Month at $11.99
6 Months for $47.99
12 Months for $71.99
Subscription directly from their Android app:
1 Month at $11.99
6 Months for $47.94
12 Months for $71.88
If it's hard for you to decide which VPN to choose, you can always choose a 7-day free trial. Not every PVN offers that option, but it's really great when you're not sure if the service is right for you.
Here is The Best NordVPN Offer I Found:
GET 63% OFF
+ 3 Months Free
Looking for ways to secure yourself online? What if we told you that you can get the top VPN on the market for way less - grab NordVPN 60% discount now & get 3 months FREE!
Expiration date : 10/12/2023
3,191 People Used
Only 99 Left
Do I Recommend?
No.
Betternet didn't fulfill my expectations, as you already could have guessed from this Betternet VPN review. Even though Betternet has a very simple app, claims to keep no logs and has capable security, it doesn't live up to my expectations.
This Betternet VPN review showed that it has no IP or DNS leaks, however, many users claim to have different results. Furthermore, Betternet doesn't work with Netflix and is too slow for torrenting. What is more, the Information provided on their page is questionable and its speed is one of the slowest I've ever seen (4 Mbps).
The only thing that comforts me is that while using free Betternet you're safer than using nothing at all. But, even its paid version, which is quite expensive ($11.99) is not that good. If I were you, I would read our other reviews and find a capable VPN service provider for a smart price.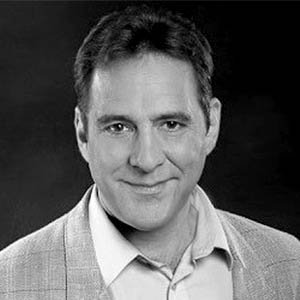 Dan Fusco
Cyber Security Speaker, Owner of InnerPC
Leave your honest Betternet review
By leaving your honest opinion you can help thousands of readers to choose the best VPN. We accept genuine & helpful user reviews, either positive or negative. Have in mind that biased reviews will not be published. If you want to share your opinion, experience or advice, we want you to spill the beans!